Top 10 USA Twitter Trends of the Week, Vol 80 by HootSuite and Ad Age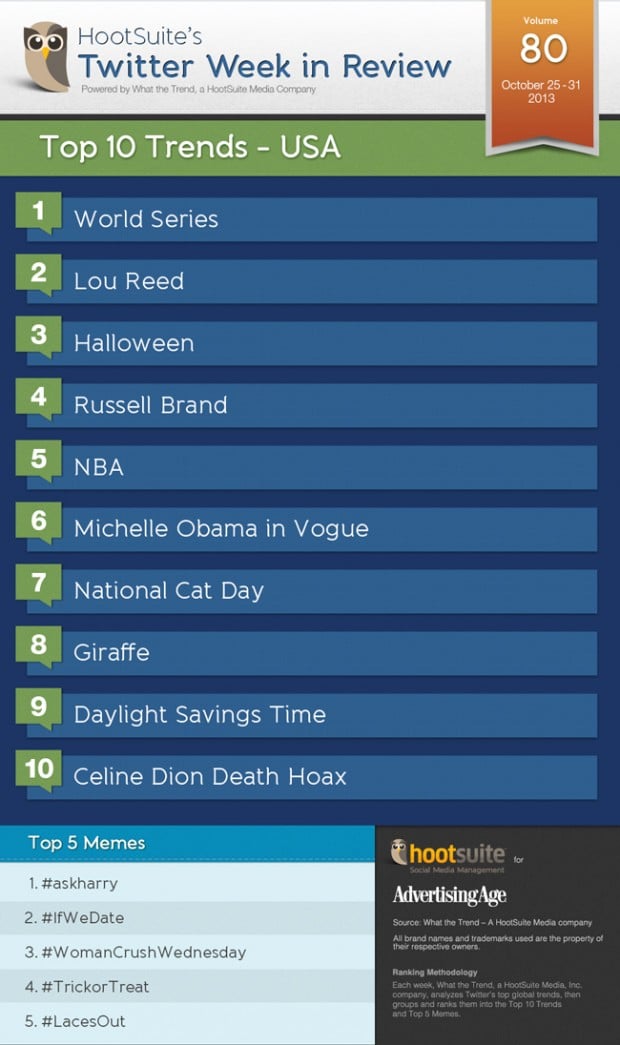 With hundreds of millions of daily tweets and search inquiries in the United States alone, Twitter is rich with conversations and news updates. Our USA Twitter Trends of the Week chart captures the top 10 discussions and breaks them down trend by trend.
America was busy on Twitter this week, showing support of their favorite pastime, remembering one of music's greatest punk-rock-poets, and debating a call for revolution! Check out what else Americans were tweeting about this week, as we highlight some of the top Twitter trends in the US:
1: World Series
The World Series was all over televisions and social networks this week. The Boston Red Sox, (aka baseball's favorite beards) capped their remarkable turnaround by beating the St. Louis Cardinals 6-1 in Game 6 on Wednesday night. This is the Boston's third World Series Championship win in the past decade, and they don't even have to fly home the trophy! The 101-year-old stadium was packed with nearly 39,000 fans singing, shouting, and tweeting about the fantastic game.
"This is for you, Boston. You guys deserve it," the Series MVP, David Ortiz said. "we've been through a lot this year and this is for all of you and all those families who struggled."
2: Lou Reed
Fans turned to social media to remember one of rock n' roll's greatest punk-rock-poets this week. Lou Reed, a massively influential songwriter and guitarist and member of the 1960's cult band Velvet Underground passed away at the age of 71. Reed helped shape nearly fifty years of rock music, and touched the souls of people worldwide. The New York native blazed a trail for many great artists, and was credited as one of the earliest adopters of punk music during the Hippie Movement.
The hits Sweet Jane, Walk on the Wild Side, Femme Fatale and I'll Be Your Mirror are just a taste of the massive collection of music that Lou Reed had been involved in.
It is sad to have lost a legend, but at least we are lucky enough to still have his music. Here's Sweet Jane:
3: Halloween
Ahh, late October. Leaves are falling, the air is getting a little bit cooler, heavy jackets are being taken out of closets in anticipation for winter… and zombies, ghosts and ghouls are running from house to house all over America. From costume ideas to party invites, cupcake recipes and party ideas – people are looking to Twitter for just about everything Halloween related.
Now that Halloween has passed, it's time to be judgemental and pick our favorite costume of the year! Check out this little guy, and then do a Twitter search to find your personal favorite:
What a fun Halloween! It was tough to choose from so many great applicants, but this wee astronaut gripped my heart. pic.twitter.com/3lFLiZliVp

— Chris Hadfield (@Cmdr_Hadfield) November 1, 2013
4: Russell Brand
Russell Brand has always been known to start controversial debates, but this week the debates were continued on social media sites across America. It's easy to dismiss Brand ideas of revolution as nothing more than the ramblings of a comedian and recovering addict, however this time many young people around the globe have the same thoughts. Brand did an exclusive BBC interview with Jeremy Paxman on Newsnight 2013, which has since gone viral. During the interview he argues that the UK's system of democracy doesn't work, brags about never voting, and calls for a revolution.
Since the interview began spreading on Twitter and Facebook, people have either sided with the comedian or disapproved of his political views of the British System today. Have you tweeted about the controversy? Take a look at the Interview on Newsnight:
5: NBA
The NBA begins another season with three matchups on opening night. The Heat played the Bulls in a season opener, Derrick Rose is returning to action, and the anticipated return of Greg Ogden were all major topics of conversation this week.
6: Michelle Obama in Vogue
Michelle Obama made it onto this month's cover of Vogue Magazine, and one person in particular wasn't too happy about it. Kanye West preached his love for his new fiancee (and baby mama) on Ryan Seacrest's radio show on Tuesday, arguing that Kim is "like the most intriguing woman right now." Kim Kardashian has never made it to the cover of Vogue, while Michelle Obama has been on the cover twice. This fueled Kanye's ideas that "collectively, we're the most influential with clothing."
I, for one, hope to not see Kanye on our Top Twitter Trends of the Week for next week (I wouldn't be surprised though, he canceled his show in Vancouver for a second time this week– causing an eruption on Twitter). Anyone with me? If you're on the fence, you may not be after checking out this segment of Kanye's interview on Ryan Seacrest's radio show:
Want to check in on Twitterers around the globe were talking about this week? Take a look at our Top Global Twitter Trends.