Top 10 USA Twitter Trends of the Week, Vol 81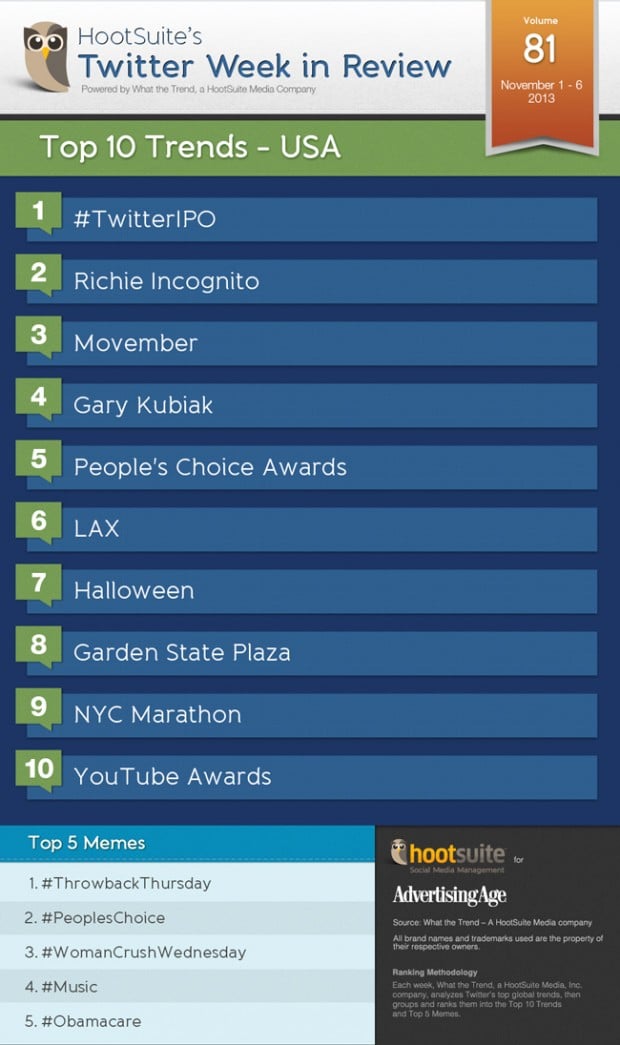 With hundreds of millions of daily tweets and search inquiries in the United States alone, Twitter is rich with conversations and news updates. Our USA Twitter Trends of the Week chart captures the top 10 discussions and breaks them down trend by trend.
1: #TwitterIPO
This was the week that there was a Top Twitter Trends inception. Twitter, the online social networking site that allows users to send messages which are limited to 140 characters or less, hit the top of the Twitter trends list this week. Twitter's initial public offering marks an important milestone for San Francisco as a technology capital, giving the city a story to rival those of Silicon Valley.
Twitter priced 70 million shares at $26 on Wednesday, which was just about the targeted range of $23 to $25. On Thursday, Twitter jumped 73% in its trading debut, as investors paid a premium for its promises of fast growth. The stock rose to $44.90 at the close of the day in New York, delivering the biggest one-day pop for an IPO. Twitter sold 70 million shares, raising 1.82 billion dollars. Looks like TWTR is going to be in for a roller coaster ride, and we'll be right here with popcorn, watching.
We just priced our IPO. pic.twitter.com/NWXaO4Myq0

— Twitter (@twitter) November 6, 2013
2: Richie Incognito
Allegations of bullying and hazing by the Miami Dolphin's Richie Incognito was amplified this week by the amazing amount of Tweets arguing the subject on Twitter. Incognito, who multiple sources confirm to ESPN, used racial slurs and profane language towards teammate Jonathan Martin on multiple occasions.
3: Movember
If you've been seeing half grown in moustaches and donation requests, we promise its for a really good reason. As an official global charity, Movember is changing the face (tehehe) of men's health. Through the "power of the Mo", men around the world are raising funds to fight prostate and testicular cancer, as well as mens mental health challenges.
Movember challenges men to join the movement every November by not shaving their Mo (aka moustache) from the first to the last day of the month. Having an awesome moustache on your face is a perfect conversation starter- and has been bringing a huge amount of awareness to the campaign. Check out the HootSuite Movember team! Want to get in on the action or donate? Check out their website: http://www.movember.com and jump onboard the Mo bus.
Want some tips on growing one fine Mo? Nick Offerman is here to help you out:
4: Gary Kubiak
While thousands of people were watching the Houston Texans on Sunday Night Football, many took to Twitter with concern and questions about head coach, Gary Kubiak. The 52-year-old was sent to the emergency room after viewers watched him collapse while he was walking off the field during halftime. In a later statement, the Texans said that Kubiak was feeling dizzy and light-headed, and was examined by the team's medics before being taken to the hospital where he was given a Tissue Plasminogen Activator.
Although he is not expected back on the sidelines until Week 11, coach Kubiak made an appearance at the Texans practice on Thursday. See video of the event here:
5: The People's Choice Awards
Why are people tweeting about the People's Choice Awards when they don't happen until January? Oh, thats right… the nominations have been announced! One Direction and Katy Perry are looking at multiple nominations in the music category, while Glee is dominating the TV categories with eight (thats right, eight!) nominations including Favorite Network TV Comedy. Being hosted by Kat Dennings and Beth Behrs, the awards will feature 58 categories- which you, the people, will get the chance to vote for! Make sure to take a look at the full list of nominations before placing your votes:
6: LAX
Twitter has always been a great source of breaking-news and this week was no different. Once the first tweet went out about a shooter at LAX International Airport this week, Twitterers were on the ball – sharing stories, news and well wishes for those involved. Friday, Paul Ciancia entered the airport terminal and opened fire, blasting his way through a security checkpoint and fatally hitting one TSA agent.
Twitter was flooded with images from the scene, showing chaos and confusion:
#BREAKING: Gunfire reported Los Angeles airport (#LAX) terminal 3. Pic via Fox Sports reporter @foxsportsreiter pic.twitter.com/cbPt6dJvJs

— WLTX – On Your Side (@WLTX) November 1, 2013
Want to check in on Twitterers around the globe were talking about this week? Take a look at our Top Global Twitter Trends.