A Summer of Heatwaves + HootUps, UK Event Roundup
Our nest of owls is growing rapidly and they have been hard at work spreading the Hoot love all over the country this month for HootSuite's London team. With the UK heatwave shining down, we tore ourselves away from the beach to spread the word on how HootSuite can help save time, allowing you to spend more time catching rays!
HootSuite Community Captain Shain Shapiro, UK Ambassador Allan Blair Beaton and our expanding team of owls have also been planning some exciting activities throughout the UK for the coming months, as well as working on new projects and partnerships.
Here is a roundup of what we've been up to and events that you can get involved in:
#HootUpDarlo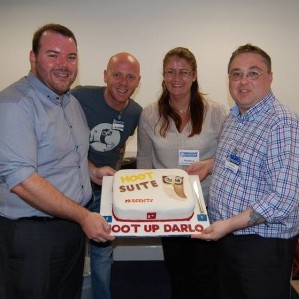 Diplomat Jayson Gurney and The Social Media Consultancy Limited held the first ever Darlington HootUp.
UK Ambassador Allan Blair Beaton and the team discusses. How to build connections and relationships in less time, making sure that social media never takes up your lunch break again!
Check out the Storify page.
Upcoming HootUps:
New Diplomat Rob Glover is taking the Hoot mission to the South West at the August #ExeterHootUp. Register here!
HootSuite is returning to the creative and friendly 29 Studios for a second Glasgow HootUp. Following on from previous success, HootSuite will host a relaxed evening on community engagement, audience mapping, tips and tricks and social media education, all with a focus on the creative industries.
UK Ambassador Allan Blair Beaton and his team of Scottish Diplomats will be on hand to run through the ins and outs of advanced social media integration, in order to help you save time and best manage your social platforms.
To join us on the 19 September, register here!
Rugby? Double Dragon? Tom Jones? Yes. We love Wales. We loved it so much infact that we have decided to Hoot Hoot on down to Cardiff for another Welsh Hootup!
On September 24 we'll be Hooting at the exclusive Cardiff Cameo Club. Join HootSuite UK Ambassador Allan Blair Beaton and Welsh Diplomat Jay Perkins. You can register here.
Diplomat Update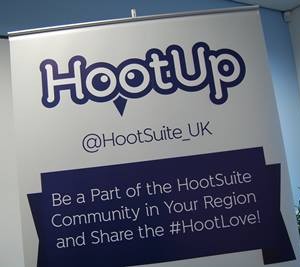 Our owls have been very busy this month and some new faces have been working especially hard!
Keep an eye out for more news coming soon!
We also welcome the following new faces to our team of dedicated Owls: James Lane, Sean Walsh, Rob Glover and Jenny Braithwaite.