Say Hello to Owly for the British Isles
There's a new member in the Owly family!
When we established a @HootSuite_UK profile to converse with the British Isles community, we knew there was a need for a new Owly. Wanting something that reflected the culturally diverse and historically rich region, we sent out a poll seeking feedback for a British Isles Owly.
We wanted to emphasize the diverse cultures of the UK – from Scotland to Wales, plus all the outer islands. So, we asked our users around the isles to chime in to help us avoid royal gaffes.
When all was said and done, the decision was… Elementary, my dear Watson…
A Holmesian Kind of Owl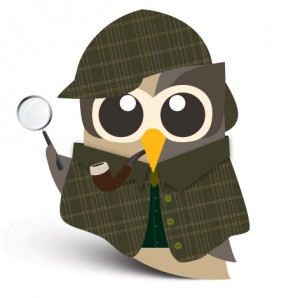 Please welcome to the HootSuite family – the Sherlock Holmes Owly! Our new addition beat out other suggestions such as Sir Winston Churchill Owly and William Shakespeare Owly by a significant margin.
While Mr. Holmes may not need an introduction to our British Isles HootFans – he may be less familiar to our international owls. Here's a primer:
Sherlock Holmes is a fictional detective, created by Scottish author, Sir Arthur Conan Doyle, and was first published in 1887. Known for his astute logic, general craftiness, and penchant for pipes, Holmes has had astounding lasting power – enchanting fans the world over for over a hundred years. Featured in dozens of movies (notably played by Basil Rathbone), most recently, Mr. Holmes was re-imagined in Guy Ritchie's action-mystery flick, Sherlock Holmes, and upcoming sequel Sherlock Holmes: A Game of Shadows.
We're particularly pleased with this Owly as we feel that our beloved mascot already shares a number of Holmesian qualities. He is clever, wise, and known to adopt many disguises – much like our own beloved raptor.
For more proof of Owly's fondness for disguises, outfits, and props – peruse our Owly Gallery.
Brilliant Deductions
In honor of the new Owly, check out these great HootSuite articles from the British Isles!
Wired.co.uk – How to Manage Your Online Real-Time Existence
You need time-management skills to optimise your online presence. Fortunately there are plenty of excellent tools available to help. Services such as… HootSuite let you view various accounts, monitor comments and add "Likes", on a range of services such as Twitter, Facebook, YouTube, MySpace, Flickr and blogs."
Macworld.co.uk – HootSuite Review
HootSuite is slick and easy to use: configuring connections takes seconds. There's nothing to download or install, because in runs in your browser. Whether you need a tool to manage your social networking for business or pleasure, HootSuite is #winning."
Business Computing World – Why You Should Use HootSuite if You're Serious About Social Media
HootSuite is not just a Twitter client it is a fully featured marketing tool to ensure that your organisation ekes every useful slice of information from your social media campaigns.
Business Training Made Simple – Using Twitter Platform Hootsuite to Search for Keywords
We're big fans of Twitter management system Hootsuite. Aside from its most obvious benefit, being able to manage numerous Twitter accounts, another major plus to using the tool is being able to set up keyword searches for your different accounts."
Birds on the Blog – What is Hootsuite and Why Should you be Using it for your Social Networking
Hootsuite is a 'dashboard' for your social media accounts, what this means is that it is a website you can log into in order to view your social media sites and activities all in the same place.

When hootsuite started it really was just another website to make using twitter that bit quicker and easier.

I love twitter, but the fact still remains that you have to do a lot of clicking to see what's going on, and if you are working out in the wilds of Suffolk where decent broadband turns up about as often as the Holy Grail you don't want to waste a single click!"
Computer Act!ve – Keep Updated with Social Networks on Your iPad with Hootsuite
The Hootsuite iPad app is a convenient way of keeping up to date with lots of different social networks without having to constantly switch between different tabs in Safari. The Hootsuite dashboard works quite well in Safari but the dedicated app is much easier to use."
Owling at HootSuite HQ
Speaking of winners, Daniel Pugh, who won our Owling Photo Contest,  happens to live in Vancouver and paid a visit to HootSuite HQ for an owl-off with Owly. Daniel received a HootSuite t-shirt and other goodies. You can see his winning entry, Owling on Mt. Harvey, below.
Want to see the other entries? Check out memelabs.com/owling for a slideshow of all the entries!
Internationowl Outreach
With the creation of a British Isles specific Twitter profile and the introduction of a new Owly – we look forward to growing and serving the specific needs of one of our largest international communities.
In addition to @HootSuite_UK, we also have an ever growing number of other international profiles:
@HootSuite_Japan, @HootSuite_ES, @HootSuite_RU, @HootSuite_Korea, @HootSuite_FR, @HootSuite_IT, @HootSuite_PT, @HootSuite_NL, and @HootSuite_DE
Can't get enough Owly? Visit our Life of Owly Tumblr for the latest on our favorite strigiforme.