Sunny HootUps and The Great Outdoors ~ HootSuite UK News Roundup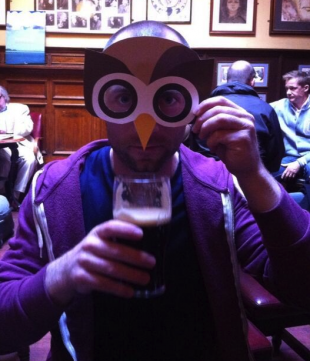 We've had our shades on and been soaking up the British sunshine here @HootSuite_UK. We've been busy Hooting at Liverpool Soundcity this week and we've got lots more exciting events coming up in the next month. Once again, HootSuite Community Wrangler Shain Shapiro and our team of owls will be hosting a handful of activities throughout the country, as well as working on exciting new projects to get us in the summer spirit.
Here is a taster of what we've been up to and what's to come:
#DublinHootUp

The Corrs?  Guinness?  Temple Bar?  Yes, we love Dublin. So we Hoot Hooted away across the bar to one of our favourite cities for a little HootUp. HQ Owls' Peter O'Sullivan and Ramen Kooner offered Guinness and social media tricks of the trade at this social HootUp.
Thanks to all that came, if you didn't make it check out the Storify here!
@SoundCity, Liverpool Soundcity – Social Media Partner
HootSuite were busy Hooting away in Liverpool last week and were the official Social Media Partner of Liverpool Sound City, that ran from May 2nd-4th. Shain Shapiro and UK Ambassador Allan Blair Beaton were involved in a couple of panels and roundtable discussions, as well as hosting a special #LSCHootUp.
If you didn't manage to make it to Liverpool Soundcity but are interested in music and social media, check out our blog series on Using HootSuite for Music!
See the Storify here!
#CardiffHootUp – Finding, Fulfilling and Monetizing Leads Through Social Media
Rugby? Double Dragon? Lavabread? Yes. We love Wales. So, we Hoot Hoot Hooted on to Cardiff for our first Welsh Hootup. HootSuite UK Ambassador Allan Blair Beaton and Welsh Diplomat Jay Perkins were sharing their top social media tips at Ten Feet Tall in Cardiff. A big thank you to all those that came down!
See the Storify here!
#GlasgowHootUp – Social Media Tips, Tricks and Time Savings Hints
HootSuite is returning to Scotland! After the success of Social Media Week last year our UK Ambassador Allan Blair Beaton and Scottish diplomats Jennifer Tough, Steve Sefton and Matthew Marley are ready for some social media neeps, tatties and ale with our venue partner, @29 Studios on May 16.  A wonderful venue to host what should be our largest HootUp ever.
Register here to share an ale and some chatter in Glasgow.
Diplomat Update – UK Owls Unite
The #HootMission continues in the UK, as HootSuite recruits Diplomats and Campus Ambassadors to the Community program. We have had an amazing response and are pleased to announce Jon Morter, Amplified Media and Joe Schiavon have joined our owl recruits. If you fancy joining the team, please send a DM to @HootSuite_UK.
Here are some updates on what other Diplomats in the area have been up to:
In Cardiff, diplomat Jay Perkins hosted his first #CardiffHootUp, focusing on finding business through social media and audience building. Meanwhile in Scotland, Zap Designs, Jennifer Tough and Matthew Marley will be joining HootSuite Ambassador Allan Blair Beaton for a series of activities in Glasgow and Edinburgh. Also, a big Hoot out to Amplified Media for a great blog post on HootSuite and location based searching, read here.
We love all our owls and want more to join us, so get in touch if you are interested in getting involved.
Look Hoo's Hooting: The Great Outdoors Edition!
After a glorious long weekend we thought we would put together a hoos-hooting of folk who might have some ideas for you if you are looking to get outside and make the most of the great outdoors:
First up, if you fancy a dip… head to @pellspool in Sussex, the UK's oldest Freshwater Lido, dating back to 1860.
Or why not get out into some of the UK's wonderful national parks:
New Forest National Park – @newforestnpa
Lake District – @lakedistrictnpa
Loch Lomond and the Trossachs – @lomondtrossachs
Snowdonia – @visitsnowdonia
Yorkshire Dales – @yorkshire_dales
Pembrokeshire Coast National Park – @Pembscoast
And if your are looking for more ideas, why not try:
English Heritage – @englishheritage
National Trust Magazine – @ntmagazine
While you are out and about in nature, here are some groups dedicated to safeguarding it for years to come:
RSPB – @Natures_Voice
Woodland Trust – @woodlandtrust
Butterfly Conservation – @savebutterflies
Natural England – @naturalengland
Sussex wildlife trust – @sussexwildlife
Dorset Wildlife Trust – @dorsetwildlife
Scilly Wildlife Trust – @scillywildlife
Yorkshire Wildlife Trust – @Yorkswildlife