Top 10 USA Twitter Trends of the Week, Vol 67 by HootSuite and Ad Age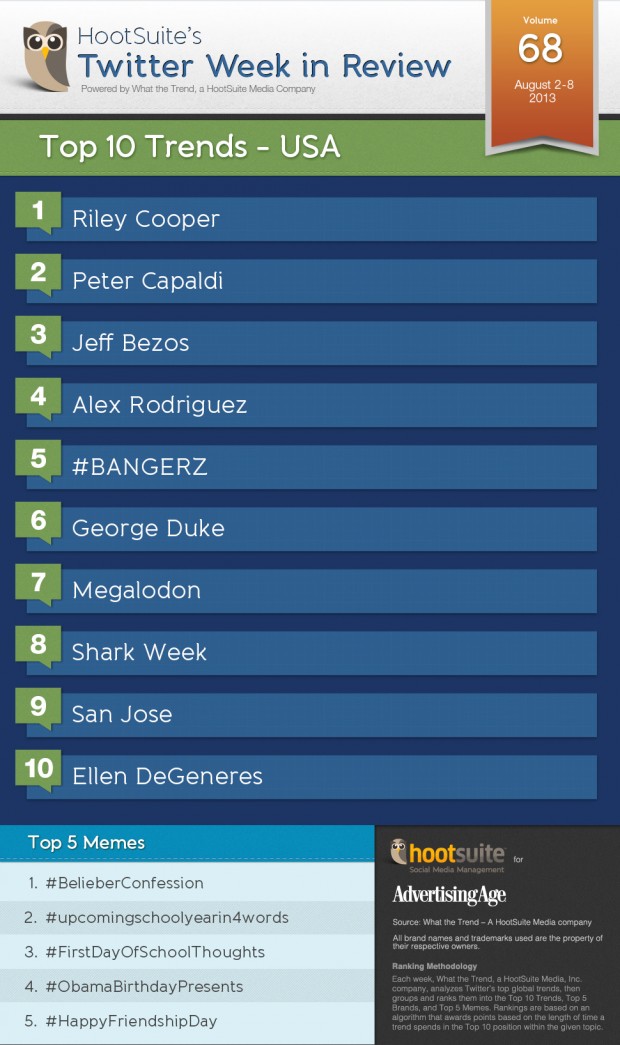 Riley Cooper
The Philadelphia Eagles player, who was caught using the n-word in a video that went viral earlier this week, returned to practice on August 6 after a brief stint away from the team. Since his absence, Riley has spoken with each of his teammates individually and asked them not to judge him. "It felt good to be out there with the guys and catching and running and making some plays and them coming up to you, supporting you, high-fiving you, chest-bumping you like Jason Avant did in the end zone when I had that TD," Riley said. "It just felt good to be back out here with the guys." While it seems his teammates seems to have accepted him back into the clubhouse, one has to think it will be a while before he can prove, as he attests, that he is not indeed racist.
Peter Capaldi
Peter Capaldi was announced as the next actor to portray The Doctor in the cult classic's next series of "Doctor Who." Fans had been awaiting the announcement for some time, and the BBC enjoyed the hype surrounding the big reveal. But don't take it from me, here is it is in the Doctor's own words:
Jeff Bezos
The Washington Post Co. has agreed to sell its flagship newspaper to Amazon.com founder and chief executive Jeffrey P. Bezos, ending the Graham family's  four generation stewardship of one of the United States' leading news organizations. Bezos, whose entrepreneurship has made him one of the world's richest men (18th), will pay $250 million (U.S.) in cash for The Post and affiliated publications to the Washington Post Co., which owns the newspaper and other businesses. Not exactly a large price, considering what pre-revenue startups like Tumblr and Instagram sold for not long ago, but if WaPo is gonna become a factor on the media scene again, Bezos may well be the guy for the job. Our own CEO Ryan Holmes has already added his insights on the sale in a post that appeared in Fortune entitled "Can Social Media Fix the Washington Post? 5 Hacks for Jeff Bezos."
I tried to think of a joke about how you can now get journalism with free shipping, but I couldn't make it funny enough, sorry.
Alex Rodriguez
Rodriguez was suspended through the 2014 season (211 games total) on Monday when the league penalized 13 players after an investigation into Biogenesis of America, a  Florida anti-aging clinic accused of distributing banned performance-enhancing drugs. The Major League Baseball Players Association formally appealed Alex Rodriguez's 211-game suspension Wednesday, sending the case to an independent arbitrator. Rodriguez, who was back at third base and batting third for the New York Yankees against the Chicago White Sox on Wednesday night, said he had "no reaction" to the filing of the grievance. Until after his appeal, ARod continues to play. It is the longest suspension of any baller accused of taking performance-enhancing drugs.
George Duke
Jazz icon George Duke, a Grammy-winning keyboardist who crossed musical boundaries to play with entertainers as diverse as Michael Jackson, Frank Zappa and Miles Davis and who became a successful producer of pop-oriented rhythm-and-blues records in the 1980s, died Monday in Los Angeles. He was 67. The cause was chronic lymphocytic leukaemia, his family said.
Megalodon
Sharkzilla? "Megalodon: The Monster Shark Lives," opened Discovery's annual Shark Week this weekend. With an estimated 4.8 million viewers, it had the largest audience of any show in the 26 years that Discovery has made Shark Week a part of its summer programming. Yet it drew a heated response online from viewers who said airing a "mockumentary" that talks seriously about the existence of a creature known only from its fossils, compromises the network's reputation. Discovery, for its part,defended the fake documentary. "With a whole week of Shark Week programming ahead of us, we wanted to explore the possibilities of Megalodon," Shark Week executive producer Michael Sorensen said in a statement. "It's one of the most debated shark discussions of all time, can Megalodon exist today? It's Ultimate Shark Week fantasy. The stories have been out there for years and with 95 percent of the ocean unexplored, who really knows?" 

Shark Week
Discovery Channel's 26th "Shark Week," its annual onslaught of shark-related programming, is occurring right now. Even though we know what to expect from these shows—a whole lot of swimming in circles and chomping—Discovery's audience is bigger than ever. More than 4.8 million people tuned in on Aug. 4 for the so-called documentary "Megalodon: The Monster Shark That Lives," about the faux-search for a 1.5 million year-old, 60-foot, whale-eating shark purportedly still living off the coast of South Africa.
San Jose
After One Direction visited San Jose, Cali last week – the city has been trending since. Fans are still posting pics & tweeting their fave moments. This week the San Jose Earthquakes only had a small handful of chances and failed to capitalize on a penalty Wednesday night as the Montreal Impact took control of CONCACAF Champions League Group 5 – winning 1-0.
Ellen DeGeneres
Comedian Ellen DeGeneres will make her second appearance as an Academy Awards host next year. The move is widely seen as a less-provocative choice for Hollywood's highest honours, after a funny yet controversial performance by Seth MacFarlane. "I am so excited to be hosting the Oscars for the second time," DeGeneres said in a statement. "You know what they say — the third time's the charm."
It's official: I'm hosting the #Oscars! I'd like to thank @TheAcademy, my wife Portia and, oh dear, there goes the orchestra.

— Ellen DeGeneres (@TheEllenShow) August 2, 2013
Want to check in on Twitterers around the globe were talking abut this week? Scope our Global Twitter Trends of the Week.