#HootTip: Using Favorites in #HootSuite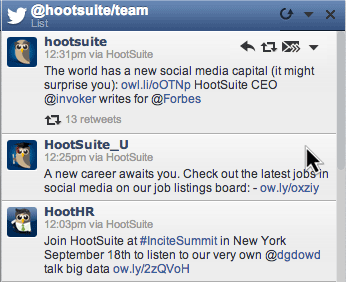 The dashboard is chock full of features and tools to help you make the most of your social media management. To help get you acquainted with the various functionalities, or just give you a refresher, we have a new #HootTip all about a handy HootSuite feature.
Using Favorites
Information comes and goes at an incredible rate these days. Using the Favorites feature in HootSuite helps you bookmark important tweets or follow them in a stream to RT or reply to later. Whatever your reason for "starring" a tweet, you can also use the feature on-the-go with HootSuite Mobile apps.
In this #HootTip, discover how to keep track of all your Favorite tweets both at your desk and on-the-go.
Here's How to Favorite a Tweet:
In your HootSuite dashboard, hover over the tweet you would like to mark as Favorite.

Click the arrow on the upper right corner of the tweet.

Select "Favorite" from the pulldown menu.

The selected tweet will then be added to your Favorites stream.
Viewing Favorites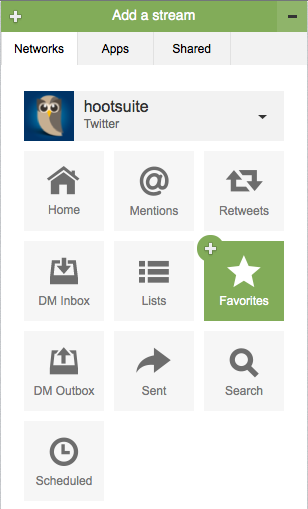 Now that you've toggled a few tweets as Favorites, create a "Favorite Stream" to view and respond to when you're ready.
Here's How to View your Favorites:
Choose a tab, or create a new tab, that you would like to stream your Favorites in.

In the new stream Wizard, select Networks and find your Twitter profile that favored the original tweets.

Select the "Favorites" option in the Wizard. Voila! Your all of your Favorites will automatically occupy a new stream for easy viewing.
Mobile HootTip Bonus!
Want to Favorite tweets on-the-go? Toggle them easily with HootSuite Mobile apps for iPhone and Android.
Here's How to Use Favorites on-the-go:
Open up your HootSuite app and select a stream.
Once you're looking at the stream, select the tweet you would like to Favorite.
Iphone: At the top of the tweet there will be a tab that says Favorite with a star beside it. If the star turns yellow, you've successfully marked this tweet as a Favorite.
Android: On the bottom right hand of tweet, there is a star on the bottom you can press. When the star turns yellow you've marked this tweet as a Favorite
Like many updates, we've added these handy features based on your helpful feedback. What's your next idea?
Keep an eye out for a new #HootTip each week – they're short, sweet and re-Tweetable so you can share your HootSuite expertise with your friends and followers.