Video Storytelling Using Videolicious
Things move very quickly here at HootSuite. We are adding thousands of new users all of the time, and each month several new applications are released to our App Directory. There's one I'm especially stoked about, Videolicious. It's easy to use, and you can produce videos like a pro with nothing more than your trusty iPhone.
We like to test and use the apps in our App Directory, and where possible, put them to regular use at HootSuite.
Each Monday morning, a new batch of Owls can be seen on the couches at HootSuite HQ; exchanging first "hellos" and waiting for orientation. Having been through it myself just a few weeks ago, I realized that Videolicious might help my fellow Owls get better acquainted with one another.

My Hobby's Too Videolicious, Baby
Being no stranger to video and camera apps, it didn't take me long to figure out how to make some short videos using Videolicious. I started using the tool to meet other Owls, asking one simple question: Why do you like working at HootSuite?
Even for people with little-to-no video production experience, Videolicious can be a great real-time video storytelling tool. To prove it, I devised a simple video storytelling formula that I'm encouraging my fellow Owls to try. Though the app is simple enough to use, some of the old tricks I learned in my TV days have come in handy. Here's a step-by-step:
3 Steps to Storytelling Using Videolicious
Step 1. Pre-Production
Meet with your "talent" before hitting record and share the interview question/s, giving them some time to think. I also chose locations for the shoots beforehand, that had sufficient environmental lighting and sound. After exchanging one-line emails with Andy Au, our Social Content Producer, we spent just two minutes that same afternoon to make this little feature on a recent field trip:
Step 2. Shooting "B-Roll"
B-roll is a TV industry term for the "cutaway" shots that you see in a video story. For example, when someone is talking about the sky, the video "cuts" away to an image of the sky. During the pre-production phase, I took note of what my interviewees said they like, and gathered B-roll footage in advance, in my camera's photo roll. When I asked our Art Director, Joanna Ambrosio, what she liked about working here, she said she liked the way people express themselves creatively. So I went on an "art tour" of our offices, and this was the result:
3. Recording and Uploading
Fire up the Videolicious app, add your b-roll "shots," and then get ready to "tell your story." Here's where it gets fun. Point the camera at your subject, ask her the question, press the button to record, then wait for her to cue your b-roll. All you have to do is click the thumbnails when you want to see those shots, and then click again when you are ready to end your video. Add some music and a filter if you like, choose a resolution and upload! If you've installed Videolicious in your HootSuite dashboard and synced your account, your video will appear in your Videolicious stream. Configure your fave social networks and email, and you may share at will.
Pro Tip: News editors will tell you that any story told with video needs an "establishing shot." Those are fancy words meaning "show us where you are." A short video or even a photo of a street sign, building exterior or any wide-angle view of your location will help put your story in context.
Videolicious + HootSuite
The primary advantage of Videolicious, as I see it, is its ability to produce a high-quality video story in very little time. For example, picture an embedded reporter, filing her own story from behind enemy lines and introducing her own footage packages using just her iPhone; sharing her story globally with a few clicks of her thumb.
Like a tweet or an Instagram pic, the ability to share any Videolicious video to your social networks instantly makes all the difference. This is where HootSuite comes in especially handy. As seen in the screenshot below, you can add Videolicious as a Stream in the HootSuite dashboard, where you can watch videos in your feed, share with a few clicks, and make Videolicious part of your of your ongoing social media content management.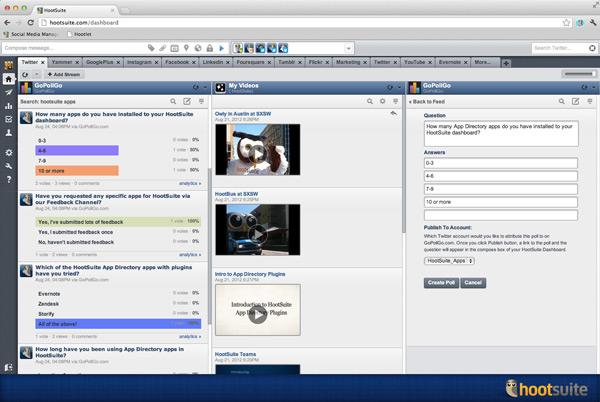 I'm challenging my fellow Owls to give Videolicious a try, because it offers an easy way to use video as a storytelling tool. Click the button below to visit the HootSuite App Directory, and give it a try. Once you're set up, you'll be armed with an incredibly powerful storytelling tool, and can be making great videos right away. Have questions or feedback? Let me hear from you in the comments, or hit me up on Twitter: @jordanbehan.