Webinar: Social Selling with Nimble CEO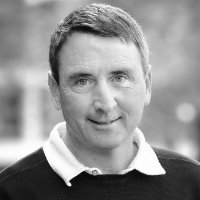 HootSuite's Solution Partner Program is proud to have Jon Ferrara, CEO of Nimble talk to us about social selling and show us how to maximize HootSuite's first social CRM App Directory Integration. Join us for this free webinar hosted by Jon.
Jon Ferrara, former CEO and Founder of GoldMine, a pioneering CRM company, saw an opportunity to significantly improve a business teams ability to engage online with prospects and customers. Jon created Nimble with the idea of streamlining the customer relationship management process by including conversations and signals from email, calendar and key social networks, allowing users to access their unified business relationships within a single platform.
Nimble turns standard, one dimensional sales leads into 3D, living, breathing, contact records where the customer tells you about themselves, and how best to serve them across all their favored communication platforms. Nimble helps users see what their customers are thinking, saying, and sharing–24 hours a day. Nothing can tell you as much about customers as customers themselves. Nimble allows users to effortlessly listen and engage with customers and prospects alike. Nimble stores social conversation history, emails, and client-specific notes on contact records. And most importantly, that information is shared trans-departmentally, offering a consistent experience throughout the company. Nimble's recent integration with the HootSuite app directory makes it even faster to collect and share client stories across your team.
On Wednesday, February 20th at 9AM PST, hear from the CEO of Nimble to learn best practices around social selling and for a demonstration on how easy it is to manage social relationships by using Nimble and HootSuite.

Learn more about our Partner Program

HootSuite's Solution Partner Program is designed for agencies and consultancies looking to demonstrate social leadership and drive recurring revenue by introducing clients to HootSuite. Benefits of the program include exclusive access to HootSuite Partner resources, training and support.
Apply today to become a part of our HootSuite Solution Partner program.