What is Content Marketing, Really?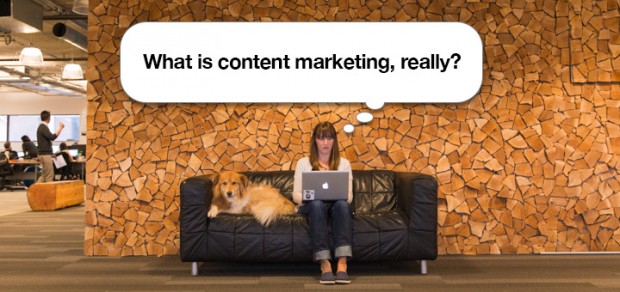 This post originally appeared on newsroomcmo.com. View the original here.
Content marketing has proven to be essential in today's marketing world – particularly with B2B marketing – it is the term du jour. Yet many marketers struggle to understand it or use it.
Creating content – its planning, development, production and measurement – can feel like a treacherous journey into unknown territory. And it's true; content marketing is more reminiscent of the publishing world than the advertising world.
If you struggle to understand content marketing, or make a case for it within your marketing spend, then this article is for you.
Why start content marketing?
Why? Because the customer journey has changed. The rapid evolution of social and digital technologies has made information abundant, and your customers are turning to these channels first. Today's business buyers do not contact suppliers directly until 57 percent of the purchase process is complete. Do you want them to find information about your business? Or do you want to leave a empty space that either your competitors will fill with their own helpful content, or your would-be customers will fill with damaging complaints or feedback on your organization?
You don't buy advertising space without ads to put in it.
And you don't start making content unless you know what the purpose of it is. Content marketing is all about your customer. I'll say that again for emphasis: You're creating content that your customer needs and wants. The goal of content marketing is to create helpful, informative pieces (from white papers to animated gifs) that your audience finds valuable, in order to drive positive engagement with your customers, whether that be increasing sales or reducing churn. There are numerous ways to understand what your buyers want, so structure your content purposefully to ensure it performs; particularly social content which is proven to increase brand consideration, site traffic and conversions.
Where to start content marketing.
Take a look to your marketing goals. Are you trying to increase sign ups? Decrease customer complaints? Next, look to your audience, and understand what their needs are and create informative and helpful pieces that demonstrate how your offering meets these needs. The result of your customer action, as promoted through the information in your content, should line up with your goals.
For example, if your goal is to reduce call center volume, you might consider creating resources that answer the top 10 customer questions or complaints. If done properly, and distributed well through social channels and help desk forums, your customers will be able to help themselves, alleviating the strain on your call center.
Plan ahead and budget for content production.
Grab a calendar. Grab your marketing plan. Look at what you need to achieve the next year, month by month and quarter by quarter. You know your marketing objectives. Now, flip your mindset around to that of your audience. What are they looking for? And based on their needs and pain points, start to plan out pieces that show how what you have to offer can meet these needs or solve their frustrations. For B2B audiences this takes a lot of education. You may need several different types of content on one topic. My advice is to start big. Start with one piece quarter a quarter (we call these "keystone" pieces at HootSuite), make it your theme, and build off of it so everything you're creating ties to that theme. Calendar the release of each subsequent piece of content and plan for distribution. Schedule content alongside advertising campaigns and events to help fill the gaps between the ebbs and flows of traditional marketing plans. You'll see themes start to emerge around holidays, or major releases. Build on these themes by creating more, and different types of content related to each theme. Keep scheduling it in. Before you know it, you'll have a content marketing calendar.
The tricky part is the resourcing and the budget. If you can't produce in-house (and many cannot) look to a company like Scripted or Contently to help you out. SEO is also a huge factor in discovery of your content, so invest here as well.
Build a social story.
Look at all those juicy content pieces you have scheduled in your content marketing calendar. Each one can have a storyline written for it on social. Plan to have at least 3-5 different tweets for each piece, released the week it goes live. Ask for feedback on Facebook. Add an excerpt to your Google+ page and engage subject matter experts to create a discussion. Add it to your company page on Linkedin. Share it with your colleagues, and let them share it through their social networks too. If it helps, pre-script the tweet for them to make the sharing even easier. Standardizing your organization on one social relationship platform (like HootSuite) makes content amplification even easier. When you can leverage your employees as advocates, you increase your reach exponentially. The more touchpoints out there you have to reach people with, the more successful your content marketing will be.
Noah Bier, of Percolate, said it well:
The major social platforms have a clear message to marketers: We have the scale and ad products to allow you to reach any consumer segment for a reasonable cost. The marketer's job, then, returns to creating content that captures their attention and achieves the brand's objectives, whatever those objectives may be.
MEASURE your content performance.
Remember how you created content around business goals? Make sure to check in to ensure that it's performing as intended. You can track the success of each piece and report back on it. Usually this involves the use of additional technology. Uberflip does a great job of letting you track engagement, and captures customer information too, should you want to include lead generation forms, plus it ensures that each piece is indexed on your sight for better SEO juice.
When you're sharing on social, always append tracking codes to your links. As I believe whole-heartedly in HootSuite (being an employee and evangelist – full disclosure here) I recommend using Ow.ly link shorteners in combination with Google Analytics. This gives you insights into the success of your messaging using click-through rates, and tracks on-site metrics as well.
Once you've gotten the basics of measurement, start incorporating more sophisticated social intelligence using both HootSuite and uberVU, a powerful content marketing weapon that identifies trending stories and relevant content to post directly to social media accounts. With the actionable insight gained, you can better understand your audience by identifying key influencers on relevant topics, easily detecting real-time spikes in engagement (with insights on sentiment, location, and demographics), and highlighting important mentions.
The more messages you send, the more data and results you'll have to inform you. So publish away!
Content marketing takes time and money.
Some years back, as a young marketer starting out at a design agency, my first producer educated me to the ways of the world. Her philosophy was: Everyone wants things better, faster and cheaper, but the reality is you can only ever have two out of the three. This is especially true for content marketing. It takes effort. Don't be fooled on that front. If it's going to be good, you either need to invest time or money.
Any marketer knows that the landscape is changing rapidly, and my prediction is that it's not settling into a new norm, change is the new norm. Content marketing is not a miracle potion. It works because it takes a considerable amount of information and effort, but it creates something of value for your audience, that helps them make decisions around whether to buy from you, or use your services, or whatever your mission is. Put simply, content marketing is a tool that works. Why wouldn't you use it?