Who's Winning #SochiSocial Gold?
Your Guide to Social Stats on the Sochi 2014 Olympics
Throughout the Games, we'll be tracking social conversations around the 2014 Sochi Olympics in this daily infographic to show what's buzzing on social. Powerful stats from uberVU via HootSuite will be updated each day to give you an overview of who owns the mindshare of Olympic voice on social.
Read on for a deeper dive into these stats.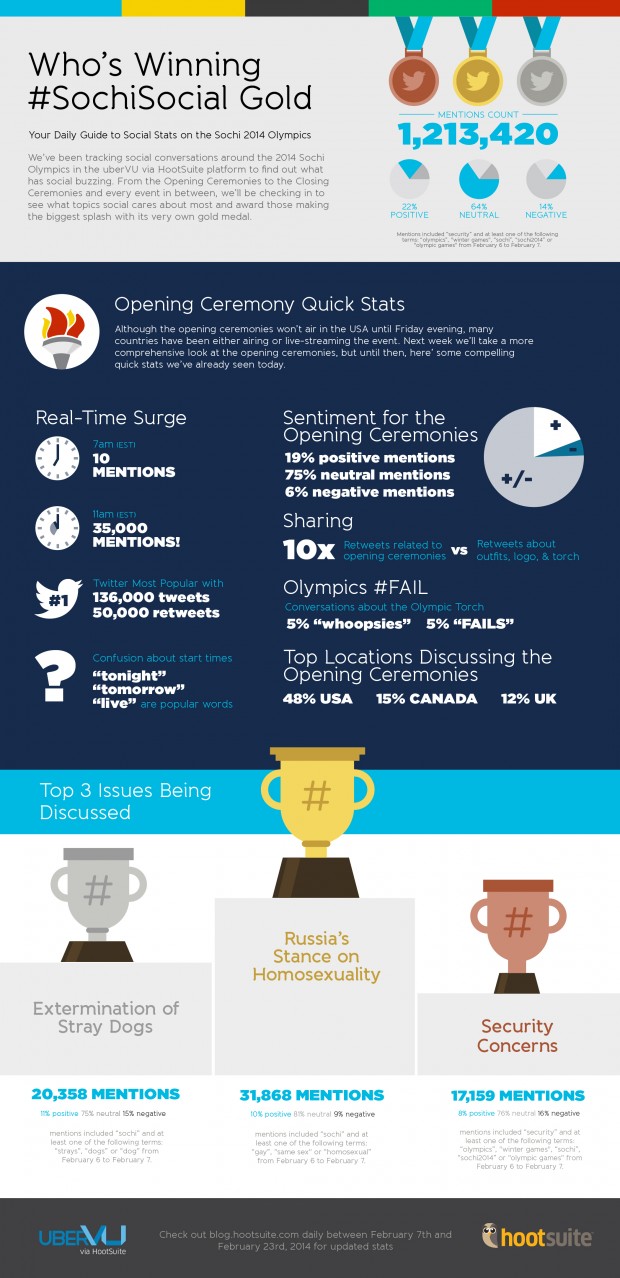 Day One: Sochi Issues and Opening Ceremonies
Every Olympic games is fraught with its fair share of buzz and drama. At times the competition and athletes themselves create the stories, and just as often the news-worthy politics surrounding the event captivate worldwide audiences.
The real-time conversational nature of social media, and particularly Twitter, only amplifies our spectator-participation in the games. The casual observer and fervent sports-fan can join into global conversations, and brands get the opportunity for real-time marketing.
The weeks leading up to the Olympic Games have provided no shortage of stories for the press, topics ranging from the conditions at Sochi and the political landscape of Russia. Here's a deeper dive into what we're seeing on uberVU via HootSuite.
Opening Ceremony Quick Stats
At the time of this post, the opening ceremonies have not yet aired in the United States, whereas other countries with more congruent timezones are broadcasting live, or live-streaming coverage. Next week we'll dive deeper into opening ceremony stats, but until then here are some compelling numbers from today:
As of 2:00 pm EST:
1,213,420 mentions
Sentiment: 22% positive, 64% neutral, 14% negative
Mentions included one of the following terms: "olympics", "winter games", "sochi", "sochi2014", "olympic games" or "olympics2014" from February 6 to February 7.
Who's winning so far? The Olympic outfits: with 1,400 mentions­­ and overwhelmingly positive (31%) sentiment. The word "love" accounts for 6% of mentions. People are also more passionate when talking about Olympic outfits than most other Olympics-­related topics: only 55% of mentions are neutral (see the infographic above for more details).
Sharing is caring, and Opening Ceremonies ­related tweets made up over 10x the number of RTs compared to tweets about outfits, logo, and the torch. In total, there are over 52k RTs about the Opening Ceremonies.
Real­Time Surge:
As expected, social exploded from around 10 mentions at 7am EST to over 35,000 mentions by 11am EST as the Ceremonies began live in Russia.
Twitter was the network of choice with over 136,000 tweets and 50,000 retweets. Top words include "tonight", "tomorrow", and "live" all on conversation map, indicating a clear confusion over when to tune in and catch the coverage.
Top 3 Issues Being Discussed
Russia's Stance on Homosexuality
Extermination of Stray Dogs
Security Concerns
Insight on the top issue being discussed:
Politics in Russia appear to be top of mind in the social-sphere. Russia's controversial laws against homosexual propaganda are taking attention away from the games themselves, resulting in over 30,000 mentions. At first glance, the sentiment is surprising, with an even split between positive (10%) and negative (9%) sentiment, but we attribute this to the celebratory nature of many of the protests, including Google's pride-themed doodle, weighed against the general negative outcry.
Of note, the word "Gay" appeared on the conversation map for the Olympics search stream, and was the only term related to these three issues to appear, accounting for 4% of the overall conversation.
Have a look at the infographic above for more details on top issues being dicussed.