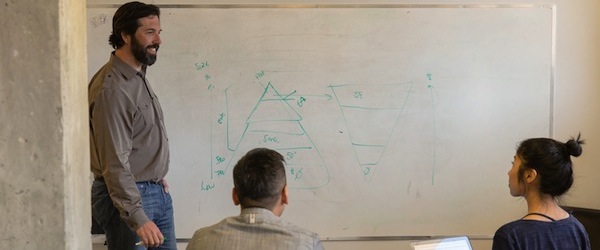 Accelerate Your Social Transformation Through Custom Education
Empower your Workforce
New digital tools have entered the workplace, initiating a transformation in the way we work, communicate, and manage relationships. To succeed in this rapidly changing environment, organizations need digitally enabled employees who can capitalize on emerging business opportunities and overcome complex challenges. However, merely deploying new tools and creating guidelines for their use is not sufficient.
Professional social media education is key to addressing today's growing digital skills gap and empowering workers with the technical knowledge, judgment, and strategic insight that they require in the digital era.
Learn more about Hootsuite's Custom Education for your organization.
More Than Social Media Managers
Social media impacts all aspects of your business and is no longer the exclusive responsibility of a single team or department alone. Whether your business is prepared, individuals and teams throughout your organization are already using social media to engage with customers, partners, and influencers.
"Training on social media is key for any company. Whether posting personally or on behalf of Wiley, we want all colleagues to feel empowered that they are utilizing the best practices in the space. As we move into a more digital realm, social is going to play a key role in how we engage with and better understand our customers. Arming colleagues with the skills they need is the first step."

– Clay Stobaugh, SVP and Chief Marketing Officer, Wiley
Key Benefits of Company-Wide Social Media Education
Mitigate social media risk with policy education
Develop general understanding of social media's business impact
Ensure baseline knowledge of social media best practices
Empower employees to become brand advocates
Provide comprehensive training for specific roles, regions, and business functions
A custom education program should be tailored to address the unique goals and challenges of your organization, department, or team, providing highly relevant training and education to employees, enabling a digitally engaged workforce to confidently represent your brand online.
Hootsuite's Custom Education
Hootsuite's Custom Education helps organizations accelerate their social transformation by empowering employees company-wide to effectively and securely engage online through tailored education services.
Flexible Learning Packages
Select lessons off-the-shelf from our extensive library of educational content, addressing your specific needs and ensuring baseline knowledge among employees on social media best practices.
Tailored Content and Curriculum
Work alongside our industry-leading experts to design and develop customized lessons, based on your company's top priority objectives.
Simple and Scalable
Roll out your education program through a private platform with easy on-boarding, smooth user experience, dynamic assessments, and strong analytics, allowing you to measure the business impact of education.
"I'm thrilled that Wiley partnered with Hootsuite because of their expertise in the social space and the flexibility of the program. We were able to mix the great content from Hootsuite University and the Newhouse-Hootsuite Advanced Social Media Strategy Certification with our corporate needs to provide a comprehensive skill set for our global colleagues."

– Clay Stobaugh, SVP and Chief Marketing Officer, Wiley
Hootsuite has educated over 60,000 businesses and professionals, delivering world-class industry knowledge and e-learning expertise while collaborating closely with your organization through tailored education programs tied to your specific goals and objectives.
Learn more about Hootsuite's Custom Education for your entire organization.
To learn more about powering social media success in the enterprise through education, sign up now for Hootsuite's live webinar Accelerate Your Social Transformation: Social Media Education for Employees on Wednesday, June 11, 2014 at 11:00 a.m. EST.
The webinar will feature insights from Michelle Lockett, social marketing director, corporate marketing at Wiley; Dr. William J. Ward, social media professor at Syracuse University; and Jeanette Gibson, vice president of community and customer experience at Hootsuite.