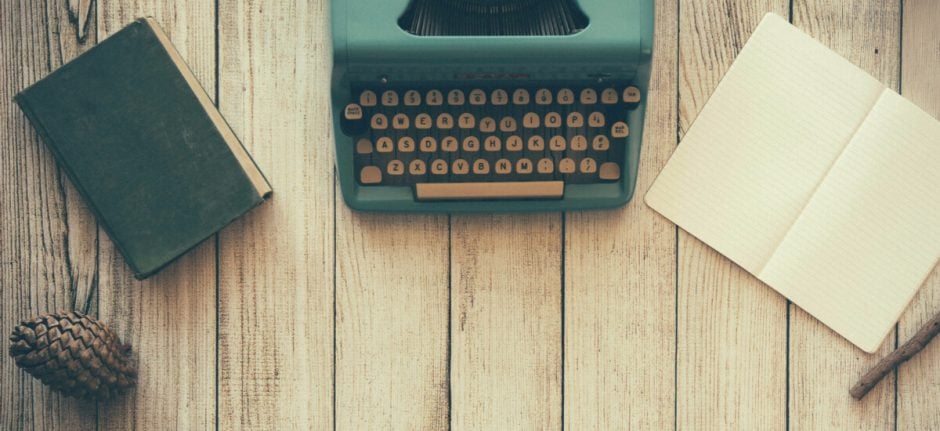 Social Media News You Need to Know: February 2016 Roundup
How does this month's social media news make you feel—do you like it? Love it? Does it make you angry or sad?
Now it's easy for you to say so in a single click (or at least, it is on Facebook anyway). The social giant finally rolled out Reactions globally, adding five new animated emotive options alongside the ubiquitous Like button. So, now you can say so much more than Like… Why not try out "Love" the next time you spy a cute animal photo, or "Haha" the next time a funny cat video pops up into your feed. Or, you could use "Wow" to indicate how impressed you are by your cousin's new job, or "Sad" to express sympathy when your friend's fish dies. Just be careful with how you use "Angry"…
Despite being the shortest month—slightly less so in 2016 because of Leap Year—February was packed full of social network updates and exciting feature announcements.
Twitter added GIF search, Snapchat introduced the ability to make your own custom Geofilter, and Instagram finally allowed users to easily switch between multiple accounts. It was a busy month in the world of social.
To get you caught up, we've gathered all the biggest social news into one handy roundup guaranteed to keep you in the know!
Twitter
First View video ads
On February 9, Twitter introduced First View, which revenue product manager Deepak Rao described in the announcement blog post as, "an engaging and highly visible way to share your brand story with compelling video creative across Twitter's massive audience." Twitter's new First View feature gives advertisers the opportunity to purchase the top slot. Rao explained: "First View helps marketers achieve significant audience reach with exclusive ownership of Twitter's most valuable advertising real estate for a 24-hour period. When users first visit the Twitter app or log in to twitter.com, the top ad slot in the timelines will be a Promoted Video from that brand." First View is currently being rolled out gradually to "managed clients" in the U.S. Twitter says it has plans to expand the feature globally in the coming months.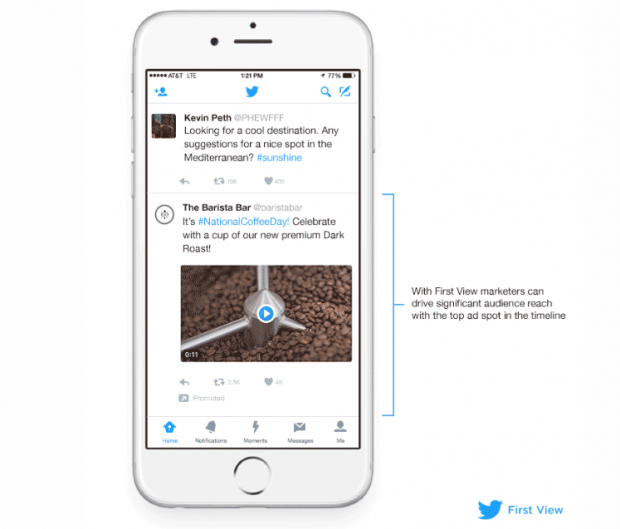 Improved Timeline
On February 10, Twitter launched what it refers to as improved timeline—essentially their addition of algorithms to the Twitter newsfeed. This change (available for iOS, Android, and web) allows users to see Tweets "they're most likely to care about from the accounts they follow" at the top of their feed. The rest of their timeline will appear in reverse chronological order as usual. Eric Farkas, product marketing manager, explained that the change ensures "the best content shines through." Promoted Tweets and Promoted Accounts will not be affected. Farkas added: "Throughout our tests, we also saw an increase in engagement for brands' organic Tweets and an increase in engagement for Tweets about live events."
The updated timeline shows people the Tweets they're most likely to care about. Here's how it workshttps://t.co/MNVoEVnmBY

— Twitter Advertising (@TwitterAds) February 10, 2016
GIF search
After reports early in February that Twitter was testing a GIF button on mobile, they launched GIF search on February 17. Available for both mobile and web, the new feature can be used in Tweets and Direct Messages. Twitter is rolling it out to users worldwide on iOS, Android, and Twitter.com "over the coming weeks." Users can search by keyword or browse categories of different reaction, such as Happy Dance, Mic Drop, or YOLO. The GIFs themselves are provided by Twitter's partners GIPHY and Riffsy.
The GIFs are coming! Get ready to search and send GIFs in Tweets and Direct Messages: https://t.co/uk75stt1zN pic.twitter.com/1dDD1B4CW2

— Twitter (@twitter) February 17, 2016
Customer feedback and customer service DMs
On February 18, Twitter launched two new customer service tools. Hootsuite is thrilled to be an integration partner for the platform's Customer Feedback feature, which allows businesses to collect their audience's feedback after service interactions through standard Customer Satisfaction (CSAT) and Net Promoter Score (NPS) questions. This will provide the business with more structured feedback  The other new feature, Tweets to Direct Messages, provides a simple way to start a Direct Message. Businesses can now add a deep link to their Tweets that will automatically display a call to action button allowing the customer to send the business a Direct Message.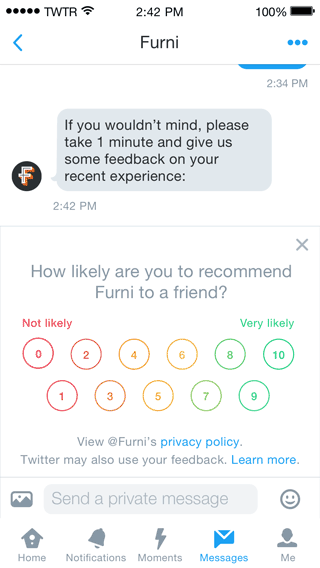 Improved Embedded Timeline
On February 25, Twitter announced that they're going to update embedded timeline "to better showcase the stories you tell with Tweets." Jacob Harding, senior software engineer, explained: "The new timeline features a clean, modern design which showcases expanded photos, videos, GIFs, and more. It's fully responsive, and it includes support for several new media types, including polls." New embedded timelines will not include the "hide media" option, thus reducing the number of clicks users need to view content. Mollie Vandor, senior product manager, explains in an announcement blog post that this will "put sharing front and center on every Tweet, so that it's easier than ever for people to engage with your content." The update will occur on March 3.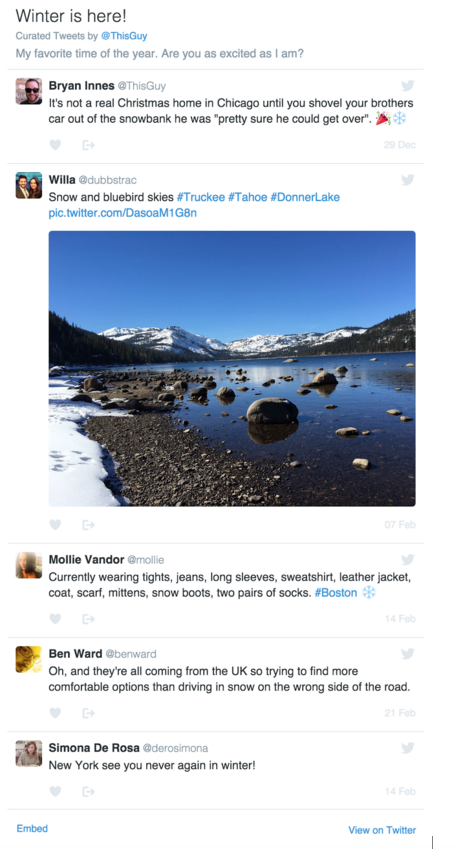 Facebook
Auto video caption tool
On February 10, Facebook introduced automated captions for video ads. A Facebook for Business post explained: "Our research found that when feed-based mobile video ads play loudly when people aren't expecting it, 80 percent react negatively, both toward the platform and the advertiser… Internal tests show that captioned video ads increase video view time by an average of 12 percent." To add captions previously, advertisers had to embed captions or upload their own caption files. The post explains: "Our new automated captioning tool generates captions for video ads and delivers them to the advertiser within the ad creation tool to review, edit, and save to their video ad." The feature will initially be available for U.S. English captions and will roll out globally to Ads Manager and Power Editor in "the coming weeks." The video below has captions, simply click the gear icon and check the box labelled "Captions" to turn them on.
All our chicken is raised without the use of antibiotics, even the chicken in our new Chicken Buddy Burger!

Posted by A&W Canada on Monday, 11 January 2016
Instant Articles for all publishers April 12
On February 17, Facebook announced plans to open up Instant Articles to all publishers—of any size, anywhere in the world—as of April 12. The program initially launched in May 2015 with fewer than a dozen publishing partners, according to the Wall Street Journal. It's currently open to a few hundred publishers. Josh Roberts, product manager, explained: "We built Instant Articles to solve a specific problem—slow loading times on the mobile web created a problematic experience for people reading news on their phones."
New website for non-profits
On February 18, Facebook launched a new website for nonprofits and NGOs. The site is designed to help nonprofits use Facebook more effectively to raise awareness, activate supporters, and raise funds. It includes information and tools, including best practices and success stories. The announcement post explained: "We are inspired by how many people use Facebook to improve the lives of others and help their communities, and we are committed to helping people do more good through Facebook. The site is currently available in English. Facebook added: "We will keep working to provide tools and information for the global community on Facebook and provide updates as more resources become available."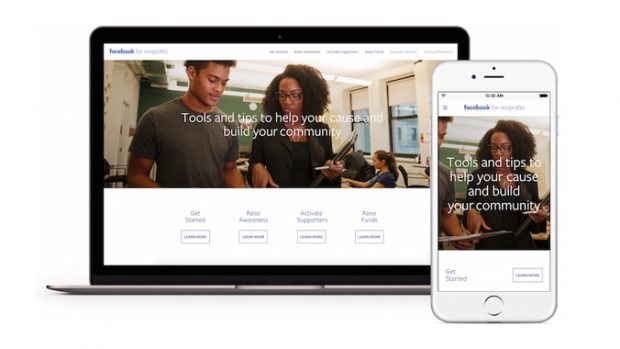 Reactions available globally
After a lot of waiting, Facebook finally rolled out Reactions globally on February 24. Now, in addition to a newly updated version of the classic Like button, users can choose to react to posts on Facebook with "Love," "Haha," "Wow," "Sad," and "Angry." Each Reaction, represented by an animated emoji, can be accessed by mousing over the Like button on a post. Sammi Krug, product manager, explained: "We… looked at how people are already commenting on posts and the top stickers and emoticons as signals for the types of reaction people are already using to determine which reactions to offer." Facebook's initial tests of the feature originally included "Yay" and "Confused" options, but they weren't deemed universal enough to make the final cut. Now posts display the top three Reactions alongside a counter that indicates the total number of different Reactions the post has received. Clicking on that breaks down individual reactions by user. This part of the feature also displays which of a user's friends have reacted to the post. Product design director Geoff Teehan gave an in-depth look at the process of narrowing down the options and creating the new feature in a post on Medium.
Canvas full-screen mobile ads
On February 25, Facebook introduced Canvas, a full-screen mobile ad experience. The announcement blog post from Facebook for Business explained that Canvas is, "a new post-click, full-screen, immersive mobile ad experience on Facebook that loads nearly instantaneously." It was created to solve the issue of slow load times for links viewed on mobile devices. The post further explained that: "Canvases open from Facebook ads in News Feed to reveal a full-screen experience where advertisers can use a mix of video, still images, text, and call-to-action buttons to build beautiful and effective brand and product experiences on mobile." Canvas supports carousel images, tilt-to-view panoramic images, and the ability to zoom in to view image details. It works on Android and iOS and is available to advertisers with access to Power Editor.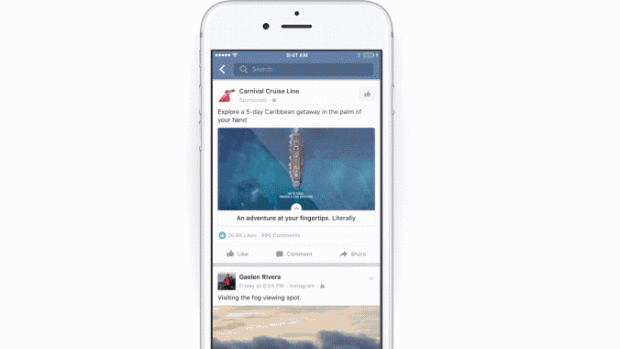 Instagram
Support for multiple accounts
After several months of rumors and reports, Instagram finally confirmed on February 8 that it has added support for multiple accounts. Users can now quickly and easily switch between multiple accounts without the cumbersome process of logging in and out. Find out how to add and manage multiple Instagram accounts in our blog post.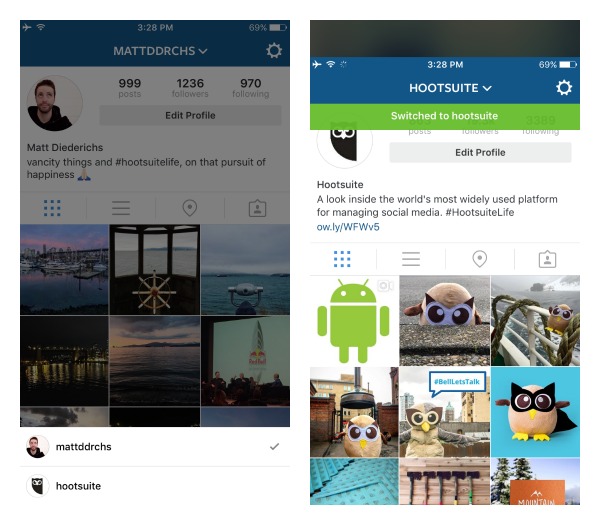 60 second video ads
At the beginning of February, Instagram extended video ads to 60 seconds, reported TechCrunch. Previously video ads were capped at 30 seconds, though both ad lengths are longer than the 15 second maximum time allowed to users. TechCrunch wrote: "Essentially, Instagram wants to be able to absorb the shift in ad spend from television to digital. To do that, it can't force advertisers into proprietary formats and lengths." Advertisers involved in the initial test of the new ad length included T-Mobile USA—which used the format to share an extended version of its Super Bowl ad featuring Drake—and Warner Bros., which shared a 60-second trailer for the film How to Be Single, reported AdWeek.
Video views
Mid-month, Instagram announced that they'd be rolling out video views on the platform. The announcement blog post explained: "As a widely expected industry metric for video, we believe video views are the best measure of viewer intent… Adding view counts is the first of many ways you'll see video on Instagram get better this year." Views will appear under video posts. Users must then tap on views to see likes. In the help centre for video views, Instagram explains that view counts do not include loops and that "a view is counted when a video is watched for three seconds or more." Views will only be counted from inside the app and will not counted on embedded posts. Views will appear on videos uploaded after November 19, 2015.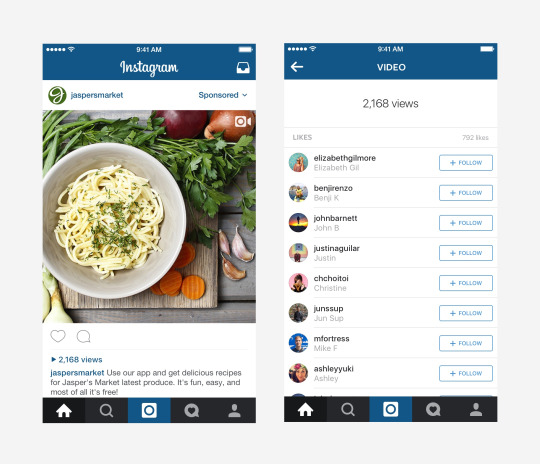 Two factor identification
On February 17, Instagram introduced two-factor identification, reported WIRED. The two-factor system is opt-in. Once users give Instagram their phone number, whenever they enter their username and password, they'll be texted a string of additional digits which need to be punched into Instagram. Wired explains: "So if a hacker has your password and username, but not your phone, they can't crack into your account." Instagram will generate the two-factor codes through its own system, rather than using a service such as Google Authenticator. WIRED added: "An Instagram spokesperson confirmed to WIRED that the photo-sharing service is releasing the feature in a slow, staged rollout, so you may not see the option for your account just yet. Details about the full release and whether the feature will first be available for iOS or Android aren't available at this time."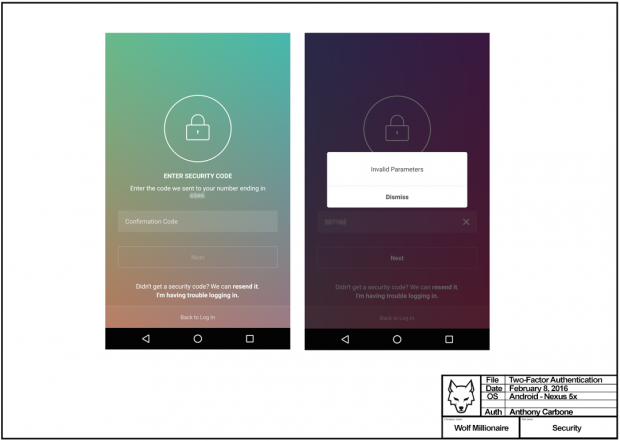 Hootsuite
New UI streams
On February 3, we updated our user interface with new streams. The design makes it easier to like, share, reply, and comment on posts in-stream. As we explained in our announcement blog post: "We've standardized Hootsuite Streams and the messages within to improve your experience. Now, each message looks and feels similar to how it would on Facebook.com, for example. We've also added new message features to help you better engage with your audience." Simply log into the Hootsuite Dashboard and click the blue "Try the new Streams" button to get started.

Retweet handle selection
Also this month, Hootsuite added the ability to choose in stream which of your Twitter handles you'd like to Retweet a message from. To choose a handle when Retweeting, simple click the Retweet button in Hootsuite streams, click "Retweet from…" and select the desired handle.
You can now RT from any handle within Twitter streams! To do this, select the "Retweet from…" option. pic.twitter.com/tYZjSgc4OO

— Hootsuite Helpers (@Hootsuite_Help) February 29, 2016
Snapchat
On-Demand Geofilters
On February 22, Snapchat introduced On-Demand Geofilters. The new feature allows anyone—whether it's an individual or a small business—make their own custom Snapchat filter. Pricing starts at $5 and is dependent on the size of the area selected for the Geofilter (between 20,000 and 5,000,000 square feet) and length of time chosen (between one hour and 30 days). For small businesses, On-Demand Geofilters open up a whole new world of affordable Snapchat advertising and marketing. We set one up to test out the new feature, read our blog post to find out how.
Vine
View posts on a profile by popularity
On February 9, Vine introduced the option to view an account's Vines based on popularity. Users can now sort a user's Vines by Newest, Oldest, or Popular by visiting an account page and tapping the icon next to Posts. Vine also released the ability to edit Vine captions for a brief period after posting. Caption editing is available on Android. To edit a caption, tap the "…" menu. Vine also added 3D Touch on iOS, allowing users to press and hold the app icon to make a Vine or open explore directly from the device's screen.
Introducing new ways to sort and watch an account's Vines. Also, edit your caption shortly after you post and more pic.twitter.com/5JLeJL4GNr

— Vine (@vine) February 9, 2016
Keep up with all the latest social news by using Hootsuite to keep track of all the accounts you follow. Sign up for free today!