As a social media solutions provider with over 6 million users, we receive our share of help and support requests. This week, our Customer Success department sent its 100,000th Tweet from @HootSuite_Help. To mark the occasion of the 100k milestone, HootSuite's Social Support Lead Sarah Chambers shares some secrets of how the team uses Twitter for customer service.
1. Focus on Being Helpful First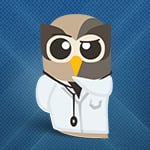 Moving towards a social organization requires a big shift in thinking. If your support agents are trained in answering tickets, they may have a bias towards email. Instead of thinking "I could solve this so much quicker in >140 characters" contemplate how you can best serve the needs of your customers on Twitter. Using Twitter for customer support results in quicker resolution times and the solutions are shareable (ie. public and retweetable), which lowers support costs in the long run. It also reflects well on your company, serving as proof that you care and act quickly when you are needed.
Directing users to submit a ticket or call a hotline only defers the problem to a new set of agents. It also makes the user take another step to contact you, instead of providing an immediate solution. Instead, create new macros or screenshots that work for social, or share articles from a Knowledge Base to direct the user to a solution.
Ultimately, some questions may need to be discussed in private, such as billing or account ownership issues. Consider the best way to get the user to a ticket or email without losing the progress you've already made, and work towards that goal consistently.
Read more