Facebook has announced new features that will allow group admins to better manage misinformation and keep members safe, as well as grow their communities.
With 1.8 billion people using Facebook Groups each month, some marketers have been turning to these opt-in communities to connect with audiences and help ensure branded posts get seen.
Groups offer a way to create long-lasting customer relationships, increase organic reach and pick up some useful market research data.
To help admins share Groups and reach their ideal audience more easily, Facebook has added QR codes that can be downloaded or copied and pasted from the share menu.
When someone scans the QR code, they'll be directed to the Group's "About" page where they can join or request to join.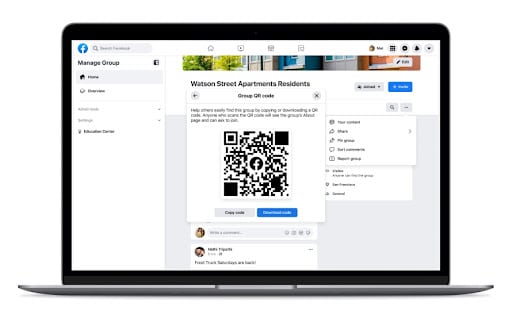 \
Source: Facebook
Facebook has also added the option for admins to send invites through email to attract more people to groups. 
In terms of security, going forward admins will be able to automatically decline incoming posts containing false information through Admin Assist. Any content rated by third-party fact-checkers as false will be dismissed before group members get eyes on it.
The "mute" feature has also been updated to "suspend" so that admins and moderators can temporarily prevent members and participants from posting, commenting, reacting, participating in group chat, and creating or entering a Room within the group.
Admins will also be able to automatically approve or reject member requests based on set criteria, such as whether they answered all the member questions.
Admin Home has been updated to show an overview page on desktop and an insights summary on mobile.