In a recent blog post, TikTok explained how content discovery works on the platform, shedding some light on the inner workings of the TikTok algorithm.
There are 4 placements in the app where users can discover content and interact with it:
The For You feed. The app's main interface is where content discovery begins. The For You page is an endless feed of content recommendations based on each user's interests.
The Discover page. This is TikTok's equivalent of Instagram's Explore page. Discover is a compilation of content that's gaining momentum across the platform and can include trends, effects and sounds.
The Following feed. This is where users can scroll a feed of the most recent and relevant TikToks from the creators they follow.
Search. The search bar can be used to look up creators, hashtags, sounds and videos.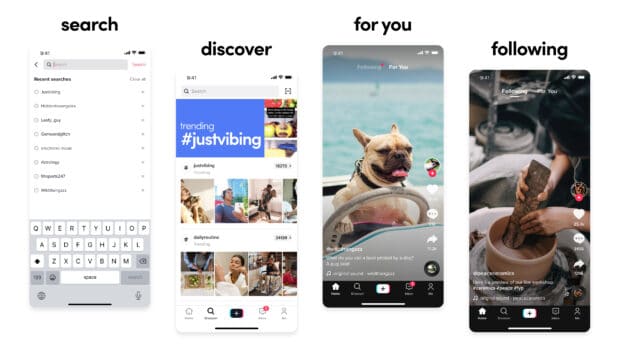 Source: TikTok
TikTok also disclosed that the way users interact with content across these 4 discovery channels helps the app's recommendation system serve relevant content. Saves, likes and comments are important ranking signals for the For You page algorithm.
Users can also help the recommendation system better cater to their preferences by responding to in-feed surveys, adding TikToks to Favorites, tapping "Not Interested" on videos they don't like, or reporting content.