What Can 50 Million People Change?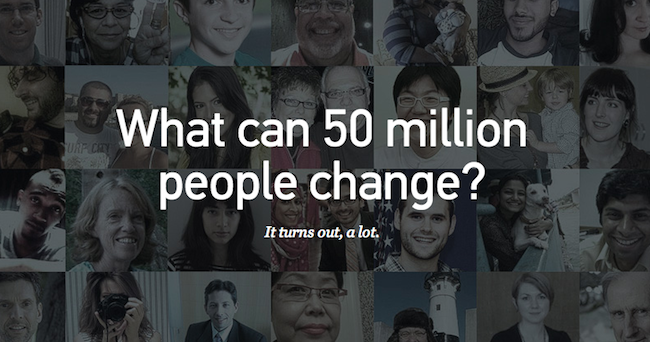 "We live in an amazing time, when the opportunity to make a difference is greater than ever before. Gathering people behind a cause used to be difficult, requiring lots of time, money, and a complex infrastructure. But technology has made us more connected than ever. It's now possible for anyone to start a campaign and immediately mobilize hundreds of others locally or hundreds of thousands around the world, making governments and companies more responsive and accountable" – Change.org mandate.
Change.org is the world's largest petition platform, and with 50 million users across 196 countries, they provide the tools for their users to transform their communities locally, nationally and globally. Since starting in 2007, Change.org has facilitated over 6,000 victories across a wide range of issues – from prompting Twitter to reveal a "report abuse button" to prevent online bullying, to mobilizing the Boy Scouts of America organization to end the ban on accepting gay youth.
Social Media as a Campaigning Tool
Over 16 million people have either started or signed a winning petition and for Change.org, social media is an essential campaigning resource. Sarah Ryan, Campaigns Strategist and Coordinator at Change.org says, "Social media is the loud speaker for our users. Thanks to social media, people can share articles, inspiring videos and images along with their stories to reach people around the world like never before."
Change.org helps amplify user stories through their own social channels and use it to announce trending petitions' progress and victories – big or small. A recent petition launched by Hank Hunt, whose daughter was murdered inside her hotel room, is asking lawmakers to require all hotel and motel chains to have phone systems updated to allow 911 calls to be made without having to dial "9" first. Inspired by Hank's petition, Change.org introduced the story to the public via email campaigns and social media. Not only did this help Hank secure over 400,000 signatures in just one month, but the story was picked up by mainstream news, US Congressman Louie Gohmert publicly announced his support of the petition and the FCC commissioner sent a letter to the top ten hotel chains across the U.S. to implement change.
Social media is also used to put pressure on organizations that are the target of a petition. The public push from a social audience is often enough to support major change; Hank's story is just one example of this.
"HootSuite has been invaluable on many levels," says Sarah who manages all of Change.org's U.S. social profiles. "With over 10,000 petitions being created every month, HootSuite's scheduling and monitoring abilities are essential to elevate as many of those campaigns as possible. We want to support as many issues as possible, but without an organized dashboard, it would be impossible to track which social messages went out where. Analytics are equally as important to us. We used to track simple analytics like follower growth, but now we're able to monitor engagement and break it down to what content resonates best with which audiences."
"When you marry petitions with social media, and make them really personal and local, they have incredible capacity to make a difference" – Ben Rattray, Founder and CEO of Change.org.
Thank you Change.org and Sarah Ryan for sharing your story!