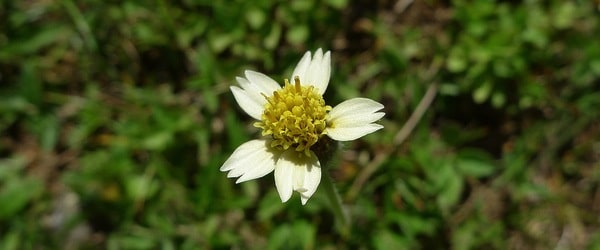 A Beginner's Guide to Content Curation
From Songza to reddit, content curation is a huge part of the social web as we know it. We're all on the same mission to find the absolute best material to enjoy and to share with our followers. This is especially true for businesses, whose customers and broader online audience follow them based on an expectation of quality content in return.
What is content curation?
In simple terms, the process of content curation is the act of sorting through large amounts of content on the web and presenting the best posts in a meaningful and organized way. The process can include sifting, sorting, arranging, and placing found content into specific themes, and then publishing that information.
In other words, content curation is very different from content marketing. Content curation doesn't include creating new content; it's the act of discovering, compiling, and sharing existing content with your online followers. Content curation is becoming an important tactic for any marketing department to maintain a successful online presence. Not only that, but content curation allows you to provide extra value to your brand's audience and customers, which is key to building those lasting relationships with loyal fans.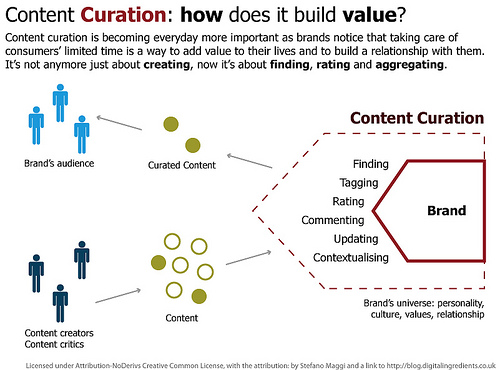 When do you use content curation?
Content curation can fit into your marketing efforts in many different ways, all of which should align back to your marketing strategy. Depending on your strategy, the following three content curation methods could prove beneficial to your business.
Weekly curated blog posts
Weekly blog posts collect helpful resources found from around the web, categorize them and publish them as resources for their readers. Some call them a one-stop shop for content, because they remove the need for your readers to do any extensive searching or browsing themselves.
Every week on the Hootsuite blog we release a post called "This Week in Social" in which we share the biggest news in social media and technology from the previous seven days. This curated list of content is put together by our blog team, who sort through content all week to pick out the best and most important stories. While our weekly blog post focuses on social media, this is a tactic that could be adopted by almost any business or industry.
Weekly editorial email newsletters
With email being the second most popular digital marketing channel, weekly editorial newsletters are a big opportunity for content curators, especially those with a base of blog subscribers. Much like the weekly blog post, these editorial newsletters are an opportunity to save your followers the time it takes to search and scour the web for great content. Pick out the gems, organize them in a sensible way and send them along to your email list. These curated lists can accompany emails promoting your own content as well. At Hootsuite, for example, we send our blog subscribers an email of the best content from our blog each week.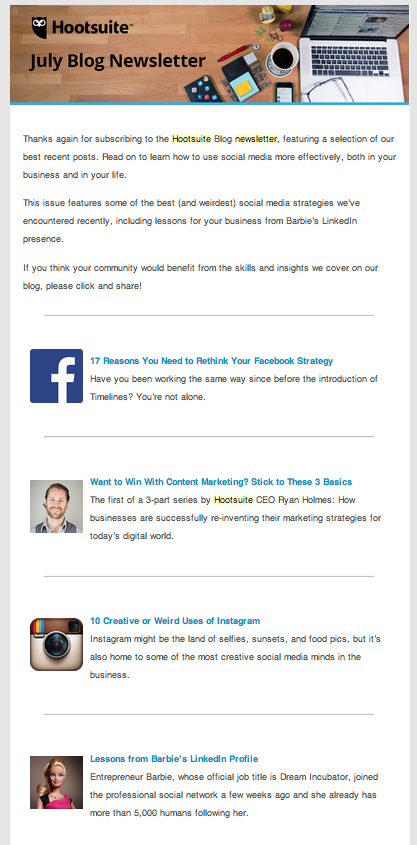 Share curated content on your social networks
Social media is one of the channels where content curation is key to staying relevant to your followers and growing your following. Follow the Social Media Rule of Thirds, put your pride aside and share other people's content.

Why is it important to share outsider content by other businesses or thought leaders? It shows your audience that you know the industry well, that you're collegial and are aware of competition. It shows that you're collaborative and confident enough in your own brand to share another's content. It also doubles your exposure by potentially connecting you to another brand's audience or online community.
Content curation is made easy with Hootsuite Pro.
Start your 30-day trial today!
Take the next step to content curation efficiency, check out our 4-Step Guide To Efficient Content Curation.