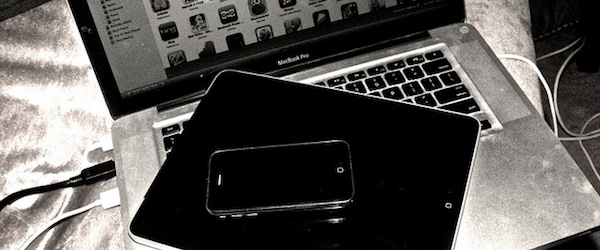 What is Your Go-To Social Media Device? Question of the Week
How many times a day do you walk by people on the street, on the bus, or in restaurants who are using their smartphones? Now that it has become such a regular part of life, we hardly notice how often we use our phones. But what are we really doing on there all day? If we're being really honest, we can admit that we aren't using our phones for business calls or online banking. According to the Adobe 2013 Mobile Consumer Survey, social media is the number one activity.
This week Facebook revealed in its second-quarter earnings that it has nearly 400 million mobile-only monthly users. More than a billion users sign onto Facebook from a mobile device in any given month, but the number of mobile-only users saw a huge jump this past quarter, picking up 58 million mobile-only accounts. Last week we asked our Twitter followers which type of mobile device they used to access social media: mobile, tablet or desktop? 
After seeing the new trends, we can't really say we were surprised by the answers. Let's take a look and see what our followers are using to access their social media accounts:
@hootsuite the world is a mobile place. Capturing things in the moment that aren't staged is what social media should be about.

— Buddy Ruski (@BuddyRuski) July 19, 2014
@hootsuite great question Hootsuite! Mine is desktop right now but mobile is definitely on the rise now and starting to dominate!

— Main Line PC (@mainlinepc) July 19, 2014
@hootsuite mobile because it's almost always with me and mobile apps make it easier

— Megan Chapple (@MeganC101) July 19, 2014
@hootsuite mobile for sure

— Estela Rocha (@EstelaRocha) July 19, 2014
@hootsuite Go-to is desktop. To-go is mobile. ;-)

— Praval Singh (@Praval) July 19, 2014
While we absolutely had followers tell us that they most regularly used their desktop or tablet, we had an overwhelming amount of responses that were based around mobile use.
The Adobe survey explained that "consumers are also using their mobile devices to view Facebook fan pages of their favorite brands. Today's brands should have mobile-optimized experiences for offers that are launched from their Facebook fan pages. This is most important for brands that target younger demographics, with 94% of the young segment and 88% of the middle segment accessing social networks via mobile devices."
So when you start to plan for a social engagement with your customers or followers, remember to think mobile. If you haven't yet established a mobile social media strategy, now, more than ever, is the time to start implementing one.
Do you have an opinion on the move towards mobile for social media users? Join the conversation and let us know what you think in the comments below!
 If you want to keep up with the latest social media trends, tricks and tools, sign up for a Free Trial of Hootsuite Pro today.