#HootCampus Springs Forward
This past February, HootSuite launched #HootCampus Ambassador Program. Here we are three months later and the program has grown from zero to 26 Ambassadors; representing twenty schools in five countries and four continents. The numbers are growing every week and we're excited to explore new corners of the world in our next session! But for now, let's take a look back at what our talented team has accomplished:
Content Creators
The team of Content Creators have taken the #HootCampus social media platforms by storm– like true community manager pros. Check out the Facebook, Twitter, and Pinterest accounts to see what they've accomplished. On top of all their life commitments, it is quite the balancing act they've managed to pull off!
In addition to hands-on strategizing on social media platforms, our Ambassadors have also produced quality articles published on the HootSuite blog. A few have even started separate blogs discussing their personal experiences with #HootCampus like Kyle Dempster and Alexandre de Souza.
HootUp Stars
Our Ambassadors have held 9 HootUps from Indonesia, to Brasil, to Canada and a handful coming up in the next few weeks; spreading the #HootLove to over 300 people and counting! The HootUps have differed in audience, size, and format– but the common thread is that they were executed by our amazing #HootUp stars! You can check out all the HootUp love that has been spread across the globe on our Facebook page.
Mentorship Program
Recently we launched the mentorship component of our program with two education and social media experts: Kayla Patterson and Mandy Reinig. As mentors, they have added great value and insight to #HootCampus– broadening the program's network significantly. If you're interested in learning more about the mentorship program please tweet us @HootCampus!
#AskAnOwl Campaign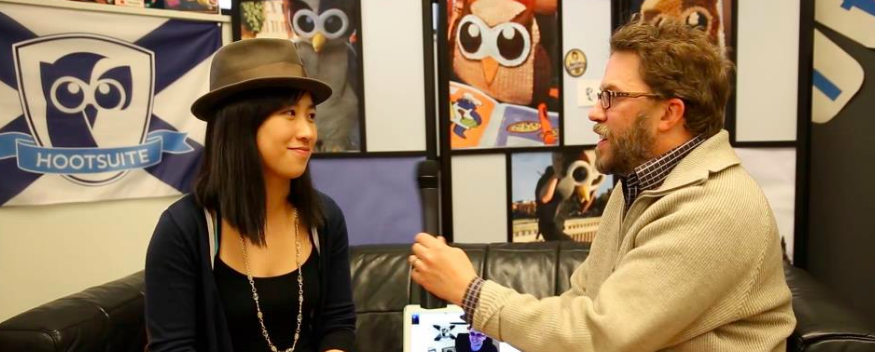 What does the future hold after college graduation? HootCampus will provide an opportunity to talk with successful HQ Owl professionals in all different departments. The Campus Ambassadors are working hard to kickstart the #AskAnOwl campaign. Graduates often wish they had the opportunity to ask those who made it, what they did to get there. So we're giving students the opportunity to tweet their career questions to our HQ Owls about their career paths, what it took to get employed at one of the hottest companies in town, and anything else related to their education and their position with HootSuite today; and we'll film their answers and get back to you! Take the leap, ask your questions with the #AskAnOwl hashtag and be sure to mention who you'd like to direct the question to or which department.
HootCampus Magic
HootCampus Ambassadors are always out and about, sprinkling HootSuite magic into their extracurricular activities. There was an awesome BCITMA booth at the AMA Collegiate Conference thanks to Campus Ambassador Tony Chen and his team. And let's not forget the Vancouver Social Media Awards which had #HootCampus love all over it. Not only was it attended by lots of social media savvy students, including Campus Ambassador Aaron Bhawan, and professionals, like Dave Olson and Rebecca Bollwitt, but it was also organized by our very own Dean Tsatouhas and former Campus Ambassador Intern, Mark Woo!
What the Ambassadors are Saying…
"The HootCampus program offers opportunities to improve and apply employability skills in the social media realm. For example, I can shape my own online voice as well as learn how to promote HootSuite through a variety of platforms. I also find that the contacts that I develop and the potential networking opportunities are valuable to the HootCampus program. The program is versatile to each person's needs and their individual interests." May Chow (Canada)

"I'm so glad to be part of CA program. I needed something good to do this year, and this opportunity is filling my soul, because I'm doing what I like so much." Alexandre de Souza (Brasil)

"I learn more about optimizing HootSuite, marketing, business, and blogging. I met many wonderful people in social media and I learned from them. As a campus ambassador, I can build community and meet a lot of friends. Include I can meet with friend from other universities and invited him into Campus Ambassador Program."  Riky Lutfi Hamzah (Indonesia)

Check out our YouTube channel to hear more!
All of the HootCampus Ambassadors will be continuing their role into the next semester with the exception of one who will be graduating. Since our Ambassadors are based all over the world, we accept applications on an ongoing basis regardless of semesters and summer vacations. Ambassadors are contributing year round so join the fun and apply today!
Don't forget to check us out on Facebook, Twitter, Pinterest, and our blog. For more information see our Tumblr page.

The above post is written in collaboration with Elaiza Datar (Community Ambassador, Higher Ed). While not administering and developing the Campus Ambassador program, she can be found climbing rocks and geeking out on Political Science and Digital Communications.