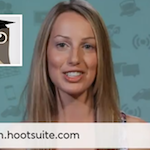 Time for another episode of HootSource TV! These short webisodes are hosted by Tasia Custode, and cover the latest news about emerging social media trends and social media management dashboard, HootSuite.
Did you catch the last episode?
Gearing up for Back to School, Launch @ Grow, Tweeting around the world and more!
In this episode, HootSource TV will take a peek into:
HootSuite University keeps us educated and excited for Back to School!
We cover Launch @ Grow and interview some of the country's hottest tech start-ups
We've been tweeting around the world with HootSuite's Translation Project and last week, we released HootSuite in Bahasa Indonesia
And it's back again: this week's Twitter Trends in Review
What would you like to see in the next HootSource TV? Let us know by tweeting @HootSource or commenting below. Plus, don't forget to subscribe to our HootSuite YouTube channel.