HootSuite 2012 Holiday Tracker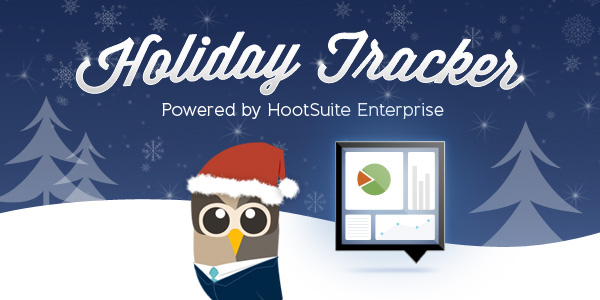 'Tis the season to be shopping. It's no secret that the most important time of year for many retailers is over the winter holidays. During this highly competitive and compressed season, social-savvy brands have the added and daunting task of managing their increased holiday traffic and sales as well as staying on top of customer satisfaction and sentiment.
It's no wonder that the US retail industry obsesses over measuring, comparing and predicting with analytics, statistics and year-over-year comparisons for winter holiday shopping seasons. In addition, the popularity of online shopping has skyrocketed over the years. Between November and December 2011, in the US alone online consumers spent $35.3 billion, according to market research organization ComScore. How can brands effectively manage sales, sentiment and competition in social over such a condensed amount of time?

HootSuite Holiday Tracker
We've come up with a robust, multi-platform social media management solution: HootSuite Enterprise command center. To illustrate how brands can use HootSuite's command center, we have created this Holiday Tracker. The HootSuite Holiday Tracker measures online social activity involving leading holiday brands and social shopper sentiment. The results are up to the minute so you can check daily.
Share this link with your peers and monitor the fierce retail action in social over the holidays.
Use HootSuite command center's analytics to:
Get an overview of customer sentiment: Tap in to your customer's sentiment about your brand or related keywords, watching for trends or items that require immediate action.
Turn a Tweet into a transaction: Monitor specific keywords, identify opportunities for conversation, and act where appropriate. For example, if you sell gaming consoles, compare Twitter keywords to see who is looking to buy one. Draw them in with a personalized tweet, or offer them a perk.
Monitor social CRM: Identify social messaging that requires immediate follow-up, measure customer activity as it happens.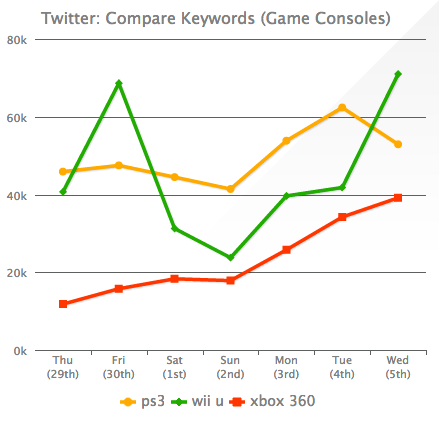 Generation of Social Shoppers
"Conversations among the members of the marketplace happen whether you like it or not." – Seth Godin.
As the winter holidays adjust to a social-media savvy generation, retailers must know their social shoppers. A social customer looks to trusted and favored social networks for information, content and new products and releases. So what are they looking for from retailers? Just like retail throughout history, the customer owns the relationship. Brands must be able to support this relationship and earn the customers' trust, both in-store and online.
To build and maintain loyalty, shoppers expect brands to:
Create and maintain their confidence and trust
Maintain online transparency
Engage in conversation actively in social networks
Respond to feedback quickly, whether positive or negative
Encourage better customer-brand relationship through positive and proactive interactions
#BlackFriday Shoppers
Recently, HootSuite tracked all of the major retailers that used the hashtag #blackfriday (Black Friday is the biggest one-day shopping event in the US). After looking at 523,000 Tweets mentioning the #blackfriday hashtag, Kohl's won the Twitter war among top brands. Despite a slightly lower positive sentiment, Kohl's won based on their customer interaction and amplification of positive messages among social channels.
This holiday season, follow HootSuite's Holiday Tracker and see how you can tap into the needs and sentiment of your social customer to out-socialize your competition and ultimately drive sales.
HootSuite command center is available for HootSuite Enterprise clients. To start monitoring your brand's social media campaigns this season, register here.