#Hootsclusive: How non-profits are changing their game with social media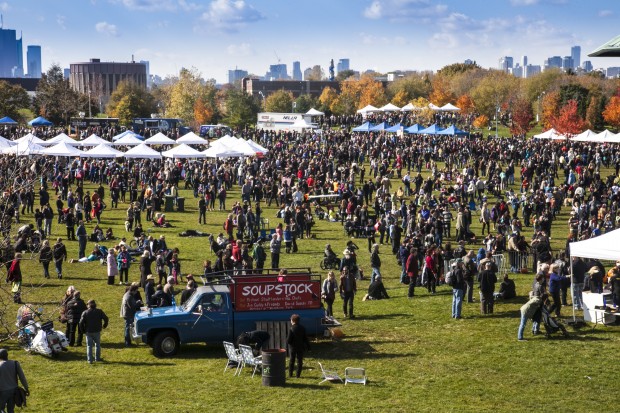 Photo Courtesy of Laura Berman
Can a social media campaign translate into real-life results? It's a valid and particularly relevant question, especially for the not-for-profit industry. With high volumes of paperwork, national and sometimes international teams of volunteers, and donor-based financing, social media tools can be a not-for-profit's best friend when it comes to organizing and staying true to a bottom-line. Whether it's helping with public outreach or increasing campaign awareness in order to make a change, not-for-profit organizations across the globe are using social media tools for social good.
A great example of how not-for-profits are doing this is The David Suzuki Foundation and its involvement in Soupstock: where, with a whole lot of soup, this group of environmental pioneers helped stop North America's largest rock quarry proposal.
First, a Bit of Background
The David Suzuki Foundation is a not-for-profit, national organization founded in 1990. They focus on solving environmental issues – not just identifying them. They employ around 50 staff members, have published over 40 books, and have 40,000 listed donors.
The Mega-quarry
In 2006, a proposal for a rock quarry that would cover 2,300 acres of fertile, Canadian farmland was presented to the Ministry of Natural Resources. The proposal was for 1 billion tonnes of limestone to be mined and extracted by a private investment group, The Highland Companies.
The proposed 'mega-quarry' would have covered the same amount of area as the country of Monaco, and would have created a hole in the earth the size of Niagara Falls one and a half times over.
The proposed location for the 'mega-quarry' was Melancthon, a small township of 3,000 residents in southwestern Ontario, Canada. The area, well-known for rich and fertile soil, is also home to the headwaters of five local rivers that supply drinking water to more than 1 million residents in the area. The town's residents were concerned after reviewing the proposal and asked for an environmental assessment to prove that the headwaters would not be threatened by the drilling and explosives that are used in the extraction of limestone.
Don't like it? Change it.
Initially, a small group of residents in Melancthon met to talk and discuss the quarry at a coffee shop in town. Eventually, the group grew and as word began to spread to larger towns in the area, so did concern over the environmental effects of the mega-quarry. Once people started to talk, the movement took shape.
Local farmers started to team up with restaurants in Toronto, along with not-for-profits, and residents in surrounding communities. In the end, more than 200 chefs signed on to offer themselves, their delicious food, and their voice to Soupstock: an event dedicated to ensure the town's environmental concerns of the 'mega-quarry' would be heard. Hosted in Toronto's Woodbine Park, a massive 40,000 people came out to support the local farmer's and their battle against The Highland Companies' proposal.
Soupstock by the numbers
11,700 lbs of donated produce
5,000 volunteer hours
200 chefs
148 volunteers on-site
46 farmers and producers
20 partners and sponsors
12 musical performances
8 golf carts
1 gloriously sunny day
40,000 smiling soup lovers
4,000 letters to MPP's to stop the mega-quarry
Less than one dumpster of waste
Hundreds of litres of soup donated to local food bank
The Not-For-Profit Behind the Success
Rachelle Delaney is the Communications and Digital Strategy Coordinator  at The David Suzuki Foundatio, and she explains the role that DSF played in this story:
"We used HootSuite to promote the event through Twitter and Facebook, using the hashtags #Soupstock and #Megaquarry, which started to spread like crazy. A few staff and volunteers out of our Toronto office live-tweeted the event, using HootSuite streams to keep tabs on mentions of our hashtags and @DavidSuzukiFDN, and to retweet the best tweets. It became a huge thing on social media that day.

And in the end, we defeated the megaquarry. It was kind of incredible — Highland withdrew its proposal due to all the opposition amongst vocal Torontonians. At that point, we used Hootsuite again, direct-tweeting all the chefs who'd participated in Soupstock, then monitoring their responses in a stream and continuing conversations with those who tweeted us back. It was excellent community building, and for the first time ever, the David Suzuki Foundation trended on Twitter."
In the end, as Delaney recounts, Highland Companies withdrew their proposal, citing a lack of "sufficient support from the community and government to justify proceeding with the approval process."
The people of Melancthon, together with support from neighbouring cities, business owners, and environmental not-for-profits like The David Suzuki Foundation, used social media to take a stand, and turned a campaign into tangible results.
For more information on The David Suzuki Foundation and fight to stop the Melancthon mega-quarry check out: Toronto Life Magazine, The Globe and Mail, and the Soupstock website.