To see the real value of your marketing initiatives and how they stack up against your competition, your campaigns need a good way of measuring results. Here at Hootsuite, one metric we work to increase and improve every day is something called the 'share of voice.'
In its simplest form, share of voice (SOV) helps you understand how your brand or company is performing in comparison to your competitors. The metric details what percentage of mentions within your industry are about your brand, and what percentage is about the competition. In online advertising, SOV is the percentage of advertising activities for one brand within the total advertising activity for an entire sector or product type. The measurement indicates frequency, reach, and ad ratings.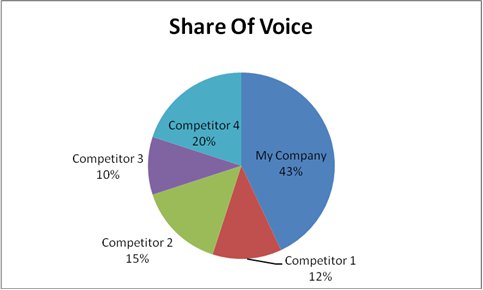 If you are unsure of what share of voice is or need tips on improving it, you have come to the right place. If you are a social media manager, knowing what metrics to track in order to understand your company's share of voice is essential. Follow along as we detail how to increase your company's share of voice.
How to measure share of voice?
According to aimClear, there are two essential elements to calculating share of voice:
1) you have to measure something, and
2) what you measure needs to be analyzed proportionally against competitors' data to establish each party's relative market share.
In other words, what SOV means to you as a marketer is contingent on competitive data sets you believe to be most crucial.
At Hootsuite, and specifically for social, we measure how many mentions our company receives when compared to a specific group of relevant competitors. Mentions are usually dominated by Twitter, but we pull from other social networks as well. For example, in our regular report, we pull monthly comparisons between us and our competitors, and we also check for multiple spellings of 'Hootsuite' and other ways users may reference the company.
In Hootsuite Pro, you can create a custom report where you can take advantage of the 'compare keywords' module. This is a way to track how many times your brand was mentioned against your competitors. Example of the module is below:

Over time (for us, month to month), keyword tracking allows you to get a relative comparison of how you're doing and how your competitors are doing. If our competitor goes up 8% in keyword frequency one month, it might not be because your user mentions went down. It might be because our competitor did something to get more mentions—like releasing a new feature, or get some new media coverage.
4 Tips on how to increase your share of voice
Tip #1: Delight your customers
The best way to increase your share of voice is to delight your customers. From great marketing campaigns to effective customer service, ensure there is value in everything you do, and grow your share of voice by impressing your customers. As a result of your efforts, happy customers will be creating satisfaction-driven content, which reaches other current and prospective customers of your brand.
Tip #2: Be human, put a face to your brand
If we are speaking honestly, brands are often not that interesting. Individuals, on the other hand, can be fascinating. Consider Richard Branson and Virgin or Elon Musk and Tesla; people will talk about your brand if there's a face behind the logo. This means that if you want to increase your share of voice, don't just give your customers something to talk about, give them SOMEBODY to talk about.
Tip #3: Build online awareness through great content
The most important lesson we have learned over the years is that when you create content that adds personality to your brand, this can increase of your SOV by tenfold. For example, with campaigns like our Mean Tweets and Game of Social Thrones, we made sure that these campaigns were an exercise in humility as well as expertise. We aimed to impress our audience by connecting our advice with a common pop culture reference, and as a result, our social shares increased dramatically.
Tip #4: Engage with your customers in a helpful way
Don't just listen; make sure you are actively engaging your customers. Whether you do it through customer service channels or in your blog comments, if your customers have questions—offer advice.  If you make a regular practice out of engaging with your customers, not only will this help increase the number of mentions as a result of that interaction, but it will also increase the positive sentiment around your brand.
Now that you have some tips on increasing your share of voice, let Hootsuite Pro help you—it's free for 30 days!