#MyDash International Bird Rescue ~ Social Media Supporting Environmental Causes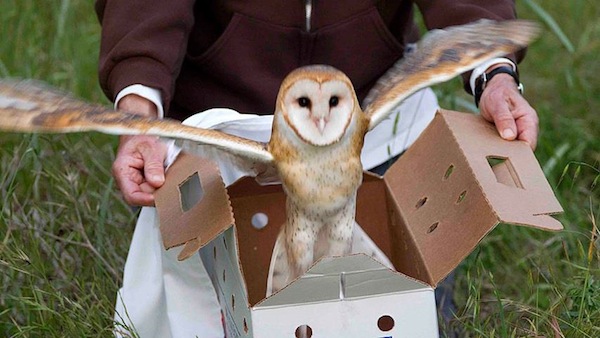 Welcome to our #MyDash blog series. Here, we highlight a HootSuite user, and get a glimpse at the way they've set up their dashboards to suit their unique social media needs. Follow the hashtag #MyDash and @HootWatch in Twitter to follow all the buzz or suggest someone for the next feature. Stay tuned as we begin to roll-out more unique ways to arrange your dash.
In January 1971, two oil tankers collided under the Golden Gate Bridge, spilling more than 800,000 gallons of crude oil into the San Francisco Bay. At the time, little was known about oiled bird care and despite the help of hundreds of volunteers, only 300 birds survived from the 7,000 collected.
After that disaster, the International Bird Rescue was created and has saved thousands of seabirds and other aquatic birds around the world since. Based in California, their specialists care for over 5,000 birds each year and has led oiled wildlife rescue efforts in over 200 oil spills in more than a dozen countries. For example, in 2000, Bird Rescue helped save 20,000 oiled penguins off the coast of Africa after a massive spill threatened their already dwindling numbers.
First penguins released after 2011 New Zealand oil spill:
Social Media Supporting Environmental Causes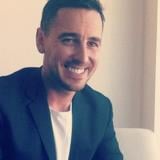 When International Bird Rescue isn't out saving our environment and the lives of aquatic birds, they are actively promoting their cause, spreading awareness and facts and seeking support in social media – all from their HootSuite dashboard. Andrew Harmon, the Vice Chairman and manager of communications of International Bird Rescue, reached out to us to discuss what they're doing in social and how HootSuite helps promote their cause.
Sam Milbrath, HootSuite: Why is it important for International Bird Rescue to be present in social?
Andrew Harmon: Well, we get a lot of questions about birds. Often about how they're affected by environmental ills, such as oil spills and plastic pollution. International Bird Rescue is one of the world's leading organizations helping birds in need, from large-scale events such as the Gulf Oil Spill in 2010 to everyday tragic occurrences — a loon that has swallowed a fish hook, for example, or this western screech owl that had been living in an attic and flew into a spray of insulation foam during construction. So of course we have plenty of answers.
Our social media presence is one of the vital ways we inform the public about our work, as well as answer their questions, and with any luck, inspire them to help wildlife in the process. HootSuite has been an ideal way to connect with creative talent: artists, photographers and videographers whose passion for birds matches our own.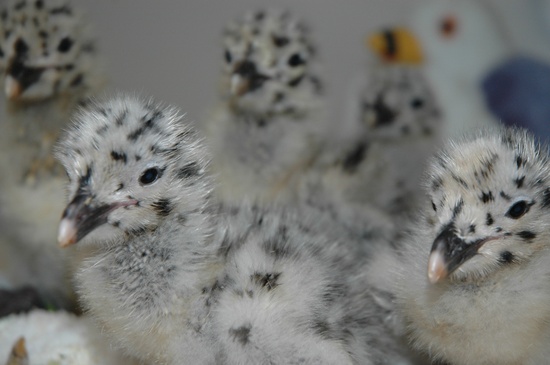 SM: What are some of the questions you get in social?
AH: We often get questions about oiled wildlife, particularly how the process works and whether people can volunteer for us. As crude oil is toxic and dangerous to both animals and humans, volunteers must complete hazmat training in order to do this sort of work — social media is an excellent way to keep people informed but also remind them of the precautions when working with injured wildlife. Other questions asked: how does our vet repair broken bird bones, how do we remove swallowed fish hooks, what should you do if you find a baby bird, etc.
SM: Do you have a social media team to help respond and inform the public or who manages your accounts?
AH: We have a lean and mean team! It's basically myself and my colleague Russ Curtis who manages social media, with big help from our wildlife rehab team that sends stills/video.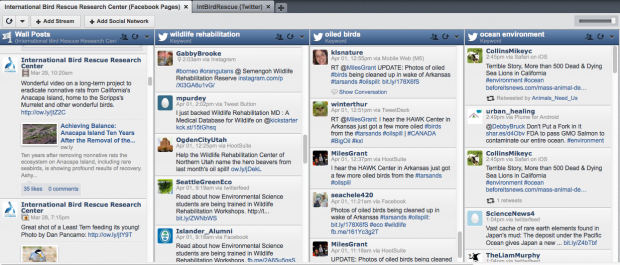 SM: What are you monitoring and tracking in HootSuite's dashboard?
AH: Through keywords, we keep track of news and views about specific types of birds, from species of waterfowl and shorebirds to pelicans (though our pelican stream has recently been inundated by the name of a new pro basketball team in New Orleans. Luckily, we're sports fans, too.)
We also monitor what's happening elsewhere in the world regarding the health of aquatic birds (our expertise). Recently, we've been paying a lot of attention to the mysterious deaths of pelicans off the coast of Peru and the health of Laysan Albatrosses on Midway Island in Hawaii. Among other seabirds that feed exclusively at sea, these magnificent birds, are, to use another avian metaphor, canaries in the coal mine for plastic pollution: Their stomachs provide a snapshot of small-sized plastic pollution in the North Pacific.
SM: What are you posting in social?
AH: We post plenty of good news as well. Through Hootsuite, our Facebook page is a stream of success stories, photos of birds in care and videos of their triumphant release back into the wild. Russ Curtis, an International Bird Rescue team member who manages our Twitter, gives true-blue birders abundant inspirational quotes on nature and a steady diet of avian facts. For example, did you know that, contrary to their name, oystercatchers rarely eat oysters, preferring instead intertidal zone limpets, clams, snails and chitons? (You do now.)

SM: You have a large and active following in Facebook, what are you doing in there to get them sharing and liking – besides posting cute duckling photos?
AH: Really just sharing with them stories and photos of our patients, as well as a look at what other organizations inspire us and different wildlife photographers we love.
SM: International Bird Rescue has many YouTube videos as well, why is it important to show your brand's story in videos and have your own channel?
AH: Video is a great way to show the step-by-step process of oiled birds and the care they receive from start to finish. Video (when done well) also tends to draw out more emotions and inspires people to act. If a picture is worth a thousand words, imagine what a video can do.
SM: How can social media help inspire people to do something?
AH: As one of our volunteer photographers put it, "people have to feel something before they act to preserve it." To get them to feel, and to care, we have to show them what we do. Facebook and Twitter is vital for us in this process.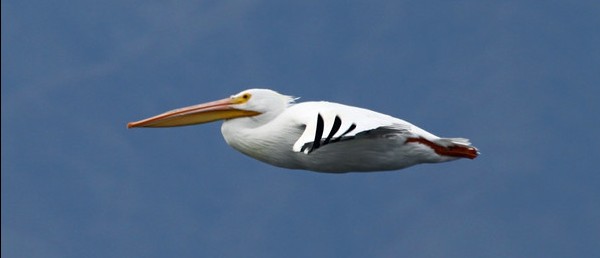 SM: Social media has helped fuel revolutions, overthrow governments, create transparency and support change. Because of its ability to be that megaphone for the better, do you think that social media is integral to supporting environmental causes?
AH: Yes definitely, it's a great way to promote and connect over a cause. But in short, we can always do more to use it as an effective tool to supporting good causes. It's always a balancing act—deciding how many times you use it to ask for help, or say thanks, or point the reader in the direction of something informative and inspiring. We feel like we have a good formula but we're always looking to improve.
In a larger sense, I like how International Bird Rescue's social media focuses attention on species that are in need of our help, but don't always garner the same sort of celebrity status as other species in the environmental world. Our tagline is "Every Bird Matters," and I think we're living up to that in social media.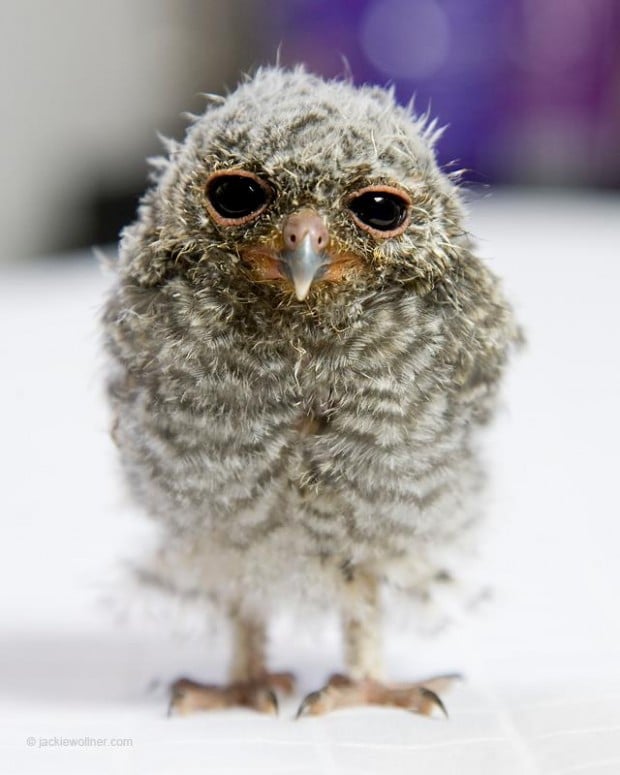 Thank you International Bird Rescue for participating in #MyDash! Maybe Owly should come for a visit next time we're in California…
To participate in #MyDash, just snap a screenshot of your dashboard, tag it "#MyDash," and send a reply to @HootWatch. Be careful not to include any private info, such as Direct Messages. We will periodically select HootSuite users to be featured here on the HootSource Blog.