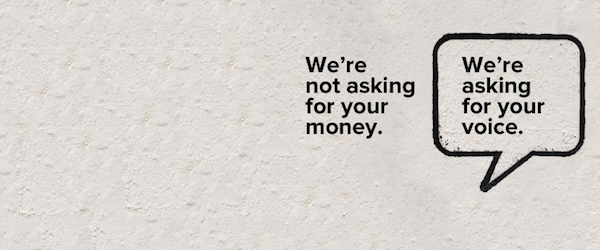 How Nonprofit ONE Achieves Political Change with Social Media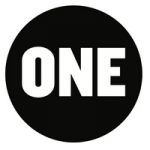 This is a customer success story about how nonprofit organization ONE uses social media to achieve political change in their fight to eliminate extreme poverty.
ONE is a global campaigning and advocacy organization of 3.5 million people taking action to end extreme poverty and preventable disease. Whether to encourage the public to sign petitions or target politicians directly to make changes, ONE looks to its millions of supporters across social media for assistance on campaigns.
Today, political rallies happen online as often as they do offline. ONE's current campaign, 'Do Agric, It Pays' calls for African governments to commit to spending at least 10% of national budgets on agriculture, through transparent and accountable budgets. Do Agric aims to pressure political leaders to adopt improved policies to increase productivity, incomes, and lift 85 million Africans out of extreme poverty.
Meet ONE's International Digital Team
David Cole, ONE's International Digital Director, is based in the UK and leads the digital team that supports Europe and Africa. His team is in charge of online campaigning to connect directly with ONE's 3.5 million members, as well as policy experts, board members, influencers, and governments. They use social media to engage with these different groups to raise awareness, tell stories, and encourage concrete action.
"Social media's role for Do Agric is to rally millions of supporters to pressure political leaders, spread awareness, and make concrete changes in Africa." – David Cole, ONE's International Digital Director
ONE's Strategy for Campaigning a Global Initiative
ONE launched Africa's Do Agric campaign to coincide with the 2014 January African Union (AU) summit, where leaders gathered to discuss continent-wide challenges. At the summit, the heads of state formally recognized 2014 as the Year of Agriculture and Food Security in Africa.
ONE is speaking to many different audiences, therefore it is imperative that they tailor content for each social media channel.
Facebook is an important channel for reaching the organization's global community who are more likely to engage with images and inspirational content. ONE's Twitter following has a higher proportion of influencers and decision makers. This audience is not as easily won over by quotes about changing the world, preferring policy reports and statistics.
To connect 1:1 with their Twitter audience, ONE's digital team launched a live Twitter chat around #DoAgric with the help of Nigerian musician and campaign ambassador, D'Banj. With the help of HootSuite's monitoring capabilities, staff in London fielded questions from the public with ONE Africa staff supporting on the ground. ONE's London social media team and D'Banj replied to 300 Tweets and answered 40 questions over the one-hour live chat.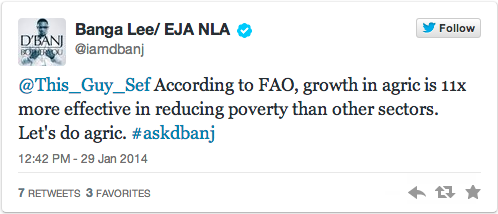 "ONE's supporters are now armed with stats, information, and answers to amplify and pressure politicians online. HootSuite has been integral in helping us manage our global campaigns' content, outreach, and initiatives like our live Twitter chats." – Helen Hector, ONE's Digital Content Manager
How ONE Measures Campaign Success
#DoAgric runs until the end of summer 2014 and hopes to see African governments support sustainable agriculture initiatives for the next decade onward. For the Do Agric campaign, ultimate success means achieving political change in Africa and prioritizing funding in agriculture. To achieve these goals, ONE rallies a large group of people to take action, sign their petition and make as much noise as possible.
Some of ONE's proudest accomplishments include helping secure billions in debt relief for poor countries and pass legislation in the US and EU to require better transparency in the oil, gas and mining industries. Social media continues to play a key role in getting people to take action to achieve political change.