#HootSuite Credit for Owls ~ News Roundup
Hearin' a lot of Hooting!
There's been plenty of buzz surrounding our recent releases including: improved security, international localizations, new ways to shorten urls and options to make tweeting even more convenient. On top of that, we've received plenty of coverage for the recent service interruption and our response to it.
As well as taking steps to prevent similar outages — outlined in Information Week — we've done our best to make it right by offering a 50 point credit (value $50) towards our HootSuite Social Analytics tool.
From translations to feedback, the input we receive from users continues to shape our progress. In this News Roundup we look at some responses to the outage and our reaction.
Responses to Our Response
Danny Brown – Why HootSuite Understands Loyalty
Now, like I say, the outage and downtime wasn't Hootsuite's – but they treated it as if it was, and made good with their customers.

At Bonsai, we're always looking at ways for our clients to build loyalty into everything they do – with customers, employees, stakeholders and more. Service and cost doesn't quite hack it any more – everyone has great service and costs.

But loyalty and the user experience with you? That's the gold right there – something HootSuite gets in abundance.

Nice work, guys – you just made me an even bigger fan."
Media Bistro – HootSuite Responds To Amazon Server Downtime With $50 Credit For All Users
This is a very welcome gesture from HootSuite, and I like the way they've reached out to their entire customer base, both paying and free. They certainly didn't have to do this – the Amazon downtime was way beyond their control – but these little touches go a long way to build confidence and loyalty in a service, and in a team."
G&A Partners – 'Making things right' – A Lesson From HootSuite
While these affected sites and communities didn't have any control over their customers losing temporary access to their services and data, Hootsuite stepped up in a hugely public and apologetic way with the following statement and a $50 credit to every paid AND unpaid client account

No excuses, no pointing fingers – just a transparent message from the CEO himself about:

What went wrong
How they are making sure it won't happen again
A form of compensation for services lost
A generous thank you to their clients

Let this be a lesson to all business owners, no matter what type of products or services you offer things happen!!"
The MLS App – Jimmy's Daily Fix 4/27/2011
There is a great lesson to be learned from Hootsuite's reaction to last weeks outage.  Paraphrasing Tom Peters – It is never the problem that is the problem, it is how you respond to the problem that is the real concern.  Hootsuite took responsibility for last weeks outage even though it clearly wasn't their fault."
Zabisco – Hootsuite Attempts to "Make It Right"
What Hootsuite actually did was to keep their users up to date with problems via email so they knew what was happening on the day, answering their problems and questions with professionalism. Admirable, I'm sure you'll agree, and certainly a behaviour to be learned from.

[…]

I've always maintained that social media has pushed companies beyond the age of press releases and formally written statements and into the realms of real conversation where transparency and honesty are key. What the Hootsuite issue demonstrates is that companies can not only get through their problems but actually benefit from the personality it allows them to portray."
Agile Dudes – I Love HootSuite
I think it's very thoughtful of HootSuite to do this, it displays their understanding of the problem and commitment to ensuring it doesn't happen again."
Caffeine Keyboard – My HootSuite Resurrection
Stuff happens and its out of our control. Hootsuite stepped up to the plate with fabulous support on twitter to guide me, a wonderful incident ticket system and most importantly, they were honest, didn't lie, and ultimately fixed the problem. After some make-up tweeting, my love for hootsuite as a whole, grows."
Information Week – How HootSuite Recovered From Amazon's Cloud Outage
David F. Carr conducted a technical-specific interview with HootSuite CTO Simon Stanlake which shares some internal recovery anecdotes:
HootSuite was already working on replicating its infrastructure to other data centers–as much for geographic coverage for customers around the world as for redundancy–and will likely accelerate those plans, Stanlake said. However, figuring out the most efficient distributed architecture will take time, he said. "The difficult thing is doing it properly.""
Can't Win 'Em All
We appreciate all the feedback we receive and while we found a mostly warm reception to our response and offer, we couldn't impress *everybody* – but we do listen to all while seeking ways to improve. For example:
Provident Partners – HootSuite Explains – Blah Blah Blah – Makes It Right, But No Sorry
[…] here is my brainwave emotional meter thinking out loud transcript as I'm reading this Hootsuite email — yawn yawn, lawyer inserted phrase,…

I suspect that "acknowledging the inconvenience" is as close as one can get in corporate speak to what I would have preferred.""
Note: We have more dogs than lawyers in the office but we always try to speak like humans.
Making Lemonade Out of Lemons
The Washington Post's sister publication, Foreign Policy Magazine, who also experienced outages had some fun with a few comedic Tweets during the downtime. They also started a hashtag: #articleswewouldbeprintingifourwebsiteworked. Here are a couple of our favorites:
Washington Post – Foreign Policy gets lemons, makes Twitter lemonade
They quickly embraced new media, not just to let readers know what was wrong, but to make lemonade out of Internet lemons.
Hoot At Us!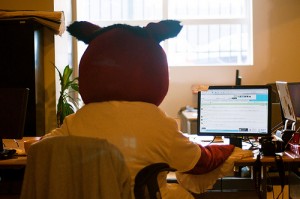 We're always striving for perfection and would like to thank our fans for their patience and continued support! While this incident was unexpected, we reacted quickly and treated our customers the same way we'd like to be treated – kindly and openly.
Our diligent engineers worked tirelessly to restore service because we know how important our dashboard is for users all around the world.
The HootSuite team keeps a close watch on our media coverage. For more articles on our downtime visit our hootresp tagged social bookmarks.
Don't hesitate to visit our Feedback Page to let us know your thoughts.
Also, be sure to check out our other social bookmarks, @HootSuite, and @HootWatch for the latest news about HootSuite.