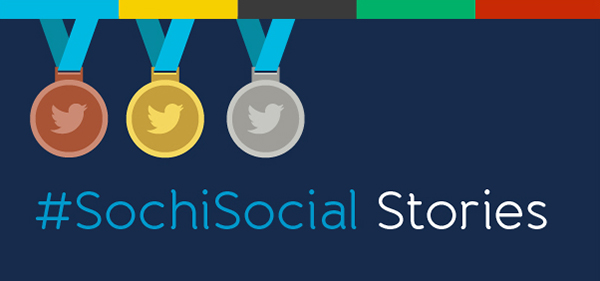 We've been tracking Olympic social media stats daily in our #SochiSocial Infographics (see infographics 1, 2, 3, and 4) using HootSuite's latest product Ubervu via HootSuite. Now that we're over half way through, we wanted stir the patriotic hearts amongst you by sharing the medal count so far, and recapping our favorite stories from the Games.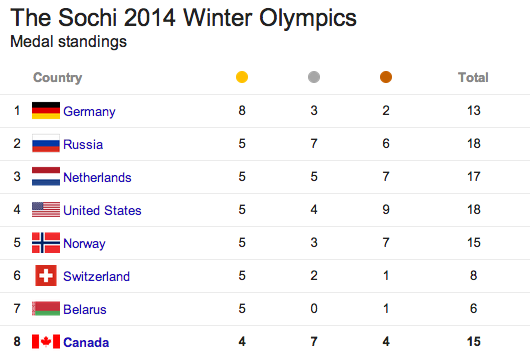 Olympic bobsledder breaks through the door of his Sochi hotel room
…With no phone to call for help, I used my bobsled push training to break out. #SochiJailBreak pic.twitter.com/apZRefgvCO

— Johnny Quinn (@JohnnyQuinnUSA) February 8, 2014
Every Games is fraught with drama, and doesn't every audience love to see it? In Russia, stories of incomplete or poorly constructed accommodations reined supreme in the days before the Olympic Games took off. Athletes and reporters alike shared images and stories of bizarre toilets, broken curtains and, of course, doorknobs. Our favorite? Johnny Quinn, Olympic bobsledder got locked in the bathroom and had to literally break the door down.
Hashtag to follow? #Quinning
The Canadian coach rescues Russian cross-country skier who broke his ski in competition
Bravo – Canadian coach helps Russian XC skier get back into the race. #WeAreWinter pic.twitter.com/niw1iFLWkz

— Donna Stechey (@donnastechey) February 11, 2014
The spirit of the Games is intended to bring different nations together in the enjoyment of sport. No clearer image of this is when people from different countries set aside national alliances to help one another. Hearts were warmed, tears were shed and social was alight with the story of Anton Gafarov, the Russian athlete who broke his ski during competition, and was assisted by Canadian Ski Coach, Justin Wadsworth so that he could finish his race in his home country. What lends more depth to this tale, is the fact that 4 years ago in Vancouver, Norwegian ski coach gave Canadian skier Sara Renner a pole which resulted in the Norwegian athlete losing her spot on the podium when Renner took silver. A small, but important way to pay it forwards.
Hashtag to follow? #WeAreWinter
Heating up: The Tinder Games
Sure, the weather has been unseasonably warm in Sochi. But what's really heating up the games is the talk about online dating app "Tinder" in the Athletes' Village. While it appears that most athletes deny using it for any funny business, many purport these to be the Tinder Games. So much so that Tinder founder has made a statement that athletes should focus on medals first, and Tinder 2nd.
Hashtag to follow? (not for the faint of heart) #tinderOlympics
Stay tuned for more infographics and #sochisocial news in the coming days.
Try HootSuite Pro Free for 30 Days
For Volume 1 of the infographic, on the start of the Games, click here.
For Volume 2 of the infographic, on Opening Ceremonies, click here.
For Volume 3 of the infographic, on Olympic sponsors, click here.
For Volume 4 of the infographic, on pop culture trends, click here.