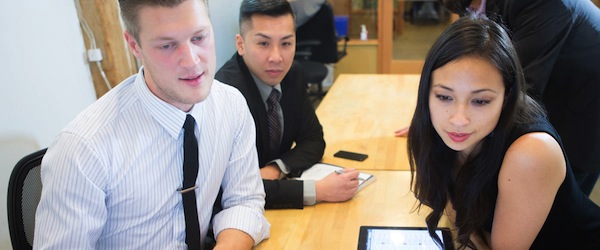 Social Media Certification: The Game-changer for Today's Professionals
What is the one challenge that all businesses have in common? Customers are now online and businesses need to meet their needs in this new digital marketplace. As a result, companies are struggling to adapt, and employee skillsets are becoming increasingly out of date in today's digital workforce.
The solution is social media education across the whole company. As large organizations move to activate more business units on social media, flexible, scalable social media education and training programs for employees have become essential. If you are a social business professional, it's critical that you understand social media across your organization, and how to tie it back to key business objectives.
Today's Digital Skills Gap
In the last few years there has been a major shift in the way businesses interact with their customer base. This has created a gap in what customers expect and what companies can actually deliver. The gap exists because most employees don't necessarily have the right skill set to effectively manage and grow their company's online assets. They may understand social media for personal use, but wouldn't know where to start with a social media marketing strategy. This shortage of digital skills in the current marketplace is unprecedented. It is estimated that over 4.4 million IT jobs will be created around by 2015; however, only a third of these new jobs will be filled.
"It is expected that 90% of all jobs will require Information and Communication Technology (ICT) skills by 2015." Capgemini
There is a growing need for employee education on social media as social business programs formalize and mature. The digital communications education gap between employees established before the onset of social media and new graduates is widening. This is further complicated by the fact that only a handful of schools are teaching digital communications and more specifically, social media for business education courses.
"In 2013, 43% of companies identified internal social media education as a top social business priority, while only 38% indicate having such a program in place, or in progress." – Altimeter Group, December 2013
Forbes cites that most organizations see "capability gaps" as one of their top five challenges, and a key hurdle to digital transformation. Altimeter claims that developing social media education is the second most important priority for most organizations.
Forrester forecasts that many companies are about to embark on a massive transformation as they move away from traditional, rigid organizational structures to agile, responsive teams that are better suited for digital and social marketing strategies. With this clear shift and demand already present in the industry, it's crucial that today's business professionals are armed with strategic digital and social media skills in order to meet the new requirements of today's organizations.
The Newhouse-HootSuite Advanced Social Media Strategy Certification
Analysts are aware of the education gap and the digital skills employees need, but there aren't many scalable, recognized solutions out there. Research shows an explosive growth in tools available to train people, but few of them are from an accredited university.
HootSuite has partnered with Syracuse University's S.I. Newhouse School of Public Communications to deliver an Advanced Social Media Strategy (ASMS) Certification. This partnership is the first of its kind and brings together the unique combination of industry experience and knowledge with recognized, academic excellence.
Geared towards today's social business professionals, this online certification provides a credible, self-paced education solution, covering the entire social media ecosystem at a strategic level. Today's professionals who play a role in their company's social media strategy will benefit from practical skills, knowledge, and expertise needed to think strategically about digital marketing, layer social media initiatives into corporate communications, and tie results back to their company's bottom line.
Enrolled participants in the ASMS certificate include representatives from Google, Universal Sony Pictures Home Entertainment, Coors Light, Edelman, Florida Panthers, and Safeway.
"HootSuite and Syracuse University are both world renowned. With this additional education, I'm confident that I can grow my position as I bring that much more to the table." – Jason Boucher, Social Media Manager, University of New Hampshire
Do you play a role in your company's social media strategy? Looking to level up your social media skills and knowledge? Learn more about the Newhouse-HootSuite Advanced Social Media Strategy Certification
This blog post is the first in a series about the Advanced Social Media Strategy (ASMS) Certification. Each post will give the reader tips about improving your social media strategy as well as provide insights into the ASMS certification program.