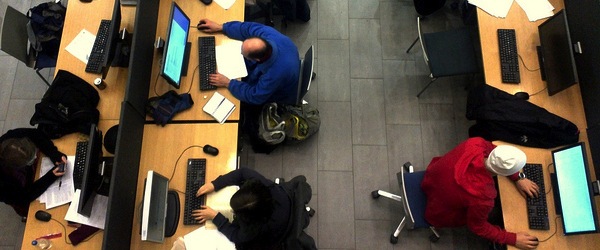 Don't just say you're a social media expert. Be one.
There are a lot of people who claim to be social media experts, but few of them actually have the credentials to back it up.
There's a widely recognized digital education gap between customers and brands, a gap in what customers expect and what companies can actually deliver. As a result, companies are struggling to adapt, and employee skillsets are becoming increasingly out of date in today's digital workforce.
Whether you're looking for a job and need to stand out, or you're looking to improve your social media skills and knowledge, the Newhouse-Hootsuite Advanced Social Media Strategy (ASMS) Certification will help you get there. Learn the critical skills you need to drive your organization's social media strategy and directly contribute to your company's bottom line, all while accelerating your career.
Today's passionate, driven and dedicated social media managers have the opportunity to earn industry recognition and academic credentials from Hootsuite and Newhouse School. Doing so will help them build a broader skill set and be more competitive in the industry. The ASMS Certification delivers the latest industry knowledge and expertise, along with strategic, recognized credentials.
Forrester forecasts that many companies are about to embark on a massive transformation as they move away from traditional, rigid organizational structures to agile, responsive teams that are better suited for digital and social marketing strategies. With this clear shift and demand already present in the industry, it's crucial that today's business professionals are armed with strategic digital and social media skills in order to meet the new requirements of today's organizations.
As a social business professional, it's critical that you understand social media across your organization, and how to tie it back to key business objectives.
Learn more about earning recognized credentials in social media strategy from Hootsuite and Newhouse School. 
In the first module of ASMS, you'll get a comprehensive overview and introduction to today's social media ecosystem, including:
How social media can increase efficiency and improve the communication of any business
The benefits of monitoring social media and key tools and techniques to increasing efficiency and driving results
Key questions and thinking points supporting students in applying key learnings to their own role, business, or industry
From there, you'll dig in and explore strategic planning, social data and analytics, content marketing and engagement, and crisis management. Finally, you'll create a real social business communication plan, that you can then apply to your organization.
You'll learn through on-demand video, short assessments and quizzes, research and assignments, and personalized feedback from social media professor Dr. William J. Ward.
Become the social media expert that clients and employers need on their team.
Book a free consultation with one of our course advisors and learn more about how the Advanced Social Media Strategy Certification can accelerate your career.