Facebook first launched its Access Your Information tool in 2018 to make it easier for users to view and download their own personal data.
Three years in, the function is getting an update.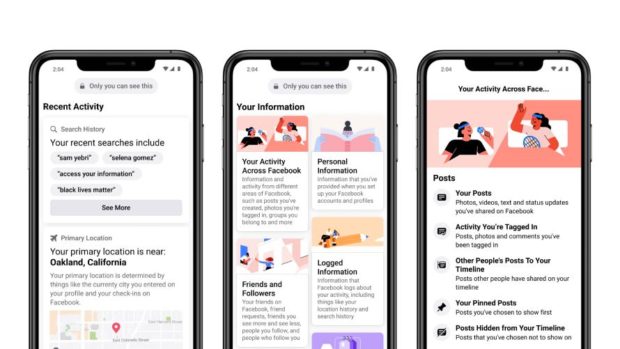 Source: Facebook
Previously, data here was broken into two big categories: "Your Information" versus "Information About You," which of course is perfectly distinct and we have no further questions.
Going forward, Facebook will break your information into eight more distinct segments, which are further broken down into hyper-specific subcategories.
Your Activity Across Facebook
Friends and Followers
Preferences
Personal Information
Logged Information
Ads Information
Apps and Websites Off of Facebook
Security and Login Information
You can also now find data categories with a search: for example, searching "location" will generate information about your location history.
In the new Access Your Information tool, you'll be able to see information about just how Facebook has been using your data to customize your experience on the platform — like how your primary location was one reason you saw ads for a local sushi restaurant. (While this info was already available with the "Why Am I Seeing This?" tool, Facebook's goal is to make this more transparent and accessible.)
Right now, you can see the new version of Access Your Information via the iOS or Android Facebook app, and it will be available via desktop soon as well.
Access more information about Access Your Information here. (Knowledge is power! Right?)