Instagram reveals how to rank for SEO in Instagram Search
As part of an ongoing series to demystify how Instagram works, the platform's chief, Adam Mosseri, took to several channels to explain search algorithms. The blog post and videos cover how Instagram ranks search results, search engine optimization tactics, safety measures, and new developments in keyword search features. 
Here's what Instagram takes into account when coming up with search results, according to the company blog post: 
Your text in Search

. The text you enter in the search bar is by far the most important signal for Search. We try to match what you type with relevant usernames, bios, captions, hashtags, and places.

Your activity

. This includes accounts you follow, posts you've viewed, and how you've interacted with accounts in the past. We usually show accounts and hashtags you follow or visit higher than those you don't.

Information about the search results

. When there are a lot of potential results, we also look at popularity signals. These include the number of clicks, likes, shares and follows for a particular account, hashtag, or place.
For people hoping to optimize their account and content for search results, Mosseri provides three recommendations. First, choose an appropriate handle and profile name and include relevant keywords in your bio. If your business or account is tied to a location, try to include that information in your bio as well. Lastly, use relevant keywords and hashtags in the caption—not in the comments.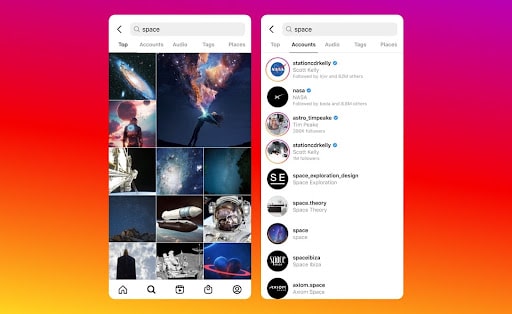 Source: Instagram 
Mosseri also shared developments in Interests Search, which is the internal name for the app's keyword-search option. Interest Search gives users the ability to look up keywords rather than specific hashtags or usernames. The functionality has been available in several regions since November 2020.