Instagram and Facebook have published new guidelines that explain the verification process for brands and creators on the app. The blue checkmark, which is used to authenticate an account, has long been a coveted symbol of status or notability, both on the app and other social networks. 
Here are Instagram's criteria for verification, via the company blog: 
Your account must represent a real person, registered business or entity.

Your account must be the unique presence of the person or business it represents. Notable entities (for example pets or publications) are also eligible.

Only one account per person or business may be verified, with exceptions for language-specific accounts.

Your account must be public and have a bio, profile photo and at least one post.

Your account must represent a well-known, highly searched-for person, brand or entity.
How to Get Verified on Instagram ✅

No, I can't get you verified… but here are some tips and things we look for when you apply.

Our new blog post has even more info. Check it out 👉🏼 https://t.co/ebpkGz9p8P pic.twitter.com/iwyDLV0V6W

— Adam Mosseri (@mosseri) September 2, 2021
Instagram now provides a form that users can fill out and submit within the app and has added more transparency through the process. The company has also diversified its lists of news sources, which are used to assess eligibility, in an effort to make verification more equitable.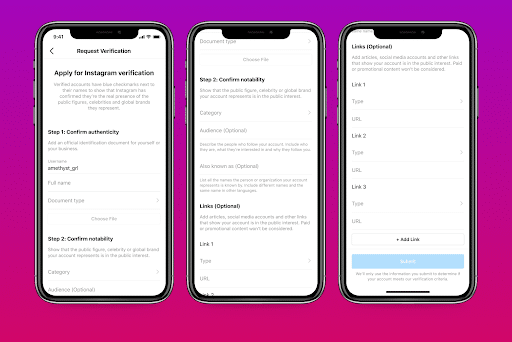 Source: Instagram