Instagram has announced multiple new messaging features, such as polls, music sharing, silent messages and more. 
The changes are part of the platform's 2022 plan of making Instagram the go-to destination for friends to connect about their interests. Over the past year, Instagram has been reenvisioning what Instagram is beyond a photo-sharing app. While pivoting to video has been a major move, Instagram also aims to strengthen its appeal as a communications tool. 
The seven new features include:
Reply while browsing:

Reply to messages without visiting your inbox and losing your spot on your feed. The feature is designed to make chatting on the app easier.



Quickly send to friends:

Tap and hold the share button to reshare posts to close friends.



See who's online:

Look to the top of your inbox to see who is online and available to chat. 

Play, pause and replay:

Share a 30-second preview of a song you love so that friends can listen directly in the chat. Currently, Instagram says you can share music from Apple Music and Amazon Music. Spotify is expected to become available shortly.

Send messages quietly:

Type "@silent" along your message if you don't want your contacts to be disrupted by notification sounds. This comes in handy if you're messaging late at night or when your contacts are busy.

Try a lo-fi chat theme:

Create chill vibes by using Instagram's new lo-fi chat theme.

Create a poll in the group chat:

Taking a cue from Messenger, Instagram is now bringing polls to group chats. This should make scheduling your next group hang easier.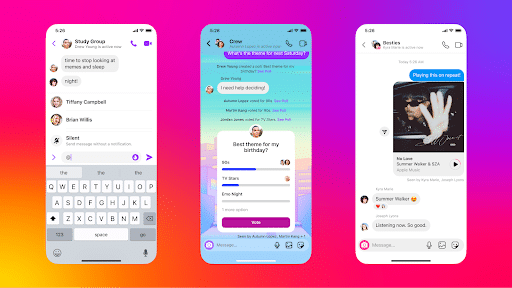 Source: Instagram
Instagram's new messaging features are currently available in select countries but will eventually be launched worldwide.