TikTok looks to enhance crediting for creators
TikTok is working on building a "culture of credit" by developing new tools to help users give attribution to creators on the platform. 
"These features are an important step in our ongoing commitment to investing in resources and product experiences that support a culture of credit, which is central to ensuring TikTok remains a home for creative expression," says Kudzi Chikumba, Director of Creative Community at TikTok US, in a blog post. "Whether taking part in the latest trend, adding a punchline to a joke, or creating the next viral sound, creators can easily and directly cite their inspiration."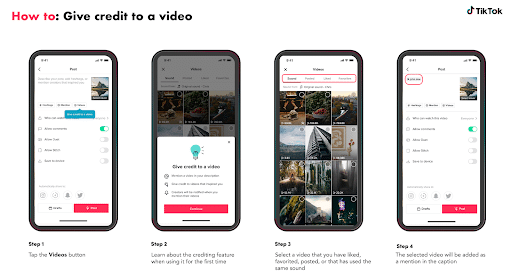 Previously, TikTok and some of its more famous creators have received criticism for popularizing content, like dance moves without giving credit to original creators.
With the new tools, TikTokers will be able to directly tag, mention and credit a video in their content descriptions. Prior, users could just tag other accounts. 
TikTok will also be adding prompts to encourage users to provide credit during the posting process. They're also introducing an education pop-up that will highlight the importance of crediting. The new features will start appearing to more users over the next few weeks.
In April, Instagram also began expanding efforts to give more credit to creators. The platform introduced both product and people tags to all users so creators and their products could be more easily identified and tracked down.
For TikTok users, here's how you can get started with the new crediting tool:
Create or edit a TikTok video.




On the posting page, tap the new "video" icon.




Select a video that you have liked, favorited, posted or that has used the same sound.




After the video has been selected, the video tag will be added as a mention in the caption.