On September 1st, 2022 Twitter began rolling out its most anticipated and requested feature: Edit Tweet. The feature is currently only available for internal testing but Twitter Blue subscribers in specific regions will get the first opportunity to test it publicly. Twitter intended to monitor user behavior before finalizing the feature for a full public rollout.
Update: On October 3rd, 2022 Twitter announced that, after successful testing, Edit Tweet is being rolled out to Twitter Blue subscribers in Canada, Australia, and New Zealand. A US rollout is coming soon.
https://twitter.com/TwitterBlue/status/1576980429814759424
Edit Tweet lets users do exactly that, but not without some limits:
Edits can only be made within 30 minutes from the time of posting

Tweets can only be edited 5 times in that 30-minute window
The idea is to provide enough time to fix typos, add missing media files, and include hashtags that might have been missed.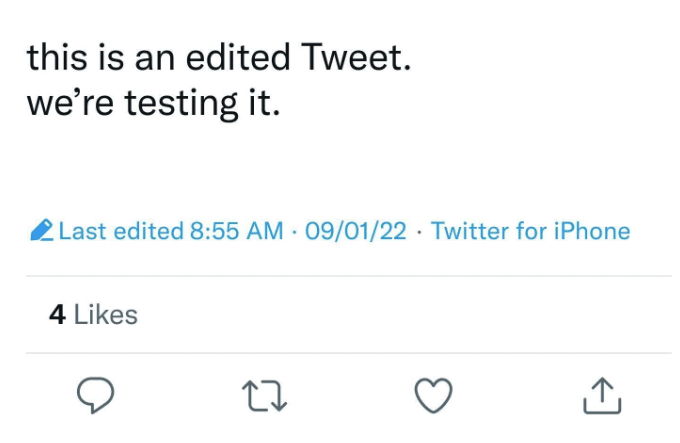 Source: blog.twitter/
Twitter stressed that the feature is still in the testing phase and that the limits on time and number of edits could be adjusted based on user behavior and feedback.
But just because you can edit a Tweet, doesn't mean the original version is gone forever. Edited Tweets will include a timestamp, icon and a label indicating that you are not seeing the original version. Tapping the label will bring up the new Edit History, which will show all past versions of the Tweet.
According to Twitter:
"[T]he time limit and version history play an important role here. They help protect the integrity of the conversation and create a publicly accessible record of what was said."
Twitter's commitment to transparency seems to stem from fears that some users would abuse the feature for spreading misinformation, scams, and other malicious content.
Users who are subscribed to Twitter Blue in New Zealand were the first to receive access to Edit Tweet. Twitter Blue subscribers in Australia, Canada, and the United States will follow after Twitter has made any necessary adjustments based on usage patterns.
Twitter plans to eventually roll out the feature for all users, assuming all goes well during the testing phases.
This does beg the question: when the Edit Tweet feature is available for everyone, who will want to keep paying for Twitter Blue?
The Edit Tweet feature is essentially an improvement to the Undo Tweet functionality already included in Blue, which is arguably the subscription's biggest selling point.
Undo Tweet puts a delay on actually publishing your tweets, so you have a chance to fix things before it actually goes out.
Undo Tweet doesn't leave your original mistakes viewable to everyone, which is an advantage. However, there is a limit of only 60 seconds to hit undo before a Tweet is published publicly, so you have to catch your mistakes quickly.
Besides a handful of quality-of-life improvements, Twitter Blue doesn't really include any other features with the mass appeal of an edit or undo button. 
Considering the long-term demand for the ability to edit Tweets, it is nice to see that Twitter doesn't intend to lock it away behind a premium subscription outside of the testing phase. A bit surprising, but nice nonetheless.
Learn more about Twitter best practices and tools: