Join the #onehugatatime Movement: Download Your Valentine's Card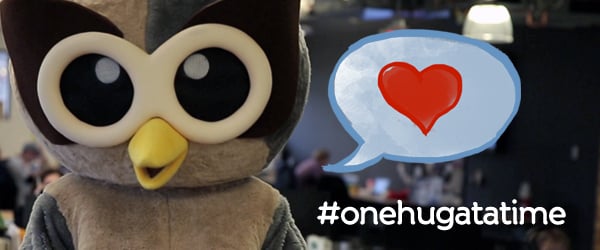 Here at HootSuite, we like to say that we are building a world-class social media management company "one hug at a time." It's a sentiment that is oft-quoted by our intrepid VP of Community Dave Olson, and helps shape the way we relate to all users of HootSuite.
While we couldn't send an individual Valentine's Day card to everyone, we thought it would be fun to use social media (and some good old fashioned Valentine cards) to show our appreciation this February 14. And invite you to get in on the fun, too.
Help Owly spread the HootLove this Valentine's Day, #onehugatatime

1. Download, print and cut out your Valentine cards.
2. Write your personal message.
3. Give a card to someone who brightens your day.
4. Instagram the moment and tag it #onehugatatime.
5. Visit onehugatatime.tumblr.com to see #onehugatatime photos from around the world.
Our favorite posts will be sent HootSwag from Owly!