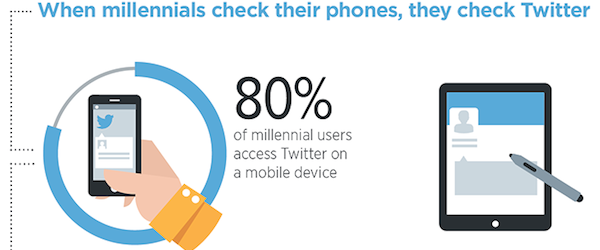 This Week In Social: The Social Media Habits of Millennials, Your Boss and the Military
Despite the slowed summer news flow from the big networks it's been an interesting week across the social web. Whether you're taking some well-deserved time off or stuck at your desk,  if you're a social media professional, you can't afford to miss the big stories.
Now that you have some time, let's get you caught up.
Latest From the Big 4
Every week Facebook, Twitter, LinkedIn and Google+ announce policy changes, updates, design tweaks, new features and other changes that can affect how you use their tools. Here are this week's highlights:
Twitter released a great infographic this week showing how millennials are using their network. Based on a survey conducted in partnership with research firm DB5, the data confirmed some behaviour we already know about—80% of users between 18 and 34 access Twitter on their mobile devices, for instance. But there were also some new insights, particularly with respect to how millennials use Twitter as a second screen to enhance live experiences. Of the young users surveyed, 71% say "tweeting about an event makes it more fun." If you've been following the World Cup on social media, you probably agree.
While there may be much your boss still doesn't get about social media, new research suggests she spends more time at work on Facebook than you do. Researchers at the University of Bergen surveyed more than 11,000 people about their social media habits and found that managers and executives are the real social media slackers, spending more time on Facebook, Twitter, and Instagram than their subordinates. But that's not the real problem revealed by this research: despite evidence to the contrary, "mid- and top-level managers expressed more negative attitudes toward the use of social networks use during work hours compared to nonmanagers."
When LinkedIn partnered with Brian Solis, Principal at Altimeter Group, to "create a list of the most Socially Engaged Companies," they came up with a  veritable who's who. From Google to Bloomberg, Cisco to The Wall Street Journal, many leading global companies are fostering employee engagement with social media. And among the most successful are those where a majority (52%) of executives are leading the way by actively creating, curating, and sharing content.
The Next Big Thing
The social web is a dynamic landscape, with new players constantly shaking things up. Whether it's a new class of Y Combinator startup stars announcing their big ideas, or a surprise venture capital investment in an app rumoured to be the next Snapchat, this industry moves fast. Here's the latest:
While so many developers are scrambling to create the next Instagram by making picture messaging simpler, more ephemeral, or faster, a pair of former Microsoft engineers are headed in the opposite direction. Pixotale, a visual storytelling app created by Robert Mao and Haitao Li, is to Snapchat as a long-form narrative essay is to a Tweet. With 1.5 million users worldwide, the free service might just get us to slow down and tell a story with our photos. Or maybe people will just create elaborate selfie collections.
Every traveller has had the experience of hopping from one Wi-Fi hotspot to the next trying to find a place to stay or eat without incurring the dreaded data roaming charge. While the venerable travel review service TripAdvisor may not be new, its app has newly become much more useful by solving this problem with a simple fix: the updated app "allows you to download TripAdvisor reviews, photos and city maps before you go and then access this information on your trip—even when no data connection is available." So go ahead and roam this summer!
Long Read:
Facebook was in hot water last week when an academic paper revealed that it had manipulated the news feeds of more than a half a million users to study the emotional effects of reading positive and negative posts. While Facebook claimed that its EULA gives it all the consent it needs, the study's lead researcher, Adam D. I. Kramer, posted an apology on his Facebook page.
Since the first Facebook user who was stuck in the office over the weekend and saw photos in his news feed of all the fun he missed, it's been obvious that social media (or the way we use it) can impact our emotions. This week a Guardian report revealed that Facebook isn't the only organization interested in studying the connection between our emotions and our social media habits. The US Department of Defense's military research department, known as Darpa, published a lengthy list of the projects funded under its Social Media in Strategic Communication (SMISC) program. Among the projects were many initiatives aimed at understanding users' responses to the social media content they consume.