Ad Age and HootSuite's Top 10 Twitter Trends of the Week, Volume 27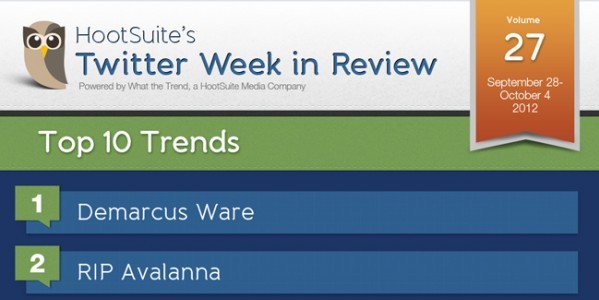 From the birth of a new global movement against the oppression of women to discovering the true meaning of Justin Bieber's OLLG phenomenon, our Trends of the Week graphic will tell you what topped the charts on Twitter last week.
Check out our Trends of the Week chart and stick to tweets that tend to trend.
Ad Age Twitter Trends of the Week, Volume 27
#HalfTheSky at number 3 is my personal favorite of the week for various reasons (and not just because I'm a lady). This tweet initially surfaced in support of the new documentary "Half the Sky" based on NYTimes writer Nick Kristof's best selling book, but has since blown up as a global movement against the oppression of women. Using social media as a tool to bring awareness to all corners of the globe, the documentary and movement seek to engage, educate and motivate. It's all about empowering many people worldwide to advocate for women's rights. #HalfTheSky is not just about trending a documentary on Twitter. It's about supporting global change.
Speaking of a world wide web, social media has proved itself again to be the transmedia tool for spreading news globally. April Jones, a five year old that went missing from Wales on Monday and is presumed abducted, is trending. Thousands are now looking to social media in the hopes of finding her. Let's pray it can help lead to a happy conclusion.
On a lighter note, Bieber's loyal fans clearly weren't swayed this week by his onstage upchuck. Despite the rather ghastly incident that was caught on video, girls all over the globe still desperately want to be his #OLLG. What's OLLG, you ask? Well, it's an abbreviation of his hit song "One Less Lonely Girl." And when he sings it live on stage, Bieber hand-picks one girl out of the audience to sing to personally. Talk about hot topic.
Meanwhile, RIP Avalanna has been a Bieber trend for the last two weeks. After hearing that six year old Avalanna Routh, diagnosed with brain cancer, had a fake wedding with a Biebs cardboard cutout organized by her hospital care-takers, Bieber surprised her by getting "married." Sadly, Avalanna passed away on September 26.
We like sports and we don't care who knows. Dallas Cowboy's Demarcus Ware's good old fumble and sack rebuttal tweet "Success is sweet but it is sweeter if it's delayed and you've gone through struggles and defeats to get it…….. #REFOCUSING #COWBOYNATION" is very inspiring. Meanwhile, WWE Monday night Raw wrestling fans are tweeting about the #Raw show a few days late on Wednesday.
Stay in the loop. Come back to check out our Twitter Week in Review chart that we publish in partnership with Ad Age again next week.