Top 10 Twitter Trends of the Week by Ad Age and HootSuite (USA), Volume 57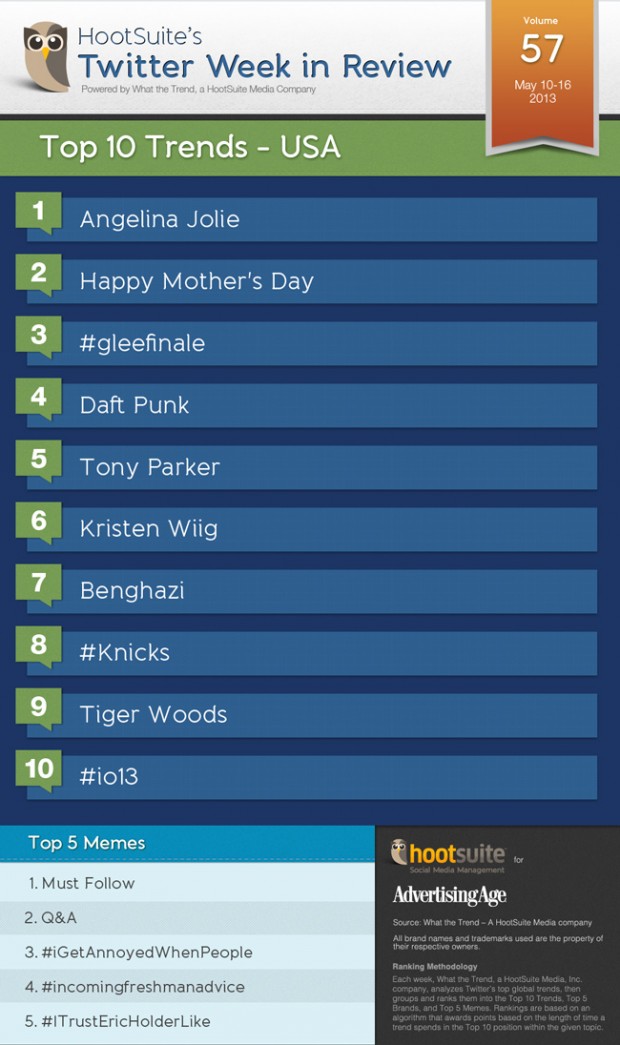 This week, inspiring women were all over the US Twitter trends. From Angelina Jolie motivating women to take control of challenging situations, to Kristin Wiig bringing the laughs and finally, just how much we appreciate our Moms… America was showing the love for women.
Angelina Jolie's Cancer Scare
Speaking of moms to idolize, Angelina Jolie trended across more than just the U.S. this week after sharing her heartfelt and inspiring story with the world.
This week in the New York Times, Jolie revealed her discovery of a "faulty" gene, BRCA1, which sharply increases the risk of developing breast cancer and ovarian cancer. "My doctors estimated that I had an 87 percent risk of breast cancer and a 50 percent risk of ovarian cancer, although the risk is different in the case of each woman" wrote Jolie. Although she didn't actually have either forms of cancer, she decided to act proactively and minimize all risks.
Jolie decided to undergo a double mastectomy surgery in secrecy (even from some of her family) to cut her chances of breast cancer. "My chances of developing breast cancer have dropped from 87 percent to under 5 percent. I can tell my children that they don't need to fear they will lose me to breast cancer." After three months of treatments and recovering, she chose to tell the world (and get right back to work). Why?
Angelina wanted to inform people that cancer isn't something to necessarily fear. Although it poses many challenges, cancer can be fought and should be cured. As she put it, "life comes with many challenges – The ones that should not scare us are the ones we can take on and take control of."
Tweet Yo Ma
Think you have the world's best mom? Thousands of people around the world celebrated their mothers with hopefully more than just hashtags last Sunday. Sure moms are very present in social media, but just because you tweeted #HappyMothersDay, doesn't mean you properly honored your beloved mother…
Besides on Valentines Day, flower stores and chocolate shops across North America are engulfed with absolute chaos every Mother's Day. Pinterest blows up with femininity and loving shots of mothers with their family spread like wildfire all over Instagram and Facebook. And with good reason.
Here's what one bright young "president" thinks of celebrating moms:
#GleeFinale
Need I really say more? This musical dramedy series has been a mega-hit since day one – both on television, and in YouTube views of each break-out in song and dance. Glee's Season Four came to a close this week with a somewhat lackluster storyline, but gleeks didn't seem to mind. Besides trending the hashtag #gleefinale, the send-off episode had solid ratings. But not to worry, FOX recently renewed the series for another two seasons. Gleeks rejoice!
Daft Punk's Got More than Just Luck
This is one electronic French duo that will stop at nothing to keep disco alive through the ages. Daft Punk recently released their much awaited album "Random Access Memories" and subsequently trended everywhere. The album's catchy hit single "Get Lucky" was an instant success, but nothing trumps the chatter over the entire album.
Does everything Daft Punk turn to digital love? Probably. Topping the charts "around the world" the faceless duo certainly has everyone buzzing. Random Access Memories may go on to be one of the biggest-selling albums of the year, and with good reason. What do you think, album of the year?
Have a listen and judge for yourself:
NBA Player Tony Parker Leads the Way
Unfortunately this trend has nothing to do Eva Longoria… Tony Parker, the French NBA player who plays for the San Antonio Spurs has been killing it both on the playoffs' courts and in Twitter. Just when it counted the most, Parker led his team to victory in this week's game 5 victory 3-2 over the Golden State Warriors.
According to stats, Tony Parker had 25 points and 10 assists in game 5, for a 109-91 victory. Go Parker!
 The Funny Lady is Back on SNL
Less than a year after leaving her Saturday Night Live stomping grounds, funny lady Kristen Wiig cameoed last week on the show. Her hilarious skits make for an easy Twitter trend; who can resist tweeting about Garth & Kat's "well-rehearsed" hit songs and amazing vests?
Watering Down the Benghazi
On Sept. 11, 2012, four Americans, including the ambassador to Libya, were killed in a raid on a diplomatic post in the city of Benghazi. The State Department ultimately determined that the raid was a series of terrorist attacks. According to NBC, "Republicans have made an array of accusations, including that the administration failed to send the military to help, waited too long to consistently describe the raid as a terror attack, and extensively edited talking points for media appearances."
The Obama administration denied the accusations (which had some Republicans talking impeachment) and released 100 pages of emails and other documents Wednesday shedding light on how the talking points were changed. The Republican-driven discussions haven't, and likely won't, stop soon however.
#Knicks
With the NBA playoffs in full swing, it's no surprise that the remaining teams are trending. But after losing to the Indiana Pacers this week, the New York Knicks may not trend for much longer. Looks like an untimely, yet familiar predicament for the Knickerbockers.
Google Launches Mega-Updates
Google I/O 2013 Conference, where the creme de la creme of the technology industry get together to talks about their updates and new products, took place this week. Everything from Google+'s fresh new front page to the exciting future of Google Maps was discussed. The conference's official hashtag, #io13 trended with fervour as each new product update was released to the public. What will they think of next?
Until next time friends. Check out what tended to trend globally this week.
Want to keep your finger on the pulse? Never miss another tweet or trend with HootSuite's social media management skillz.