Top 10 Twitter Trends of the Week by Ad Age and HootSuite (USA), Volume 66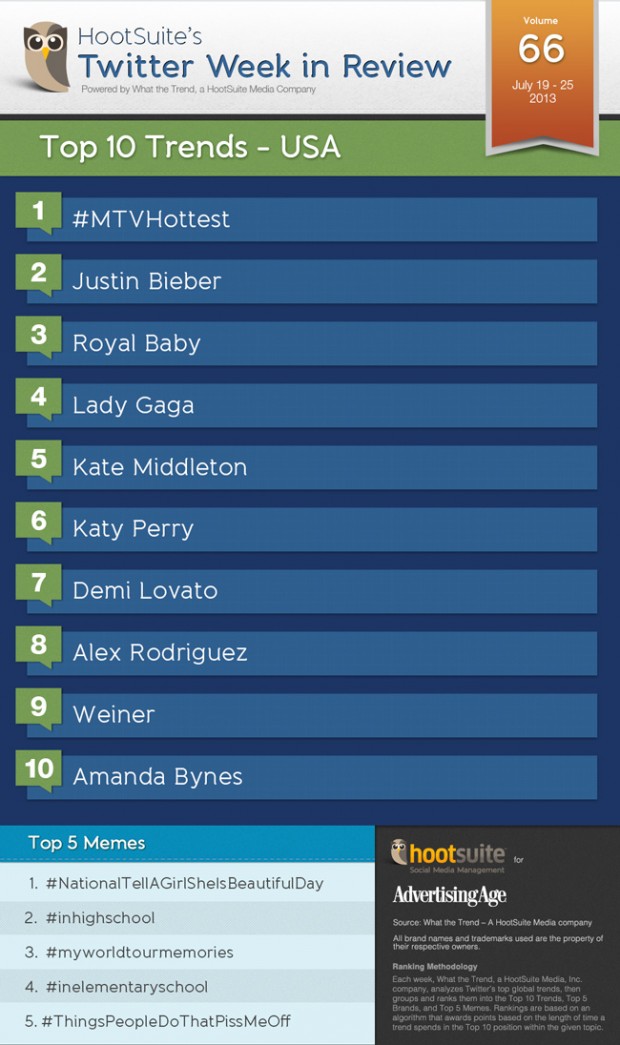 This week's US Twitter Trends is chalk-full of popular culture. From Twitterers voting up their favorite summer stars to gossiping over Amanda Bynes' mental health issues, here's what America tweeted about this week.
#1: #MTVHottest
This year's MTV's Hottest Summer Superstar race is drawing millions of votes as Twitterers around the world vote up their favorite star with the hashtag #MTVHottest. For example, after less than a week One Direction's leading the race with over 11 million votes. One Directioners, Beliebers and Lovatics are battling it out on Twitter to get their artist of the summer to the top of MTV's live leaderboard. Justin Bieber's in a close second with over 9 million votes, while Lady Gaga's coming in at number three. Since July 20th, every day has seen approximately 3.8M tweets. And because the voting doesn't close until August 18th, we can already foresee many of the next top Twitter trends…
#2: Justin Bieber
Surprise, surprise. Millions have been talking about Bieber all week. Most of them relate to the #MTVHottest hashtag, but Biebs also released his new song, "Heartbreaker" this week. Interestingly, Bieb's on-again off-again relationship with "Heartbreaker" Selena Gomez is back on. Maybe she enticed him by singing: "If you want it come and get it." #TMZ
#3: Royal Baby
Currently the world's most famous baby and heir to the throne, George Alexander Louis was born on July 22 to Kate Middleton and Prince William. As the world discussed the initial news, potential royal baby names, royal family history and, once revealed, his name, #RoyalBaby trended around the globe.
The baby's name is a tribute to the Queen, whose father was King George and her own middle name is Alexandra. Will this 21st century couple help bring the monarchy into modernity? Interestingly, even though Prince William is royalty, he still has to go back to work after two weeks and resume the royal duties of a future King.
#4: Lady Gaga
Besides having Gaga fans vote for her as #MTVHottest Summer Superstar, Lady Gaga gave the world other reasons to chat about her this week. Firstly, it was it was announced that Gaga will be performing her much-anticipated new single 'ARTPOP' at MTV Video Music Awards this August. And secondly, her former friend Lana Del Ray had a song leak that openly bashes her. Even though it's no longer online, fans went wild by either loving or hating the bash. In the song, 'So Legit,' Lana verbally attacks Gaga, making fun of her looks and her voice and reminiscing at time when Gaga was booed off-stage in Williamsburg . Oh Lana, when will you learn that Gaga was born that way?
#5: Kate Middleton
#RoyalBaby momma Kate Middleton also trended along with her baby, as Twitterers wished her well and discussed the baby news excitedly.
#6: Katy Perry
This week Katy Perry trumped Lady Gaga as the most followed female on Twitter. The pop princess currently has 39.8M loyal followers, while Lady Gaga has 39.3M. Likewise the new Queen of Twitter just released a new perfume, "Killer Queen." This "classy" new scent was launched along with a series of Alice in Wonderland inspired Queen of Hearts promotional pictures. How appropriate.
I'm thrilled to reveal #KILLERQUEEN Own the Throne! pic.twitter.com/Ae0fDm9Bb0

— Katy Perry (@katyperry) July 24, 2013
#7: Demi Lovato
While Lovatics voted the popstar up the #MTVHottest list, Demi Lovato also did a few things to solidify her spot at the top. Releasing her new "Made in USA" patriotic music video, she's seen a mere 12.4M YouTube views in a week. Lovato also told her friend Miley Cyrus to "be careful" when it comes to drinking, drugs and partying – as she has been clean herself for a while now (isn't she only 20?).
#8: Alex Rodriguez
Alex Rodriquez's (A-Rod) strained relationship with New York Yankees hit a low this week after the player sought a second medical opinion on his strained quad. A-Rod's already in the hot-seat as the Major League Baseball's drug investigation continues, but going around the Yankees to seek another opinion has made things worse. When asked: "Do you trust the Yankees?" in an interview with WFAN radio, Rodriguez responded with "Um. You know, I'd rather not get into that. I'm just frustrated that I'm not on the field tomorrow." Unless he meant to fail that test, I'd say that's a wrong answer.
#9: Weiner
American politician and former US representative in New York's 9th congressional district, Anthony Weiner is having a tough week. As his campaign race to become NYC's Mayor is well underway, his past (and current) deviant behavior is hindering his chances of winning. Anthony Weiner said Thursday that he'd traded racy messages with as many as three women after being kicked out of Congress in June 2011 for similar issues. While it's up to New York if they want Weiner to continue campaigning, most say that his behavior is reprehensible and disrespectful to the people and women. Third time's a charm?
#10: Amanda Bynes
Now here's a trend and a half. Ex-Disney star turned deviant celebrity Amanda Bynes caught her pants on fire this week. She was found washing her dog in a liquor store washroom after stripping off her pants and chasing her gasoline-soaked dog. Apparently she started the fire herself in a stranger's driveway and was found with a gas can. Not surprisingly, Bynes is now on a mental health hold.
Enough gossiping, let's see what the world had to tweet about this week.