Top 10 International Twitter Trends of the Week, Volume 50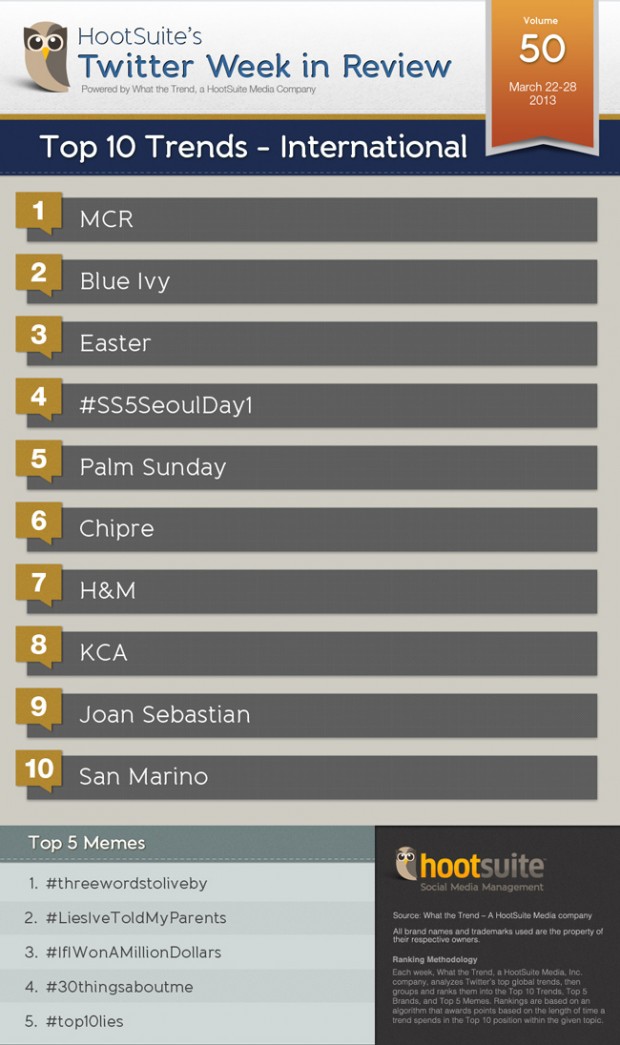 This week's international Twitter trends are a smorgasbord of popular culture icons, Easter and collapsing governments. Like Will.i.am's new song with traditional Mexican singer Joan Sebastian, some things just don't mix well – but we talk about them anyway.
My Chemical Retirement
Any band that forms as the dust settles from 9/11's tragedy is bound to draw an emotional crowd. My Chemical Romance (MCR), a popular ultra-emo American pop-rock band, was just that band. And, after 12 years of guiding teens through their formative years with emotional performances and Green Day and Nirvana-like angst, they announced their calling it quits.
On March 22, My Chem posted a message to its website stating: "Being in this band for the past 12 years has been a true blessing […] And now, like all great things, it has come time for it to end. Thanks for all of your support, and for being part of the adventure." And to top of their own "Black Parade" day, lead singer Gerard Way tweeted "beyond any sadness, what I feel the most is pride" to his thousands of fans. Their fans, also known as MCRmy, quickly took to Twitter to express their sadness and some even launched a petition to get the band to play one more tour. While a petition seems a tad overkill, it's surprising that the normally ultra-dramatic band broke up without a fight. No wonder their MCRmy have them trending. #Fizzle
Want to see a MCR video? Search YouTube – this is as far as I go.
Widely-Publicized Lunch Date
Blue Ivy, Beyonce Knowles and Jay-Z's baby girl is trending this week. Why? Because Beyonce brought Blue Ivy out to lunch at Buttermilk Channel restaurant in Brooklyn, New York this week. Looks like Beyonce can't take her baby anywhere (let alone eat in public) without causing a stir of paparazzi and subsequent tweet frenzy.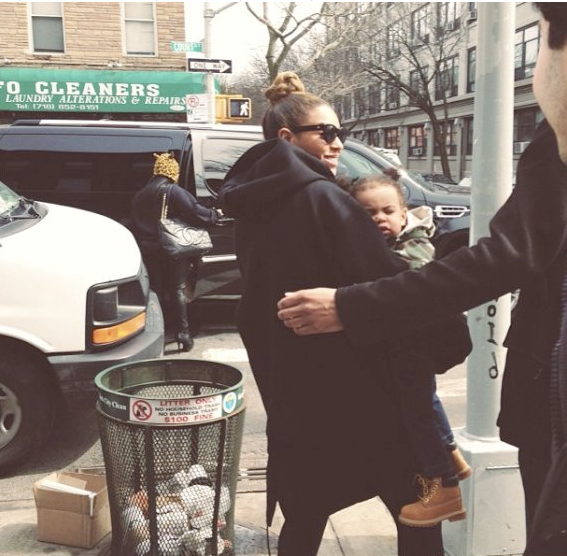 Chocolate Bunnies
Besides collecting chocolate Easter eggs whose wrapping sparkle from hidden corners of homes, Easter is first and foremost a religious celebration (or is supposed to be).
This Christian festival and holiday celebrates the resurrection of Jesus Christ on the third day after his crucifixion as described in the New Testament. Easter is the culmination of the Passion of Christ, preceded by Lent, a forty-day period of fasting, prayer, and penance. For those who don't celebrate Easter in a religious context, the holiday has become associated with the giving and receiving of chocolate from the mysteriously generous Easter bunny. And of course my personal favorite, the Easter long weekend.
#SS5SeoulDay1
Despite the important ring that the hashtag #SS5SeoulDay1 seems to have, this trend pushes pop culture all the way. Kpop's legendary boy band, Super Junior, kicked off their SuperShow 5 world tour this past week, sporting a supposed "new-look." They performed the first show of their 5th tour starting in Seoul, South Korea this past week – hence the Day 1… A second concert in Seoul also trended with the hashtag #SS5SeoulDay2.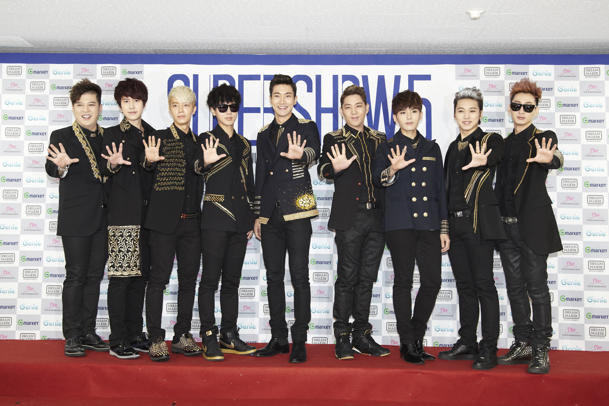 Palm Sunday
This is a rather surprising trend. Palm Sunday, a Christian moveable feast that falls on the Sunday before Easter, trended internationally. The feast commemorates Jesus' entry into Jerusalem, one week before his resurrection, and is an event mentioned in all four canonical Gospels. In many Christian churches, celebrations for Palm Sunday include the distribution of palm leaves to the worshippers. Palm leaves represents goodness and victory and people in every nation use them to honor Jesus. This year Palm Sunday was March 24.
The Collapse of Chipre
Chipre, Spanish for Cyprus, a small island nation in the Mediterranean Sea, is the midst of an extreme financial crisis. While the European union is working on a financial bailout plan with the country's leaders, the banks have frozen accounts and have only just reopened this Thursday, after nearly two weeks. Surprisingly, the bank's reopening has been fairly orderly and peaceful, not to mention the severe withdrawal limits help prevent massive currency drains.
The chief executive and board of directors of the nation's two largest banks, Bank of Cyprus and Laiki Bank, were dismissed as part of the resurrecting program. Likewise, Cyprus' leader recently opened a criminal investigation into how the banks brought on the collapse. Can the EU handle the collapse of Cyprus after bailing out Greece and supporting other struggling countries like Italy, Ireland and Portugal?
Wear H&M and Look Like Beyonce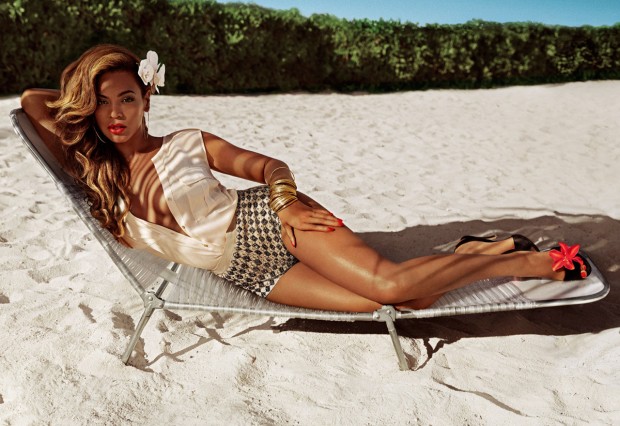 Beyonce's a hot topic this week in the Twittersphere. From a lunch date with her new baby gal to signing a major deal with clothing giant H&M. She sure looks good as the summery face of H&M. Doesn't really look like she just had Blue Ivy, does it?

Hey You, Stick to What Works
Famed Mexican traditional musician Joan Sebastian tried something new and clearly it didn't work out. Sebastian and music producer and singer songwriter from the Black Eyed Peas, Will.i.am, released a collaborative track called "Hey You." While this collaboration had the potential to be sexy spanish pop, they missed the mark. Clearly, fans could tell. "Hey You" was discussed heavily on Twitter, and many criticized Sebastian for singing the song in English – let alone singing the song in general. The singer stoked the flames by responding to critics on Twitter.
Catch you next week friends. Have a good long weekend! Still here? Check out USA Twitter Trends of the Week.