Top 10 Global Twitter Trends of the Week ~ Volume 81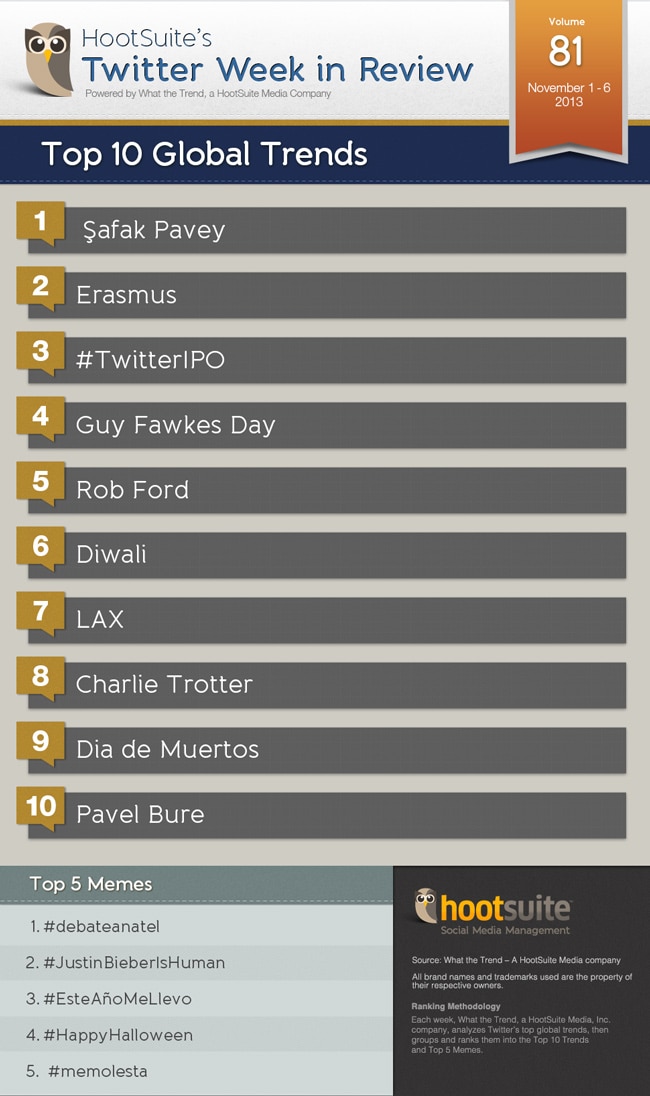 There are over 300 million tweets sent from around the world every day. Because Twitter has become such a major source for global news and conversations, we pull weekly trends to discover what the world is talking about. Here's some of the highlights:
#1: Safak Pavey
Turkey's Parliament made power moves toward a more democratic government this week. Before Thursday, 1999 was the last time that a female lawmaker was allowed to enter Turkey's Parliament wearing an Islamic head scarf. In 1999, Merve Kavakci was elected into Parliament but denied permission to take her oath of office after refusing to remove her head scarf. She was taunted and later stripped of her Turkish citizenship after it was discovered that she carried an American passport.
On Thursday, Turkish female lawmaker Şafak Pavey and three other female MPs from the Islamist ruling AK party wore their head scarves in Parliamentary session after the ban was lifted just weeks earlier. "I expect them to explain why my country is 120th in a global ranking on women's rights," said Şafak Pavey. "The greatest insurance for religious freedom is not about controlling our future with religious guidance but providing flawless secularism."
#2: Erasmus
Over the last month, thousands of students in Spain have been protesting and petitioning against the government's sudden decision to make wide cutbacks to Erasmus scholarship funding for students. According to the government, this decision is supposed to refocus financial support to those students from low income families and in need. As a 200,000-person-strong petition calling for the reforms to be abandoned and online campaigns gain momentum, government officials have decided to delay the cutbacks until next year. This trend is proof that social media can support political campaigns or reformations, as they often get the right message in front of the right people.
#3: #TwitterIPO
Can you bank on Twitter stock? That's what everyone is talking about since Twitter went public on Thursday. The social network priced 70 million shares at US$26 on Wednesday evening and opened its first day of trading on Thursday at US$45.10 a share, 73% above its initial offering price. Whether investors and the general public want to jump on the #TwitterIPO roller coaster is another story. Our CEO wrote on the 'Top 5 Reasons You Weren't Supposed to Buy Twitter Stock."
What we'd like to know is who hit the bank after Twitter went public?
#4: Guy Fawkes Day
Every November 5th thousands of people, mostly in the UK, celebrate Guy Fawkes Day in remembrance of the failed Gunpowder Plot of 1605. This failed plot was an attempt to blow up the English Parliament and is now a celebrated failure. This year, however, celebrations spanned across the globe as the umbrella group Anonymous donned their symbolic Guy Fawkes masks and called for a #MillionMaskMarch. This holiday has become a symbol for Anonymous over concerns of spying governments, education and war. People around the world held rallies in an effort to show the US that spying on governments is not cool.
London, Bangkok, Washington, Amsterdam .. You won't see this on the news, but it's happening. #MillionMaskMarch pic.twitter.com/DDkj4nSUiA

— @Avitusparta (@Avitusparta) November 6, 2013
#5: Rob Ford
Trending for a second week in a row, Canadian Mayor of Toronto Rob Ford admitted that he did in fact smoke crack cocaine. Besides thousands of jokes circulating the mayor, news sites have been discussing the possible video in police custody, updates on the mayor's public admission and new videos on the mayor that shed light on his array of "drunken stupors."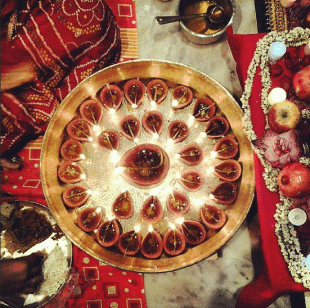 #6: Diwali
One of the most important festivals in the Hindu calendar is the "festival of lights," or Diwali. Marking the start of a new year for many, November 3-7th is celebrated by millions around the world with lights, fireworks and oil-filled lamps that burn overnight. This festival is symbolic of the triumph of good over evil, or light over darkness. Social networks like Twitter, Instagram and Facebook were flooded with beautiful photographs of lights sparkling in cities across the globe.
#7: LAX
Last Friday was a tragic one for Los Angeles International Airport. A fatal shooting took place after 23-year-old Paul Anthony Ciancia walked into the airport, opened fired and killed Transportation Security Administration officer Gerardo Hernandez, and wounded several others. While authorities are piecing together the events, the shooting seems to be in an orchestrated assault on members of the federal agency specifically. Ciancia was shot by officers and remains in critical condition at the hospital.
#8: Charlie Trotter
Internationally renowned American chef, Charlie Trotter died Tuesday at the age of 54. For decades Trotter was globally recognized for his cutting-edge cuisine. His Chicago restaurant was considered one of the finest in the world winning Michelin stars and landed him in television spotlight. Foodies, news sources and loved ones took to Twitter to send their condolences to the family and celebrate his achievements.
#9: Dia de Muertos
Spanish for "Day of the Dead," this Mexican holiday is synonymous with North American Halloween and is celebrated around the world as families remember loved ones who have passed away.
Still here? Check out what trended over on America's Twittersphere this week.