Top 10 Twitter Trends of the Week by Ad Age and HootSuite (USA), Volume 40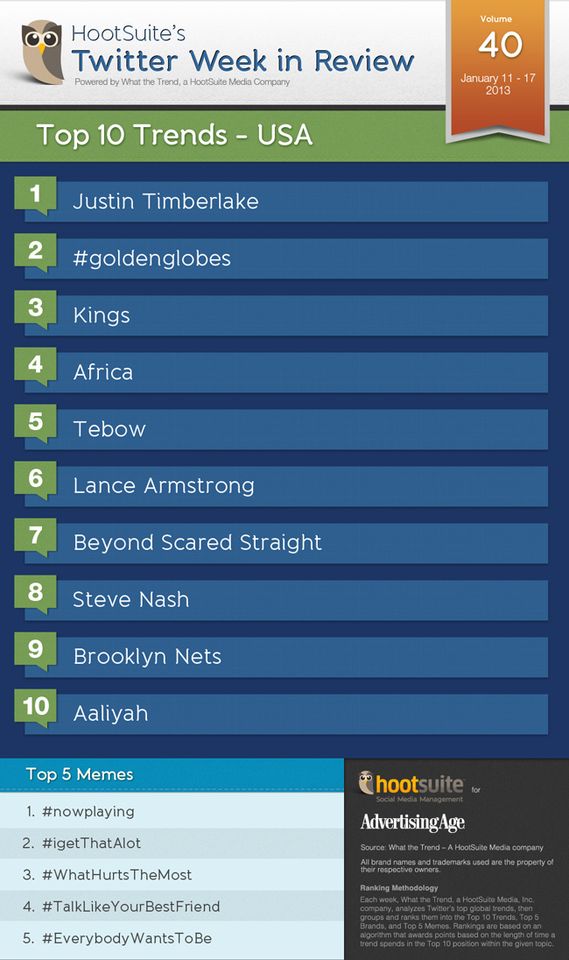 Once again, the Twittersphere was abuzz in the US, discussing pop stars, sports icons and even some internatioinal politics. But of all the topics being tossed around, which ones tended to stick to the top of our US Trends chart this week?
What Goes Around Comes Around
Besides getting married and playing the Napster guy in "The Social Network," where's Justin Timberlake been? After a 6-year hiatus from music, Justin reclaimed the top of the charts this week by unveiling his new single, "Suit & Tie" featuring Jay-Z with a performance at the Golden Globes. The song was also released in MySpace, the music social network that just relaunched in a new format with Timberlake as a partner. Let's sit back and watch how his comeback pans-out.
Jodie Foster's Coming Out Party
All that's glitz and glam in pop culture comes out in full on one night: The Golden Globes. The hashtag #goldenglobes swept across thousands of American Twitter handles on January 13th. Among the most discussed moments was Jodie Foster's speech as she officially 'came out' as a lesbian during her acceptance of the Cecil B Demille Lifetime Achievement Award at the 2013 Golden Globes. Internationally, Foster's name was also trending. That's certainly one way to spread the word.
Unrest in Africa
Interestingly, Africa didn't make it on our International Twitter trend charts (although "Mali" did), but landed the number 4 spot on the US charts. Africa has been a hot news topic this week and people have taken to Twitter to discuss the conflicts in Mali. A former French colony, Mali is in conflict as rebels and military forces continue to clash. France has been progressively increasing its involvement in the offensive against the rebels, planning to deploy 2,500 troops into the region. Their involvement and updated reports on the area have been widely discussed on Twitter.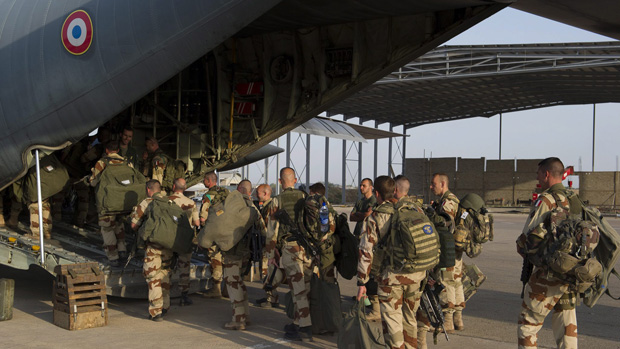 (image: CBC)
Lie Strong
Lance Armstrong admitted to performance enhancement drug use for the past 13 years to Oprah and the world on Thursday.  Not surprisingly, the news exploded over Twitter. Besides admitting his lies and apologizing to millions of fans, Armstrong apologized to the staff of his Livestrong organization last week in advance to revealing his big secret. Admitting and apologizing is step one. Step two? Fighting off the wolves at his door after years of lies, betrayal and lawsuits.
Join us next week for another look into what makes America tick in our USA Twitter Trends of the Week.