Top 10 USA Twitter Trends of the Week, Vol 77 by HootSuite and Ad Age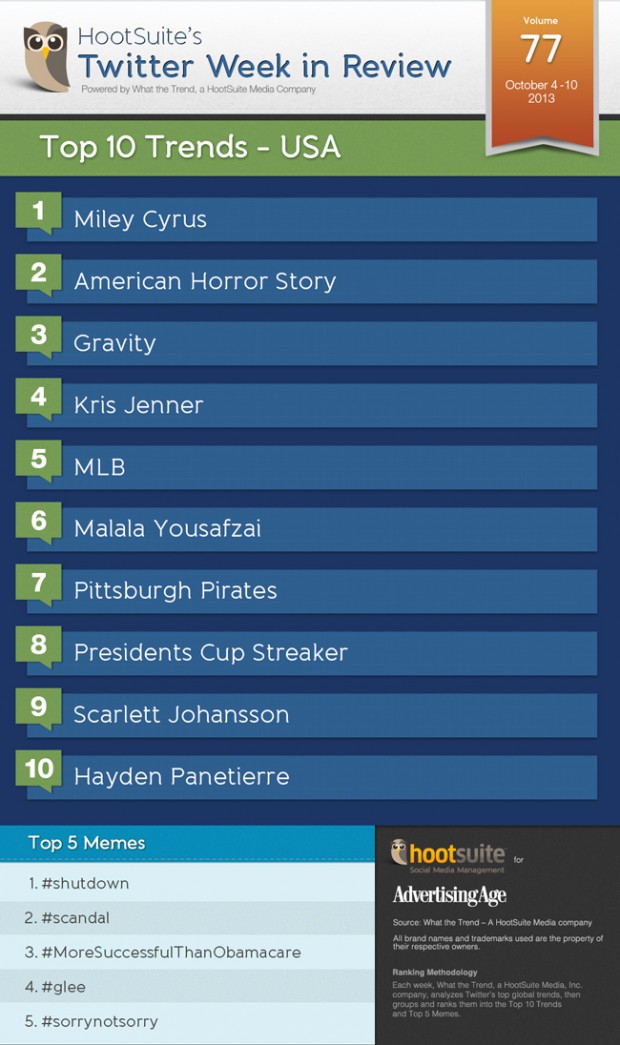 With hundreds of millions of daily tweets and search inquiries in the United States alone, Twitter is rich with conversations and news updates. Our USA Twitter Trends of the Week capture the top 10 discussions and break them down trend by trend.
This week in trends, the US couldn't stop talking about television and entertainment. Miley trended -yet again- for her night hosting Saturday Night Live, American Horror Story popped up as the first episode of Season Three debuted this week, and a Malala Yousafzai left Jon Stewart speechless. See what else you had to say this week, in the US top Twitter trends:
#1: Miley Cyrus
Miley Cyrus was all over Twitter again this week, but surprisingly not for twerking, sticking her tongue out or making inappropriate gestures with a foam finger.  It was her performance on Saturday Night Live that had her name popping up on Twitter feeds across the country.
When she first hosted SNL in March of 2011, she was an awkward 17-year-old, bumbling her lines. During this week's gig however, Miley was sharp, funny and focused, even though she was reading all her lines off a teleprompter…
As Miley transforms herself into a raunchy, grown-up pop singer, there is no doubt that she'll be showing up in our Top Trends lists again. We'll see what it'll be next week…
#2: American Horror Story
 After two exhilarating and gruesome seasons, creators Ryan Murphy and Brad Falchuk have shown that there is no subject too distasteful for them to tackle as Season Three launched their first episode.
American Horror Story: Coven left audiences in awe and suspense while waiting for next weeks episode. If you haven't yet watched the season opener, definitely beware when looking it up on any kind of social network. Spoilers galore (#forrealz).
#3: Gravity
Gravity trended, but not the kind that keeps you grounded. Gravity, starring Sandra Bullock and George Clooney was released in theaters on October 4, and have people talking. Especially Neil deGrasse Tyson, who lent a helping hand with making the movie trend: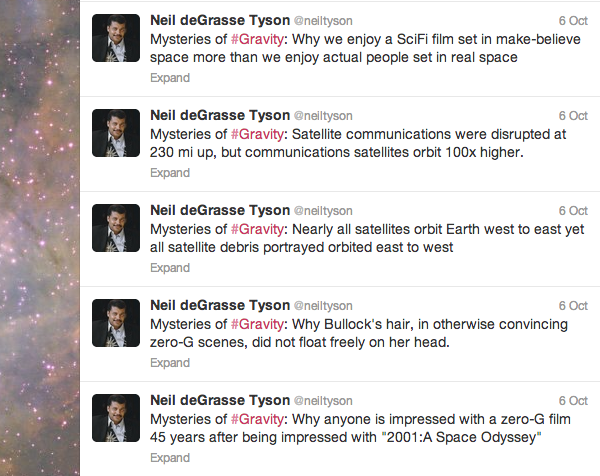 Neil deGrasse Tyson saw the movie, and then proceeded to spend the rest of the evening tweeting about it's inaccuracies. He also tweeted out a rare opinion:
My Tweets hardly ever convey opinion. Mostly perspectives on the world. But if you must know, I enjoyed #Gravity very much.

— Neil deGrasse Tyson (@neiltyson) October 7, 2013
Two things we've learned this week about the movie Gravity? 1- Don't mess with Neil deGrasse Tyson on anything that has to do with science. 2- We enjoy watching people in make-believe space more than we enjoy watching actual people set in real space.
#4: Kris Jenner
No surprise here, Bruce and Kris Jenner are heading for divorce. The now-separated spouses have a combined fortune topping $125 million and never signed a prenup. After 22 years of marriage, they have been dodging separation rumors (and each other) for years.
#6: Malala Yousafzai
Malala Yousafzai left Jon Stewart and The Daily Show audiences in complete awe this week, leaving it to becoming one of the biggest trends in social media. The 16-year-old rose to global fame after standing up for the education of young females under the Taliban in Pakistan. Because of family's advocacy of education for women, Malala was shot by Taliban in 2012 while heading to school. After a miraculous recovery, she became a global figure for change.
The teenager left Stewart visibly stunned when she said that if attacked by the Taliban she would talk to her intended killer about the importance of education – rather than trying to defend herself physically. She concluded by saying: "That's what I want to tell you, now do what you want."
See Malala's amazing answer while being interviewed on The Daily Show:
#8: President's Cup Streaker
One woman decided to spice up the world of golfing this week, as well as get millions of mentions across social media networks. The woman was identified this week as Kimberly Webster, and she (as well as many Twitterers) thought running naked across the golf course on the final day of the President's Cup was a great idea.
"I wanted to add a little excitement to golf because everyone seemed kind of depressed and like they weren't having fun because of the weather. I hadn't been to a lot of sporting events… I just thought it would be interesting to try something like this."
In her defense, the final day of the President's Cup was unusually anticlimactic. The U.S. team had a huge lead, and the majority of headlines were about the wives and girlfriends of the players. Boredom will cause people to do some weird things…
Curious what topped the global trends charts this week? Check them out here.