How to Turn Leads into Customers on Twitter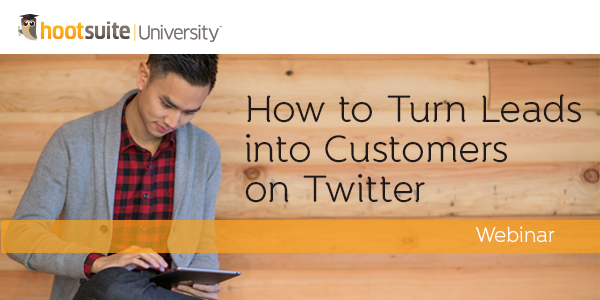 How many followers does your business have on Twitter? And how many of those followers have you converted to qualified leads?
Learn tips and best practices for driving leads on Twitter, and tie your business success directly to your social media efforts. HootSuite University is pleased to host the third webinar in our series aimed at addressing the social media needs of small-to-medium businesses.  Watch on-demand and learn How to Turn Leads into Customers on Twitter.
In this live webinar, you'll learn:
How to create content that drives business leads

The difference between direct & indirect lead generation posts

How to expand your reach through Twitter Advertising
Do you want to improve your Twitter efforts to help your business thrive? Join Twitter SMB and Lead Generation experts Anne Mercogliano and Amanda Felson, and learn what it takes to start generating leads immediately.
Since 2011, over 50,000 success-minded social media professionals have obtained accredited training, education and certification from HootSuite University. Stay ahead of the social media curve by learning new strategies and tactics, and earn your Certification to enhance your social ROI. Learn more.