Amplifying Your Content Made Easy With HootSuite & Uberflip Integration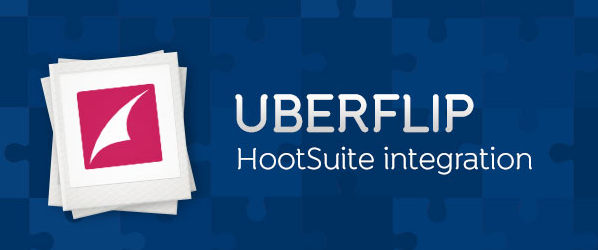 A content marketer's job is never done, and creating content is only half the battle. It's getting it out to your potential customers that ensures success. Assuming you want to be successful, you're probably on a constant hunt for better ways to distribute content, be that through your sales team, your marketing team, or your company on the whole.
For this reason, HootSuite partnered with Uberflip, an innovative content marketing software, to help users promote the content that lives on their Uberflip Hubs quickly and easily through HootSuite. The app is available to all HootSuite and Uberflip users right now in the HootSuite App Directory.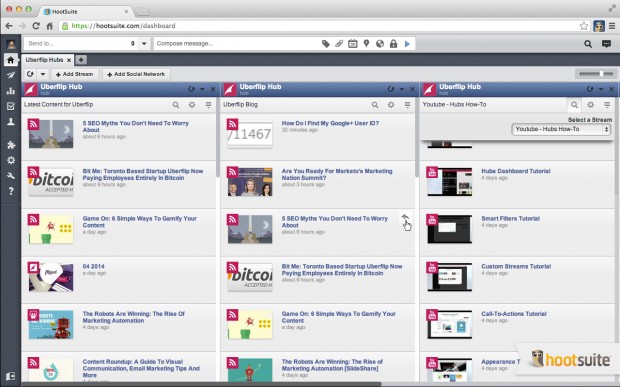 How HootSuite and Uberflip work together
Social media moves quickly. You need to be ready for anything. With the Uberflip app in HootSuite, you can respond to questions or comments with helpful content on the fly, rather than flipping back and forth between windows or applications to find the right content.
Pull multiple Hubs into HootSuite to share content directly from your dashboard. Instead of grabbing a whitepaper URL from your Hub, switching windows and popping it into HootSuite, your Hubs are easily accessible as a HootSuite stream. This allows you to post content to Twitter, Facebook, LinkedIn, and Google+ all from one place.
Better yet, save Hub streams alongside keyword or search streams so you're ready for topical conversations. For example, imagine you work for an airline and you've created an infographic all about hassle-free traveling. Create a search stream in HootSuite for words like "airports" or "travel" or even your brand name, and watch for messages to surface from frustrated travelers. You can easily spot the folks out there that might benefit from your helpful content, and respond with the infographic right away.
Getting started
Want to try the integration out for yourself? Download the app now in the HootSuite app directory, or, get started with a free 30 day HootSuite trial. If you're not already using Uberflip, try creating a Hub for free here.