HootSuite UK Hits the Road: Teaching Social Media for Non Profits
Here is your monthly HootSuite UK Roundup. HootSuite Community Wrangler, Shain Shapiro, is hosting and attending all sorts of events, and is excited to share some news from January including some new partnerships and discussion around social media for non profits.
There are also exciting events  happening in February, so lets get you caught up!
#HootUpLondon HUB Islington – January 17th:
Over 20 social enterprises and small businesses joined the HootSuite London Brigade at HUB Islington for an hour-long presentation by UK Ambassador Allan Blair Beaton on community engagement and to learn how to save time through social networking.
An engaging, relaxed and educational few hours, it was all capped off with a few pints and some new owl friends at a local boozer. Browse through some pictures and read the  #HootUpLondon Storify to find out more.
We learned so much at  #HootUpLondon. First, the  inspiring Jon Morter showed us how he used HootSuite to spearhead the #Justiceforthe96 campaign: where a song written for charity reached the #1 spot over Christmas and money raised went to victims of the 1989 Hillsborough Tragedy.
This isn't the only campaign that Jon has orchestrated: a few years ago he arranged the Rage Against the Machine campaign that shocked millions as 'Killing in the Name' became the #1 Christmas song in the UK.
HQ is so proud to have him as a fellow London Owl.
Hoots to all who attended #HootUpLondon!  If you would like to host a HootUp, just get in touch with the HootSuite UK Owls by leaving a comment below or tweet @HootSuite_UK.

Manchester Away Day – January 22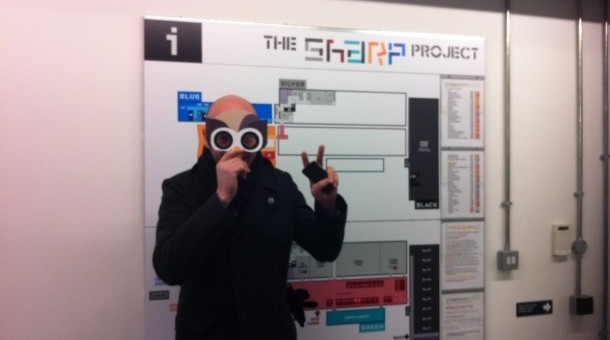 On a brisk Tuesday morning, Allan and Shain packed ship and headed to Manchester for a series of meetings arranged by newly appointed HootSuite  Manchester Diplomat, Philip Coen.
The trio visited the amazing Sharp Project, a massive electronics warehouse that has been converted into a digital and social enterprise hub in East Manchester. The impressive facility features television studios, one recording studio, and dozens of digital agencies. Supposedly, the group was even able to catch the live filming of Channel 4's hit show, Fresh Meat.
You can expect the HootSuite Community folks to host a  HootUp when they revisit  The Sharp Project in late February.
Next, the crew met with John Ashcroft, CEO of  Pro-Manchester. They discussed the SME Club, a social media hub working with Manchester businesses to ensure they are getting the most out of their community engagement.
The UK Community Builders  then fuelled up over a quick coffee with independent music promoter Hey! Manchester, concluding the day after a final meeting with the online fashion retailer, boohoo.
Finally, the HootSuite Owls would like to wish all of the Scottish Owls a Happy Belated Robbie Burns Day.  To celebrate, HootSuite's UK Community Team are writing a  'Hoo's Hooting in Scotland, including an interview with Glasgow University's social wellness manager Grant Reilly, celebrating  #SWW13 in Scotland and of course, a profile on Scotch producers who are using HootSuite.
With that,  here's what's on tap for February:
Introducing the Hootsuite UK Diplomats ~ #Dreamteam
Shain and co. are busy recruiting and onboarding diplomats and envoys from the far reaches of Scotland's northern coastline to the beaches of Cornwall. In February, they'll be announcing the #dreamteam, a list that will feature diplomats in Manchester, Cardiff, Glasgow, London and Dublin.
What does this mean for you? It means that you can be prepared to expect more UK HootUps, more events and more exciting get-togethers that will be happening all over the United Kingdom.  If you are interested in joining the team, fellow owl, please get in touch.

The crew is looking forward to visiting Save The Children and their offices in Farringdon, where they'll be able to help the organization make the most out of HootSuite.  Allan and Shain will meet with their social media managers for an hour-long tutorial, aimed at further developing the group's community management program.
The boys can hardly wait to lend a helping hand with such a great organization.
Does your non-profit group need help with social media? If so, leave a comment at the end of this blog post, or send a tweet that tells us who you are and what we can help you with!
These guys are busy! After meeting with Save the Children, they're  heading to one of the UK's leading broadsheets, Media Guardian for a community management brainstorm session.
That's not all. There are also trips planned that will take these boys back to Manchester, Glasgow, Nottingham and Brighton.  Furthermore, we're excited to announce a partnership with Futureproof, a conference aligned to the terrific Liverpool Sound City in early May.

Hoo's Hooting
The HootSuite UK crew continue to discover a lot of UK companies, large and small, who are using HootSuite. From museums and archiving services, golf courses, social enterprises and hospitality companies, there is no one-size-fits-all mold that you need to fit in order to use social media as an effective tool.
We hope you enjoy this installment of 'Look Hoo's Hooting'.

News and Media
The Guardian Community Management – @MediaGuardian
Muddywall Magazine – @Muddywall
NME – @NME
Justice for the '96 – @LFC_JFT96

Museums
Science Museum – @Sciencemuseum
Museum of London – @MuseumofLondon
Imperial War Museum – @Imperialwarmuseum
National Archives – @UKNatArchives

Tourism
Visit Britain – @VisitBritain
Derry/Londonderry City of Culture – @Derry2013

Social Enterprises
The Hub Islington – @HubIslington
The Hub Westminster – @HubWestminster
Polyphoneek Social Musicians Enterprise – @Polyphoneek
Vegan Caterer – @Veganpeasant
Skoodle – @Skoodle_Tweets
If you are 'hooting' and we missed you, kindly leave a comment, and the Owls will feature you next!
More exciting news is coming as the Owls continue expand the London Nest. With a full staff of corporate sales, customer support and community builders on site, the owls are  eager to help.
Follow all of HootSuite's UK adventures @HootSuite_UK and of course, Keep Calm, Hoot On.