A Wiggly for Wednesday ~ The Head Tilt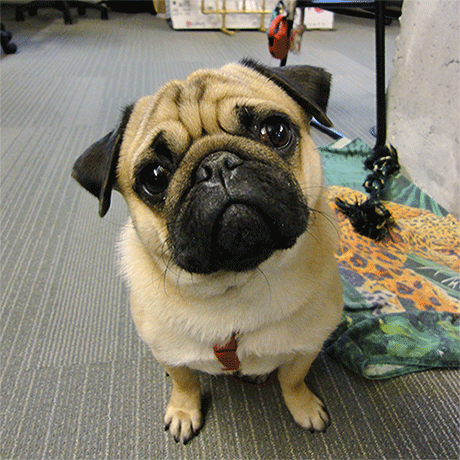 Ahhh, Wednesday again… which means another wonderful wiggly gif! HootSuite's Greg Williams -aka gwilli- has thousands of these 'wiggly' images in his Flickr account, including this fantastic head tilt from Monty the Pug! Monty is one of HootSuite's original office dogs, and is a very curious guy. Did you know, dogs aren't only trying to be cute when they tilt their heads? Because of the way the ears are positioned, dogs need to cock their heads so their ears are upright. This way, sound waves can enter the ear directly to reach the ear drum. Have you noticed that dogs don't tilt their heads if you are talking to them from the side?
If you would like to join our HootSuite team, be sure to check out our Careers Page and tell us about yourself. As of this writing, we have open postings in Customer Success, Demand Generation, Development (lots), HootSuite University, Marketing, Pro & User Growth, and Sales.
Like our Wigglys? Take a look at last week's here.