In the U.S., one in eight women will develop breast cancer in their lifetime. If detected early, breast cancer can be treated. Mammography appointments are associated with a 19 percent decrease in breast cancer deaths. Unfortunately, according to one study, more than 50 percent of women don't get their recommended mammogram screening.
Advocate Health Care, the largest health system in Illinois, set out to make an impact in the communities it serves. Their goal? To educate women about their breast health and increase the number of mammography appointments.
Four years ago they launched an annual six-week campaign during breast cancer awareness month called Stories of the Girls. It has evolved into #StoriesOfTheGirls, with an increased focus on social and digital—leading to their most successful year yet.
Advocate Health's #StoriesOfTheGirls digital strategy
Using social to promote this significant annual campaign was very important to Advocate Health Care, according to Sarah Scroggins, Advocate Health's manager of social media.
"#StoriesOfTheGirls is a unique campaign where one of our primary goals is to engage women in conversations about their breast health and encourage them to be proactive about their health by getting their annual mammogram," Scroggins said. "And we believe social is the best opportunity for us to have those conversations and it will only continue to grow as we see our follower base and engagement increase across our platforms to reach the women in our communities."
Advocate's #StoriesOfTheGirls campaign boosted mammography appointments across  the system by 37 percent year-over-year and increased website visits by 431 percent year-over-year. Here's the strategy that helped them do it.
Combine online and offline experiences
An 18-foot support bra toured various locations in Illinois for four weeks. To encourage people to raise awareness of breast cancer, Advocate donated to the American Cancer Society for every photo of the bra uploaded on Twitter or Instagram.
Advocate managed their dedicated Twitter and Instagram campaign feeds through Hootsuite. This allowed them to keep a tally of their donation total in real time, respond to questions, and quickly engage with people who uploaded photos. Using geolocation search streams in Hootsuite for event locations, Advocate was also able to find photos and posts that didn't have the hashtag. Over 3,500 photos were uploaded on Twitter and Instagram with the #StoriesOfTheGirls and #SupportYourGirls hashtags. Advocate donated $5,000 to the American Cancer Society, all thanks to these social efforts
Tell impactful stories to raise awareness
Survivor stories were a powerful part of the #StoriesOfTheGirls campaign. Each woman talked about her own battle with breast cancer and Advocate shared the videos on YouTube and Facebook. The survivors became ambassadors for Advocate by emphasizing the importance of early testing.
Advocate managed online discussions across their social accounts and quickly responded to questions in Hootsuite, which was vital to the campaign's success. Their campaign videos received over 1 million views across YouTube and Facebook.
Focus on education to inspire action
Education was also a key component of the campaign. Advocate communicated to women how to do regular self-exams, learn the signs and symptoms of breast cancer, and access to resources about their breast health. Advocate distributed this content through videos on Facebook, Twitter, and Instagram, and their #StoriesOfTheGirls commercial on YouTube.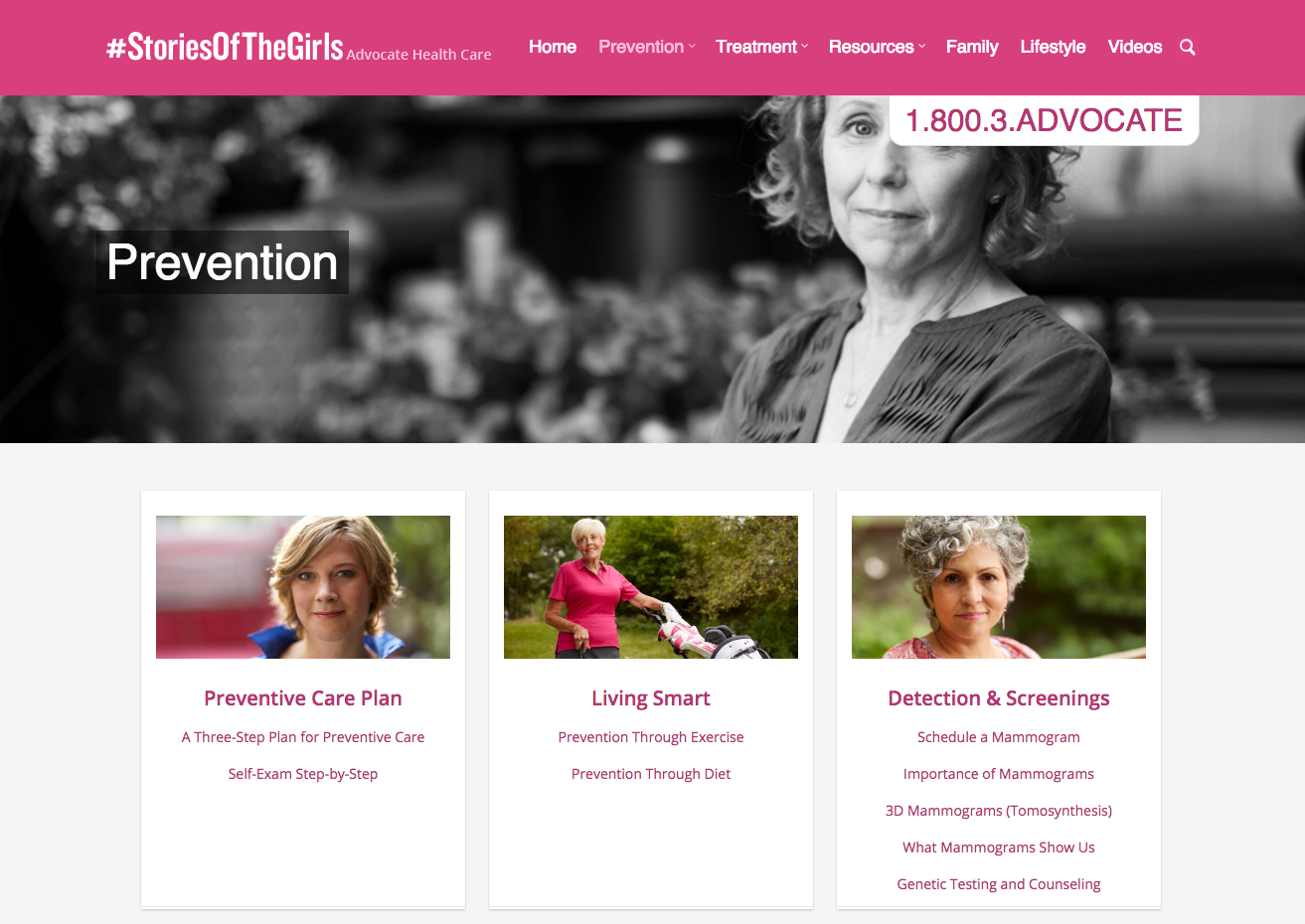 Advocate's content distribution was fast and effective. They used Hootsuite's Content Library to create a toolkit of pre-approved content for 11 social media contributors—each representing their hospital sites—to draw from. It saved time by removing a manual process and ensured that they were on-brand, which alleviated a lot of anxiety for the team. Advocate's content had a huge impact on their audience. They increased their Facebook engagement year-over-year by 100 percent and followers across all Advocate social accounts by 25 percent.
Partner with influencers to get more exposure
Advocate partnered with influential brands like the Chicago Bulls for a #BreastCancerAwareness night to raise awareness and celebrate survivors.
Three survivors acted as honorary captains for the evening and more than 25 survivors and their guests joined the 'Pink Out' at the United Center. Their posts received thousands of likes and contributed to the lift in engagement and follower count.
Key takeaways from the campaign
Combine the buzz of an in-person event with the reach and engagement offered through social media to increase your audience
Share the stories of real people—and let the stories speak for themselves
Focus on educational content that has a clear call to action
Draw from a bank of pre-approved photos, posts, and images—using a system like Hootsuite's Content Library—to save time and stay on-brand during campaigns
Partner with influencers and ask them to share your content on social with campaign hashtags
#StoriesOfTheGirls success
Advocate ran their campaign across numerous social channels to drive awareness and engagement. In addition to the 37 percent year-over-year increase in mammography appointments, visits to StoriesOfTheGirls.com increased by 431 percent and they've had thousands of submissions on social for #StoriesOfTheGirls.
The campaign strategy makes the most of Advocate Health Care's available channels and connections, according to Mayura Kumar, Advocate Health's director of digital marketing.
"One of our core values at Advocate Health Care is to build lifelong relationships with the people we serve," Kumar said. "Social media is one of the ways we achieve this. We leverage social channels to raise awareness and drive loyalty for our physicians and services; as well as providing a platform for our patients to share stories and experiences. It's a key part of our overall digital strategy designed to drive profitable volume and a strong brand for our system."
The team is already looking forward to their 2016 campaign.
Find out why leading health care providers, insurers, and life science companies worldwide use Hootsuite to manage their campaigns.